My last visitor on this Blogathon - but by no means least - is the talented author
marquesate.
Yet another poor soul who had to share sheets with me in the
charity anthology "I Do", I loved her story, and discovered fiction that featured vividly-drawn, fierce, sympathetic, sexy and VERY masculine men.

[Yes, I know I keep pimping the anthology, and you know what? I'm not apologetic about that *lol*.]

Marquesate writes love stories in a military setting. They are gritty, hard, tough and gripping, often full of pain and hatred, but also of courage and loyalty, and always full of lust. Most importantly, though, there is always sometime, somewhere, overriding and ultimately: love. In all its manifestations and however impossible it seems.

Find her fiction at her website.
Contact her at her blog.

So... today?

She posts about her love of military fiction and military MEN (yes, there are PICTURES inside the cut!) and what she loves to share about this particular side of men's lives.



Many thanks to Clare for letting me chat about my favourite subject:
men in uniforms - who have the hots for other men in uniforms. First
off, for those who might not know me and what I write, yet, I write
military gay erotic fiction and exclusively so. My website (including
a free on-line epic called Special Forces) can be found at Marquesate's
Camouflage Men

I enjoy creating realistic settings, situations and characters who are
grounded in their military settings (for which I take great pains to
make as realistic as possible with my insight into the British Forces
- and with just a smidgen of artistic licence where necessary). I
throw my soldiers into a maelstrom of duty, comradeship, hostility,
courage, loyalty and lust, to see them emerge scarred, battle-hardened
and touched at the very core of their selves - by another man, another
soldier, an enemy, a friend, a foe or an ally. Of course, I am
particularly fond of enemies and foes ...


I have currently published Her Majesty's Men, a story of two Royal Engineers whose friendship takes unexpected turns. In the eyes of the Army they are just two mates who are close, but through terror and danger, loyalty, triumphant strength and courage, grows their realisation that they are comrades first and foremost, but also something more significant.
HMM is available as ebook directly from the printer,
and as paperback from all the Amazons.


Of course, don't forget my weakness, or should I say
fondness for the French Foreign Legion (how could I not! How could
anyone not get very interesting thoughts about them - in and out of
uniform ...) and I met Clare through the wonderful charity anthology "I Do", which supports marriage equality.
My story in there is Code of Honour, a story about two legionnaires: young Joe Evans, and Sergent Roux. Now, I won't try to explain what this story is about, because others have done it much better than I ever can.
cboy_junkie wrote a brilliant review and synopsis.

So, that's what is currently on offer and this year I will definitely bring out Basic Training, a story set in the Royal Marines, and a few more sort stories. Also, you never know what else might come to life. One thing is certain, though, it will be military, it will have men who do men, and it won't have a single sweet, soft nor girlie guy. :-p

Still not convinced that military gay erotic iction is an area worth being addicted to? Here are just some photos from the Defence Image Database (c) MOD of "blueprint" for some of my characters, and which should convince you without so many words, just why I am driven to write military gay erotic fiction. Also, when I say "blueprint" I sometimes have a character in mind and then see an image and think Yowza! That fits! and sometimes it's the other way round, such as with this guy, a Royal Marine reservist: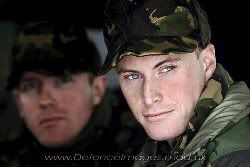 Don't tell me that this guy is not amazingly good looking. Take a fit body, a great face and a uniform: what else can one ask for? Have a few more examples, all (c) MOD: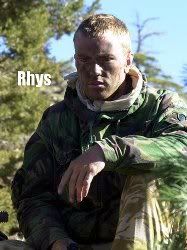 (you just know this character is a cheeky lad)
and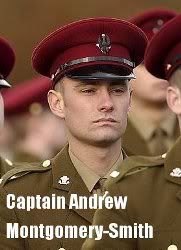 (I can already hear his posh accent and his snooty comments)
and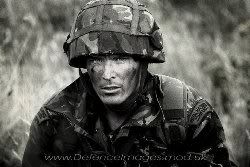 (now this is a special one, it's the image I had in my mind for Sergent Roux in "Code of Honour")

There are a lot more soldier eye candy (including other Forces than the British one) on my blog, which is updated with a regularity that astounds myself. Everything on there is related to the military and to writing, so if you fancy a taste of camouflage, black polished boots and uniforms, come on over to
Marquesate's Military and Writing Blog.


She concludes:
Let's open the stage for you, though. Anything you ever wanted to know about the UK Forces (particularly the Army), and/or why on earth Marquesate has been, is and will be exclusively a writer of military gay erotic fiction?

Of course, don't forget the love.
I might not write Romance (too formulaic for my taste), but I write love stories in a military setting. They are gritty, hard, tough and gripping, often full of pain and hatred, but also of courage and loyalty, and always full of lust. Most importantly, though, there is always sometime, somewhere, overriding and ultimately: love. In all its manifestations and however impossible it seems.

Alpha males in uniform. 'Nuff said, aye?


Sez Clare: I salute that sentiment! ♥


-----------------------------

Follow this month with Clare (yes, it's all about the MEEEE...):

Week 4+:
Jan 29 : K Z Snow discusses the challenges of fantasy fiction...
Jan 30 : charlie cochrane describes scaling the cultural mountain of publication...



Jan 23 : jaime protests the use and mis-use of labels...
Jan 24 : clare pimps the imminent release of FREEMAN...
Jan 25 : ginger simpson shares an interview with her latest fictional heroine...
Jan 26 : dakota flint confesses to the irresistible lure of research...
Jan 27 : the Blog is hijacked by my lippy Muse...
Jan 28 : clare muses on the ups and downs of getting older...




Jan 16 : jenre discusses what she loves best about m/m fiction...
Jan 17 : clare posts YouTube frippery and her brief skirmish with a recording career...
Jan 18 : report from the prestigious *cough* OTP Con UK 2009...
Jan 19 : emily chats about the principles of good reviewing...
Jan 20 : josh lanyon talks about the proper place for your green-eyed feelings...
Jan 21 : sharon offers great advice and support for all of us trying to live a healthy life...
Jan 22 : merith writes about the slow but steady epiphany of love...




Jan 09 : ravensilver describes the creativity of independent manga publishing - and the challenges...
Jan 10 : kitzheng talks about Kink...
Jan 11 : chrissy munder shares the struggles of writing, NC17 penguins and mantyhose...
Jan 12 : 1more_sickpuppy bares her soul about confessing her love for m/m fiction...
Jan 13 : erastes talks about taking that leap from fanfiction to the 'original' world...
Jan 14 : meet my Muse, the 'man' who has way too much power in my writing house...
Jan 15 : Sloane Taylor heats up those chill new year nights...




Jan 01 : the Cheeky Cherubs welcome us to 2009 with a pithy verse or two and the threat of piercings...
Jan 02 : sweet, sexy fiction from lilzazu, all about the perennially tricky problem of a sticky shift...
Jan 03 : excellent editing tips for all authors who ever wondered whether to be cruel to be kind to their prose, hosted by jolilightner...
Jan 04 : Clare pimps the fabulous I DO anthology, now available in ebook and all proceeds to Lambda...
Jan 05 : abstractrx ponders the changing role of Romance and its reflection of - or on?! - the society around it...
Jan 06 : FREE FICTION from me and my friends!
Jan 07 : Jordan Castillo Price discusses what tempts us to try out a new author...
Jan 08 : Clare rambles on about perceived plagiarism and posts excerpts of her Torquere titles...



No days left now to pimp, pose or pontificate! Join me next time I'm mad energetic enough to do this again!
Original call-up post HERE!! ♥