Welcome to
dakotaflint, a great author whom I had the honour to share the sheets with in the Torquere Press Taste Test
Horns and Halos. ( <--- shameless BUY link!!)
Her work is well written, witty and hot and she *loves* her cowboys!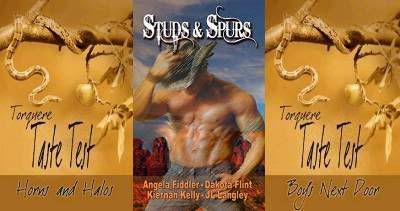 And now I'm hoping to share a Release Month with her too *lol*. Her story Seeing You is appearing in February in the new anthology Studs and Spurs at MLR Press.





Saddles, spurs, Stetsons . . . and love? Sexy cowboys grab hold of more than a saddle in these entrancing stories from four talented authors of the genre. Kiernan Kelly takes us on an adventurous cattle drive to the Oregon Territory with a greenhorn and an old hand. Angela Fiddler's retired rodeo men accept each other and the black riders. Two men overcome grief, rebuild a ranch and find love in Dakota Flint's story. And JL Langley offers a light-hearted tale of a city boy and a rancher filled with love, laughter and a marriage of convenience?

Blurb for Seeing You:
Everything changed for Dylan the night his brother, Simon, was killed in an accident. Unable to face the pain—or Simon's partner, Wade—Dylan leaves life on the Lazy G ranch behind. Over a year later, Dylan gets a call saying he's needed at home and he returns to find both the Lazy G and Wade in bad shape. Will Dylan and Wade be able to deal with their grief and rebuild the ranch? And will Wade see that sometimes you can find happiness again?

Find out about Dakota at her website HERE.

And... today?
She posts about Research
- that character who can appear intimidating and/or aloof, and yet when you get to know him, can give support and context to your writing and just plain, pure, unadulterated delight...

Yes, you know him! But will you admit to it as charmingly as Dakota?! ^_~

A Love Story...



A Love Story

I still consider myself a newbie writer. (I think I'd be called a noob. Now that's a nickname to make Mama proud.) Notice I didn't say a newbie author. I'm definitely one of those.

But I'm actually still very new to this whole writing gig. Which is not say I haven't been writing my whole life, because I have. No, this past year is the first time that I've been striving to write longer works--novels--and writing them with the idea that I would publish them. That might not seem like a huge distinction, but trust me, it is. It's a whole different mindset that I have when I sit down at my computer.

So in many ways I've been feeling my way through a lot of things. I'm not sure about other writers, but when I first tried to visualize writing a novel length piece, I had enough on my mind trying to plan out something that didn't read like a runaway train headed toward the bridge that's under construction. I didn't need to bring in things like unique professions or exotic locales that I'd have to research extensively. So I started out in my comfort zone and I've slowly been spreading my wings with each piece I write, doing more and more research.

And I've fallen slowly, quietly, and completely in love.
With Research.

It's true. Oh, Research didn't ride up on a motorcycle, unshaven look giving him a dangerous and edgy air, and ask me to hop on so we could ride off into the sunset in gloriously rebellious spirit. And Research didn't walk by me on the beach, richly tanned muscles rippling as he winked at me and motioned to a secluded sand dune.

No, it wasn't anything like that. Actually, it more of a blind date.
One day I was hanging out with my Muse, rolling my eyes--politely...I'm not such an idiot that I'd piss off my Muse--as my Muse complained I wasn't trying any new things, that I wasn't open to having a great time because I wouldn't give it a chance. My Muse told me about a friend of his, said he thought I'd really like him if I just agreed to meet him. (Isn't it funny that all the imaginary people in my life are men? Funny, but not surprising.) I refused, and so my Muse finally invited Research over without telling me. I had no choice, I had to entertain him.

At first I wasn't sure I liked him. I thought he seemed kind of cold and distant. He didn't seem to really respond to me, and I wondered what he got out of our nice-to-meet-you-chats. But he listened quietly and then he took me to Africa and helped me to meet a bunch of his State department friends. It was such a neat experience, and I was really grateful.

And then my Muse hit me with something big, and before I knew it, Research and I were spending every day together. The more time I spent with him, the more I was impressed with his resourcefulness and his quiet support.

Soon I just couldn't get enough. I was coming to rely on him more than anyone. In fact, my Muse even threatened to leave me if I didn't stop giving Research all my time. My Muse said it wasn't healthy to spend all my time with one person--and he sniffed, saying he was feeling neglected.
I've reluctantly agreed to cool it with Research for a while, even if it's hard. Research is easy to be with, a truly strong and silent type (Actually not very silent, he just makes what he says really count). My Muse is pretty temperamental, and, um *looks around to see who's listening* high-maintenance, and I really don't want to give him an excuse to leave me. I have no idea which one of us would get custody of our WiPs.

So my advice to other writers is to spend some time with Research--you might be surprised at the depth of feeling that develops and the really awesome things you learn, even if you're writing contemporaries. (If you're writing a historical, then I think you need to free up some space in the closet and the bathroom counter because Research is moving in.) One of your characters wants to be a nuclear physicist and you have no idea what that even means? Cool! Just ask Research. Another character wants to study the ecology of an uninhabited island in the South Pacific? No prob, Bob! Research is the guy for you. All you two need to get further acquainted is a library card and the internet. (Can't you just hear Bogart now, "This is the beginning of a beautiful friendship...")

Just don't go overboard, and definitely don't ignore your Muse. Trust me: that way madness...

And for the readers...I hope I didn't scare you away. *g*


And hey, here's a question for you: what's the most unique/interesting location or profession you've read about in a romance novel? Feel free to speculate exactly how cozy you think the author got with Research...(I'm not the jealous type *g*)

Sez Clare (covering up her Muse's eyes while she phrases her own comment): come and bare your souls to us! You know you want to! LOL
♥



-----------------------------

Follow this month with Clare (yes, it's all about the MEEEE...):

COMING SOON: dakota flint, charlie cochrane, marquesate, K Z Snow.

Week 4:
Jan 23 : jaime protests the use and mis-use of labels...
Jan 24 : clare pimps the imminent release of FREEMAN...
Jan 25 : ginger simpson shares an interview with her latest fictional heroine...



Jan 16 : jenre discusses what she loves best about m/m fiction...
Jan 17 : clare posts YouTube frippery and her brief skirmish with a recording career...
Jan 18 : report from the prestigious *cough* OTP Con UK 2009...
Jan 19 : emily chats about the principles of good reviewing...
Jan 20 : josh lanyon talks about the proper place for your green-eyed feelings...
Jan 21 : sharon offers great advice and support for all of us trying to live a healthy life...
Jan 22 : merith writes about the slow but steady epiphany of love...




Jan 09 : ravensilver describes the creativity of independent manga publishing - and the challenges...
Jan 10 : kitzheng talks about Kink...
Jan 11 : chrissy munder shares the struggles of writing, NC17 penguins and mantyhose...
Jan 12 : 1more_sickpuppy bares her soul about confessing her love for m/m fiction...
Jan 13 : erastes talks about taking that leap from fanfiction to the 'original' world...
Jan 14 : meet my Muse, the 'man' who has way too much power in my writing house...
Jan 15 : Sloane Taylor heats up those chill new year nights...




Jan 01 : the Cheeky Cherubs welcome us to 2009 with a pithy verse or two and the threat of piercings...
Jan 02 : sweet, sexy fiction from lilzazu, all about the perennially tricky problem of a sticky shift...
Jan 03 : excellent editing tips for all authors who ever wondered whether to be cruel to be kind to their prose, hosted by jolilightner...
Jan 04 : Clare pimps the fabulous I DO anthology, now available in ebook and all proceeds to Lambda...
Jan 05 : abstractrx ponders the changing role of Romance and its reflection of - or on?! - the society around it...
Jan 06 : FREE FICTION from me and my friends!
Jan 07 : Jordan Castillo Price discusses what tempts us to try out a new author...
Jan 08 : Clare rambles on about perceived plagiarism and posts excerpts of her Torquere titles...



Want to grab a day to pimp, pose or pontificate? (only the 27th left now!)
Comment HERE!! ♥