Ginger Simpson
. Her books are sweet, exciting, evocative m/f romances, both contemporary and historical. Published by Eternal Press and LBF Books amongst others, she has over a dozen novels and novellas published, plus more to come!
Her novel
Embezzled Love
is an
Eppie 2009 finalist
.
She's an excellent, entertaining blogger - which as we all should know, is a special skill in itself - and her links are here:
her award winning Blog
and
website
.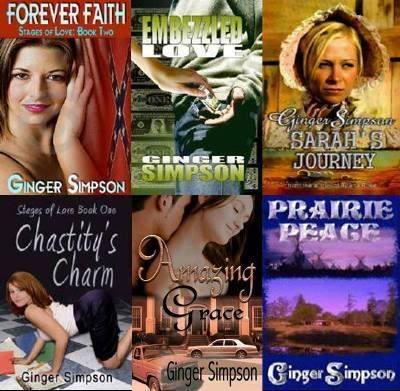 Writing is in her blood
, she says. So is passion and her compassionate perception of human nature too, I'd add. She's become a personal friend and has supported me so well and unselfishly over the last year ♥.

And as a taster for the imminent release of her new novel
Sparta Rose
at
Eternal Press
, here's something a little different - an amusing interview with her heroine, Ellie Fountain!
Ellie's determined to prove to them she can do anything a man can do, even if it means buying a gun...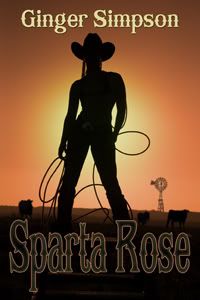 RF=Roselle Fountain
INT = Interviewer
Our special guest this evening is Miss Roselle Fountain, the heroine from author, Ginger Simpson's western historical, Sparta Rose. Welcome, Roselle.
RF – *Fidgeting* Oh please call me Ellie. I've never much identified with such a flowery name. You probably can't tell by the way I'm dressed today, but I've always been somewhat of a tomboy.
INT - *Laughing*. So I've heard. You look very nice in your flowered print—very much the lady.
RF – That's Pa's doing. He insisted if I was going to make an appearance, I needed to dress more high-falutin'. I'd much rather be wearing britches and boots. *Tugs at the neckline of her dress*. These things are too danged uncomfortable at times.
INT – So, Ellie, tell the readers a little about Sparta Rose.
RF – *Smiles* Well, I can't give away too much. Ginger would skin me alive, but I'm sure she won't mind me telling you that it's got a little romance, a lot of western, and even more feistiness than her last historical romance. My problems begin when Pa hires Tyler Bishop as the ranch foreman. I kinda figured Pa always wanted a son, and Ty proves me right. Their relationship gets me pretty riled up. I have a bad temper at times… I think it comes from this red hair. *pulls a strand forward and grins*.
INT – So, besides your jealousy of Ty, is there any adventure involved.
RF – Oh, you bet. *Squares herself in her chair*. The polecats that live on the neighboring ranch are aiming to get Fountainhead away from Pa. Dude Bryant and his twin boys are meaner than snakes… well at least Dude and Jeb are. Joshua comes across as quiet and a follower. But, *balls hands into fists* I'll be danged if they're gonna get my legacy. I actually bought a gun and taught myself to shoot it.
INT – A gun? What do you plan to do with it?
RF – Protect Fountainhead of course. I'm aim to show Pa he don't need Tyler Bishop around when he has me. I just wish Ty wasn't so dang good lookin'.
INT – I haven't heard you mention your mother. How does she feel about you owning a gun?
RF - *Lowers her eyes*. My ma died when I was very young. I suppose that's why I took up with the ranch hands and spend so much time workin' outdoors. *Raises a steely gaze*. But, now that Ty's in the picture, Pa wants me to spend more time in the house doing womanly things.
INT – Would that be such a bad thing?
RF – Of course it would. I don't much care for cookin' and cleanin'. We have Cook for that. I'd much rather brand a cow as fry one.
INT – So what about the romance part of the story?
RF – *Chews her bottom lip for a moment* Well, I accompany Ty to a dance in Sparta, and as usual, he gets my dander up there, too. I never should have gone, but those eyes of his make my knees weak. My better judgment flew right out the window. *Takes a deep breath* What happens from then on, you'll have to find out for yourself. I may look young and naïve, but I'm not silly enough to give away the whole story. Miz Ginger is counting on sales to help pay for a trip to something called an EPPIE Convention, and I wouldn't want to let her down.
INT – I certainly wouldn't want you to do that either. You've given us enough of a teaser to stir some interest. Hopefully we'll see you on a best seller's list somewhere.
RF – That would be right nice. It just may happen cause remember, I have a gun. *Slaps hip and fakes a draw*.
INT - Well, here's hoping you don't have to use it. *laughs*. Thank you so much, Ellie for being with us today. And good luck in the future.
RF – Oh, yeah. I almost forgot to tell you that Sparta Rose is being released in February by Eternal Press. You can find them on something called the "Innernet" at, *reaches in pocket and pulls out a slip of paper; reads it*
http://www.eternalpress.ca
INT – Thanks again.
Sez Clare: Enjoy - and drop in to say hello! ♥
-----------------------------
Follow this month with Clare (yes, it's all about the MEEEE...):
COMING SOON: dakota flint, charlie cochrane, marquesate, K Z Snow.Week 4:Jan 23 :
jaime protests the use and mis-use of labels...
Jan 24 :
clare pimps the imminent release of FREEMAN...
Jan 16 :
jenre discusses what she loves best about m/m fiction...
Jan 17 :
clare posts YouTube frippery and her brief skirmish with a recording career...
Jan 18 :
report from the prestigious *cough* OTP Con UK 2009...
Jan 19 :
emily chats about the principles of good reviewing...
Jan 20 :
josh lanyon talks about the proper place for your green-eyed feelings...
Jan 21 :
sharon offers great advice and support for all of us trying to live a healthy life...
Jan 22 :
merith writes about the slow but steady epiphany of love...
Jan 09 :
ravensilver describes the creativity of independent manga publishing - and the challenges...
Jan 10 :
kitzheng talks about Kink...
Jan 11 :
chrissy munder shares the struggles of writing, NC17 penguins and mantyhose...
Jan 12 :
1more_sickpuppy bares her soul about confessing her love for m/m fiction...
Jan 13 :
erastes talks about taking that leap from fanfiction to the 'original' world...
Jan 14 :
meet my Muse, the 'man' who has way too much power in my writing house...
Jan 15 :
Sloane Taylor heats up those chill new year nights...
Jan 01 :
the Cheeky Cherubs welcome us to 2009 with a pithy verse or two and the threat of piercings...
Jan 02 :
sweet, sexy fiction from lilzazu, all about the perennially tricky problem of a sticky shift...
Jan 03 :
excellent editing tips for all authors who ever wondered whether to be cruel to be kind to their prose, hosted by jolilightner...
Jan 04 :
Clare pimps the fabulous I DO anthology, now available in ebook and all proceeds to Lambda...
Jan 05 :
abstractrx ponders the changing role of Romance and its reflection of - or on?! - the society around it...
Jan 06 :
FREE FICTION from me and my friends!
Jan 07 :
Jordan Castillo Price discusses what tempts us to try out a new author...
Jan 08 :
Clare rambles on about perceived plagiarism and posts excerpts of her Torquere titles...
Want to grab a day to pimp, pose or pontificate? (only the 27th left now!)
Comment
HERE!!
♥
Today's visitor is the best-selling author