Today I'm joined by the gorgeous, sexy, talented author Sloane Taylor, a mistress (no pun intended) in the contemporary m/f erotica market.

She describes herself better than I can, so all I can say is that she's witty and articulate, and her characters are fun and feisty. The settings are glamorous, the action is fast and full of suspense. And did I mention the HOT?!!!
She's also become both a good friend and an assertive crit partner to me (not easy, when I'm so flaky LMAO). And the books are all a damned good read!

Excerpts below, mostly NWS - please let us know if you enjoy them!

Thanks, Clare, for having me out today to pimp myself.:) You're a sweetheart and I do appreciate the opportunity.

Here's a little information for those of you who don't know me. I'm a sensual woman who believes humor and sex are healthy aspects of our everyday lives which carry over into my books.

My stories are set in Europe where the men are all male and the North American women they encounter are both feminine and strong. As a true romantic, my women bring more than lust to their men's lives.

Currently I write for Aspen Mountain Press, Magnificent Men of Munich series, and Eternal Press, Naughty Ladies of Nice series. To date I have nine books published and am fervently working on the tenth, unless my addiction to Mah Jong and email grabs hold. Don't worry, you're safe, I won't pimp all the books today. LOL

On the personal side, I was born and raised in Chicago. Studly, my non-husband and mate for life, and I split our time between a home in Illinois and a weekend cottage on the back roads of Indiana which is a great place to write.

Time to get this show started!


Magnificent Men of Munich - Teddi Turns On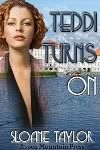 At Aspen Mountain Press.

BLURB
No one's going to take advantage of Teddi Howard again, including the Munich tour operator who screwed her over when he reneged on their contract. Her only option is to face the little weasel.

Nothing stands in the way of the prominent, German businessman David Stiefle, especially a woman. No way is he ever getting involved, even if she is the sensual Mrs. Howard.



EXCERPT:
David Stiefel's eyes kept track of the copper-haired female while he rolled up the sleeves of his striped shirt. The woman was oblivious to the stir she created as she strolled through the crowded O'Hare Airport Business Class Lounge. He stroked an index finger over his lips and studied her sleek figure in form fitting slacks. The appealing rear view was too good to miss. The pleasure of not seeing a panty line forced him to shift in his chair to adjust for the sudden pull in his jeans.

She bent over, hung her jacket across the chair back, and glanced over her shoulder at him. Their gaze held as a smile tweaked the corner of his mouth. He crumpled the wrappings from his beef sandwich and knew he'd just been offered dessert. Now all he had to do was make his move.

As his good luck would have it, right there on the floor, just a few meters away was an airline ticket dropped by some unsuspecting person. He knew that delicious looking woman had done it as a ploy to meet him.

He stood and paced off the few steps, never taking his eyes from her. He stooped, scooped up the packet, and walked the few extra feet before he glanced at the name printed in bold marker across the front. When he held it toward her she fumbled with her purse and carry-on as if she didn't know she'd lost such an important set of documents. Very cool.

Standing in front of her, he leaned down just enough to catch her scent. Shalimar. His favorite.

"Bitte, Frau, are you missing something?" He liked the way her eyes widened as if she were surprised. She was good.

"Thank you." She reached out a slender hand. Thank God there wasn't any of that garish nail art so many women seemed to prefer.


BUY LINK!

TEDDI TURNS ON is a 2009 EPPIE Finalist in the Erotica Category and has also been nominated as the Best Book All Around for 2008 at Love Romances Café.


The next book in the series is;
Magnificent Men of Munich - Lonnie Heats Up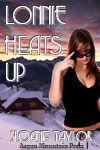 At Aspen Mountain Press.

BLURB:
Lost in the Austrian Alps, psychologist Lonnie Copley is forced to accept help from a Hell's Angel wannabe. She never expected to be trapped with the Aryan god in deserted Castle Flophouse.

Disgusted with cleaning up his client's dirty lives, attorney Wolfe Deider is in major career throes. He doesn't need some insolent woman mucking up his mind, even if she does have a mouth made for kissing.



EXCERPT:
"What the…" Wolfe ducked as slush spewed against the back of his helmet and ice slithered beneath his collar, along his neck. He had pulled onto the wide shoulder, to rest after the long day's drive, staring across the Alps in deep thought, when an approaching vehicle broke the silence he craved. The crunch of ice and screeching tires ricocheted in his ears.

"ScheiBe." Shit. The car seemed to be spinning out of control as it slid closer to the edge of the mountain. No one drove at that kind of speed in heavy, wet snow. The guy drove like a Dummkopf and whatever happened was just what he deserved.

Then the world moved in slow motion, all the action exaggerated. The car swung left then right, in what seemed to take an hour. The brakes screeched, metal grinding against metal, before the dilapidated sedan glided across the shoulder. It coughed, like an old man who smoked too much, and died, its nose too close to the rim.

"Hey, Kamerad." He pushed off the old tree trunk, waving his arms to catch the driver's attention, and fell with all his weight onto one knee. The sharp pain clouded his mind for only a second before he regained his footing.

He waved and hollered again, hoping the man would look up. Then he did; only it was a she, with fear pasted on her face.

He stumbled again then slid closer to the door handle and yanked.

Locked.

"Open it." The cold air poured into his lungs. "Open the door," he yelled again.

If the previous time passed in slow motion, her action was like a movie in rewind. She mouthed a few words. With a shake of his head, he tapped on the glass and pointed to the lock. This was getting them no where.

He jerked on the handle, careful not to rock the car any more than necessary. She seemed to finally get her senses back and edged her hand to the armrest controls.

The lock clicked and in a quick movement he flung the door open, flipped the key off, then grabbed her. He yanked with all his strength, but she would not budge. Damn, she still had on the harness.

He leaned across to release the seatbelt. She fought him, flailing, and the car shifted.

"Hey, Fraulein, do not move." She inhaled deep and briefly nodded her head. "We have to get you out of the car and keep it on the shoulder. The cows below won't produce good milk tonight if you squash them." Obviously humor was not working, because when she glanced up, her eyes were filled with tears.

He grabbed her arm and pulled. Ripping cloth and cracking ice echoed in his head. He hooked his hands under both of her armpits and tugged until he thought he would get a hernia. The damned steering wheel trapped her knees. With a grunt and a vigorous yank, she flew out of the car, knocking the wind out of him as he landed ass to frozen ground.



BUY LINK


Moving on to Eternal Press, below is the latest release in this hot little series;
The Naughty Ladies of Nice - Book Five - French Tickler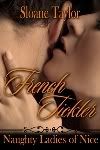 At Eternal Press.

BLURB:
Lingerie designer Samantha Bradley is on the brink of major success. While having the time of her life in Nice she meets sexy Cisco Bernier, a man who turns her heart inside out and makes her body sizzle.

Despite being France's key criminal prosecutor, Cisco's success in relationships has been less than zero. When he meets Sam, his staid world goes up in flames.

Their happiness is short lived as their pasts collide. His underhanded mother and her mob-connected father resurface to threaten their future.



EXCERPT:
"Do you not think her nipples are larger?" Cisco pointed to the charcoal nude on the young woman's sketch pad. He looked across the coastline toward the subject in question as the middle-aged woman stooped and spread a towel across the pebbles.

"Perhaps, but it's really hard to tell at this angle." The artist swiped a thumb along a black line, softening the bold stroke, and laughed. "Besides, she won't sit still long enough to get it right."

She tossed her long black hair across her bare shoulders, and a light scent of honey drifted up to him, clouding his mind.

Cisco yanked his tie from around his neck, grateful for the light breeze off the Mediterranean that cooled his hot skin.

"Maybe if you…" He slipped the thin stick from her long fingers, then squiggled a larger, more intricate circle on the wheat colored paper. "Something like that."

"Are you an artist?" She glanced up. Her large green eyes reminded him of polished emerald, sharp and clear, and just as exciting. At that moment he would be anything the beautiful American wanted him to be.



BUY LINK.

And Sloane offers even more...!
Now, if any or all of you like bookmarks and postcards along with a handy booklet for travel, please send your snail mail address to me, sloanetaylor@comcast.net, with FREEBIE in the subject line. I'll be happy to send you a packet no matter where in the world you are.

Please stop by my website where you'll find some of the tastiest and easiest menus ever to help simplify your life. I promise you won't be disappointed!

Thanks for taking the time to read about my work and me. And a HUGE thanks to you, Clare. You're the best!!

Happy Reading,
Sloane

Sloane Taylor
Sweet as Honey...Hotter than Hell
TEDDI TURNS ON 2009 EPPIE Finalist
www.sloanetaylor.com
www.myspace.com/sloanetaylor



-----------------------------

Follow this month with Clare (yes, it's all about the MEEEE...):

Week 2 :
Jan 09 : ravensilver describes the creativity of independent manga publishing - and the challenges...
Jan 10 : kitzheng talks about Kink...
Jan 11 : chrissy munder shares the struggles of writing, NC17 penguins and mantyhose...
Jan 12 : 1more_sickpuppy bares her soul about confessing her love for m/m fiction...
Jan 13 : erastes talks about taking that leap from fanfiction to the 'original' world...
Jan 14 : meet my Muse, the 'man' who has way too much power in my writing house...



Jan 01 : the Cheeky Cherubs welcome us to 2009 with a pithy verse or two and the threat of piercings...
Jan 02 : sweet, sexy fiction from lilzazu, all about the perennially tricky problem of a sticky shift...
Jan 03 : excellent editing tips for all authors who ever wondered whether to be cruel to be kind to their prose, hosted by jolilightner...
Jan 04 : Clare pimps the fabulous I DO anthology, now available in ebook and all proceeds to Lambda...
Jan 05 : abstractrx ponders the changing role of Romance and its reflection of - or on?! - the society around it...
Jan 06 : FREE FICTION from me and my friends!
Jan 07 : Jordan Castillo Price discusses what tempts us to try out a new author...
Jan 08 : Clare rambles on about perceived plagiarism and posts excerpts of her Torquere titles...




Want to grab a day to pimp, pose or pontificate? Comment HERE!! ♥