Not really, I just got distracted at my second home, The Dentist.
But now I'm back online and still in one piece, and I wanted to introduce you to
someone who's very close to me.
Who supports and cossets and encourages and inspires me.
Who is always there beside me when I write, who doesn't argue with me, who can be silent when I want him to be, who tolerates my bad moods.
But who also has a will of his own, who is volatile, emotional, fragile, flaky, tempestuous, sexy, determined, fractious...
Whose silence can often be taken for dismissal or sulking or just damned pig-headedness.
Who has a tendency to pack his bags at any imagined slight and leave forthwith for Brighton beach.
And not send a postcard. Or answer his cell. Or leave me any useful notes or plot directions or character bios...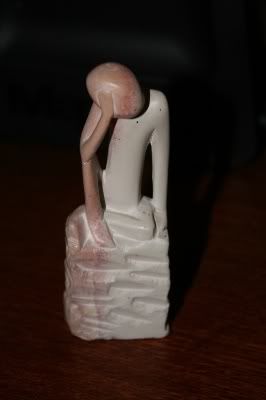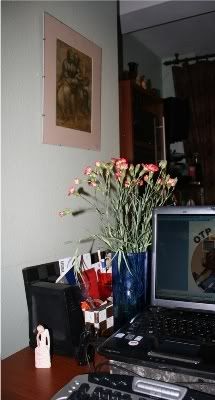 There he is, in all his fairly androgynous glory, showing his opinion of my posturing and complaints and creative pouts, i.e.
despairing
of how the hell someone as flaky as I am ever gets anything written in the first place.
And so you can see what a ridiculously small size he is, there's a picture of him at ClareSpace, that's where I (try to) write, the corner of the dining room table. I need my HD to hand and plenty of paper and pens, and a vase of flowers.
(Sorry that one looks a bit tired, they're due for a refresh *lol*. And thanks to Hubby for the pictures, despite the eye rolling when I gave him the project...).
So...The Muse.
*Angel or Anguish?
*Disproportionately powerful or a Critical Friend?
*Giving gifts of Inspiration or gleefully smirking at your Writer's Block???!!!
Who or what is
your
Muse?
A person / image / music / emotion / silly little statuette like mine? LOL.
Is he/she your greatest helpmate or yet another hurdle in the battle for Fic Completion?
Love/hate - or Love Eternal?
Let us know! ♥
-----------------------------
Follow this month with Clare (yes, it's all about the MEEEE...):
Week 2 :Jan 09 :
ravensilver describes the creativity of independent manga publishing - and the challenges...
Jan 10 :
kitzheng talks about Kink...
Jan 11 :
chrissy munder shares the struggles of writing, NC17 penguins and mantyhose...
Jan 12 :
1more_sickpuppy bares her soul about confessing her love for m/m fiction...
Jan 13 :
erastes talks about taking that leap from fanfiction to the 'original' world...
Jan 01 :
the Cheeky Cherubs welcome us to 2009 with a pithy verse or two and the threat of piercings...
Jan 02 :
sweet, sexy fiction from lilzazu, all about the perennially tricky problem of a sticky shift...
Jan 03 :
excellent editing tips for all authors who ever wondered whether to be cruel to be kind to their prose, hosted by jolilightner...
Jan 04 :
Clare pimps the fabulous I DO anthology, now available in ebook and all proceeds to Lambda...
Jan 05 :
abstractrx ponders the changing role of Romance and its reflection of - or on?! - the society around it...
Jan 06 :
FREE FICTION from me and my friends!
Jan 07 :
Jordan Castillo Price discusses what tempts us to try out a new author...
Jan 08 :
Clare rambles on about perceived plagiarism and posts excerpts of her Torquere titles...
Want to grab a day to pimp, pose or pontificate? Comment
HERE!!
♥
So dear God, it's one of MY days and I nearly forgot! LOL