Today's guest is Jordan Castillo Price, a fabulous author in the m/m genre and one of my automatic buys (hey, I only have half a dozen, you know...!).

I 'discovered' her through her Channeling Morpheus series. I fell in love with the first cover - which is very pertinent, when you read her post *lol* - and then fell in love with both the writing and the characters.
The continuing adventures of Michael and Bill are sharp, sexy and stylish, and as a reader, I've grown to love and care for them. She makes complex, flawed, challenging characters very real and totally sympathetic.



Buy them here

Her PsyCop series is also tremendously successful -
Victor Bayne, the psychic half of a PsyCop team, is a gay medium who's more concerned with flying under the radar than in making waves.

The latest release in the series is Camp Hell -
Victor Bayne honed his dubious psychic skills at one of the first psych training facilities in the country, Heliotrope Station, otherwise known as Camp Hell to the psychics who've been guests behind its razorwire fence.

Vic discovered that none of the people he remembers from Camp Hell can be found online, and there's no mention of Heliotrope Station itself, either. Someone's gone through a lot of trouble to bury the past. But who?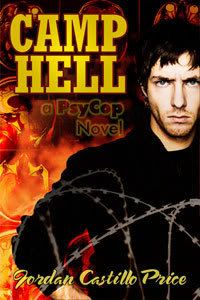 Buy all the series here

And she's recently won the contract for an exciting new series of Partners In Crime with Josh Lanyon at MLR Press.
You know how there are some authors you genuinely don't mind losing contests to?!!! *LMAO*

Her Packing Heat blog on writing tips has booted me up the ass helped me out tremendously over the last few months, when I started subscribing. She covers all topics from writing erotica to selling the damned stuff, and all with sensible, supportive guidance.
And catch her - and her monthly newsletter - on Her Website.

So... today?!
Let's talk about being seduced - about finding new fiction!

Freebies and excerpts are good ways to snag readers. I wonder if writers know how powerful the freebie can be? I've visited author sites and decided NOT to buy their work based on the lack of quality of their free offerings. And, conversely, I've been totally sucked into stories just from a snippet posted on a Yahoo group.

What about you? How did you find your favorite author?



Hi all! My name's Jordan Castillo Price. I'm an author of m/m horror. I started writing in 1999 and saw my first work in print in 2004. I post a weekly podcast on erotica writing tips at packingheat.net. You can find out more about my stories at www.jordancastilloprice.com

Recently, I got an email from a reader who tried both of my current series, PsyCop and Channeling Morpheus, and she seemed rather dismayed to have enjoyed them. Even though she'd seen the series around, avoidance factor had kicked in, big time.

I'm not sure what pushed her over the brink and got her to give my writing a try, but I'm glad she did, since she enjoyed the work enough to tell me her whole story!

This reader's confessional got me to wondering what it is that makes us avoid stories we might like, and conversely, what convinces us to try out a writer we haven't read before. Is it a story's blurb? A snippet? A review? The cover?

"You can't judge a book by its cover" is an old axiom, and it's true. Most authors have little or no control over the covers of their books. The cover, however, is often the first part of the book you see. Being able to create or commission the cover I see in my mind's eye is one of the joys I have in creating the books I publish through JCP Books.

I've been thinking about how I discover new-to-me authors. The main ways are stumbling across their actual writing and getting drawn in, or trying them out on the recommendation of a friend. I had a colleague who could unerringly give me awesome book recs. Then, sadly, he graduated high school and headed off to college in another state. (Yup. A kid young enough to be my son was my best barometer of what I'd like to read. But I like to think he had pretty sophisticated taste.)

He was a fellow writer, which made a big difference. He and I did NaNoWriMo together two years in a row. So since he was also a writer, I knew he was a fairly critical reader, and he wasn't going to recommend anything with irritating prose. Come to think of it, a lot of our lunchtimes were spent trashing stories we thought were lame!

Freebies and excerpts are good ways to snag readers. I wonder if writers know how powerful the freebie can be? I've visited author sites and decided NOT to buy their work based on the lack of quality of their free offerings. And, conversely, I've been totally sucked into stories just from a snippet posted on a Yahoo group.

What about you? How did you find your favorite author?


Jordan Castillo Price
Free stories - Excerpts - Erotica Writing Podcast - Blogs
www.jordancastilloprice.com



and BTW, don't forget yesterday's post, you can post links to YOUR free fiction there. And readers? BOOKMARK?! *lol*!!

-----------------------------

Follow this month with Clare (yes, it's all about the MEEEE...):

Jan 01 : the Cheeky Cherubs welcome us to 2009 with a pithy verse or two and the threat of piercings...
Jan 02 : sweet, sexy fiction from lilzazu, all about the perennially tricky problem of a sticky shift...
Jan 03 : excellent editing tips for all authors who ever wondered whether to be cruel to be kind to their prose, hosted by jolilightner...
Jan 04 : Clare pimps the fabulous I DO anthology, now available in ebook and all proceeds to Lambda...
Jan 05 : abstractrx ponders the changing role of Romance and its reflection of - or on?! - the society around it...
Jan 06 : FREE FICTION from me and my friends!


Want to grab a day to pimp, pose or pontificate? Comment HERE!! ♥