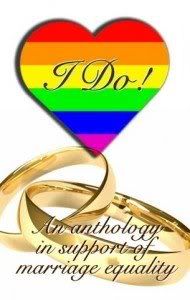 No, this isn't some warped episode of Prison Break.
The
I Do
Anthology is available for purchase at
All Romance Ebooks
only $5.99 for the e-book.
Do you support the right of any human being to marry the person they
love? The right to say 'I Do' to a life of commitment and sharing with
the that one special person? We do.

We hope that marriage will soon be a dream that everyone can share.
That's why the following authors of LGBT fiction have donated stories to
this anthology, in aid of Lambda Legal Fund's fight for marriage equality:

Tracey Pennington, Alex Beecroft, Charlie Cochrane, Clare London, Storm
Grant, Lisabet Sarai, Sharon Maria Bidwell, Jeanne Barrack, Marquesate,
Z.A Maxfield, P.A Brown, Allison Wonderland, Erastes, Zoe Nichols and
Cassidy Ryan, Emma Collingwood, Mallory Path, Jerry L. Wheeler,
Moondancer Drake, Fiona Glass, Lee Rowan.

All profits from the sale of this anthology will be donated to the
Lambda Legal Defense to fight Prop 8 in support of marriage equality for
all.
Look at that selection of authors!
Masterminded by
alex_beecroft
and supported by an enthusiastic and committed team.
My (very short) short story is bundled in there with such great fiction, I feel like the last person to be chosen for the netball team (which I so often was in adolescent real life LOL). But I'm very VERY thrilled to be part of it.
The print version will be available by the end of the month, from
MLR Press
who so kindly donated all the publishing and the editing resources for us.
And later on in January I'll offer you the chance to
WIN
a copy of your choice, on this very Blog!
*insert ooohs and aaahs here*
Follow this month with Clare (yes, it's all about the MEEEE...):
Jan 01 :
the Cheeky Cherubs welcome us to 2009 with a pithy verse or two and the threat of piercings...
Jan 02 :
sweet, sexy fiction from lilzazu, all about the perennially tricky problem of a sticky shift...
Jan 03 :
excellent editing tips for all authors who ever wondered whether to be cruel to be kind to their prose, hosted by jolilightner...
Want to grab a day to pimp, pose or pontificate? Comment
HERE!! ♥
It's OUT!!!!!