What ever happened to my real life, anyway? You hear it all the time. People talk about RL interfering with their on line communications and playing havoc with their (my) writing schedules. You know how that conversation goes:

Friend: "I PM'd and u never responded. Where were u?

Me: ""EDJ" (Evil Day Job, just in case you don't speak PM)

Friend: "I hate when RL messes w/FB"

Me: "Don't I know. Haven't had time to write a word today."

Friend: "Yeah, I hear ya. Stoopid laundry/dishes/cats/kids"



But the fact of the matter is, when I really examine my life, I have to ask: What is real life?

I mean, just yesterday morning, a Purolator currier banged on my door at OMG! 8:30 in the morning (That was real. Make no mistake.....O.o)
He handed over a small box with a Dreamspinner Press return address label on it.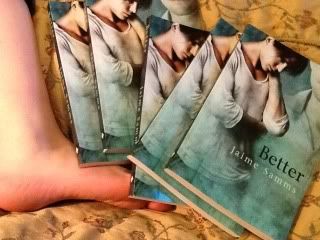 Boy howdy! Did my little heart get to thumping, for I knew what all that tape and plain cardboard hid. Hard copy. Real, tangible proof, in the form of five author copies of my new release, Better, (shown here next to my son's foot because he's eight and couldn't be bothered to move it) that my writing career most decidedly is not virtual.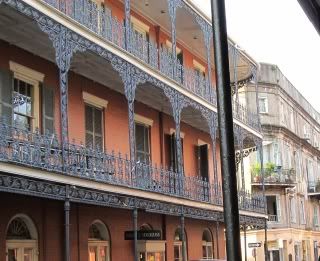 A few months ago, down in New Orleans, a place, BTW, I never in a million years thought I'd ever be able to go, I met not just our own lovely Clare London, but a host of other authors, readers, editors, reviewers, and bloggers in the flesh, to whom I've been chattering at through email and Facebook and blogs for years. They weren't virtual. The hugs and smiles and conversations we shared were very real and gratifying. And that trip came about because I am a writer.

Okay, yes, so the waitressing job is also real. My feet can attest to that. So are the bills and the cats and the kids and all their hairballs and dirty laundry. But I used to have this strange idea that Jaime Samms was a different person from the waitress and the mom and the wife. Turns out? Not so much.



So when I go on line to invite all my cyber friends to celebrate my new release with me this Saturday, guess what? I'll invite my sisters and my brother, too. Because hell, I might have a weird, dual ego thing going on, but we are both decidedly real, my friend. Make no mistake :D



******


I've been writing for various publishers since the fall of 2008, although I've been writing for myself far longer. I'm often asked why men? What's so fascinating about writing stories about men falling in love? It's never been an easy question to answer. I just always have written stories about men, and as I reached the age where I started to fall in love (and that happened on a fairly regualr basis, and not always with men, myself) my characters grew along with me. For a long time, I thought I was pretty odd. A lot of people who know me are raising eyebrows right about now, and to them, I say: "I wasn't asking you." When I discovered the internet, in the form of text chat rooms in university, and that's as close an aproximation on age as you're going to get, I realized I was not the only one who had this fascination. There were other writers out there writing the stories I wanted to read, and reading the kind of stories I was writing. Sometime between then and now, an author was born.

Jaime's website.
On Live Journal as
dontkickmycane



~~~~~~~~~~~~~~~~~~~~~~~~~~~~~~~~~~~~~

From Clare:
Catch up with the fiction and links on my FREE FICTION DAY through THIS TAG.

Don't forget the PRIZE DRAW for the (in)famous GRL bracelet **OPEN TO JAN 31**

FOLLOW the Birthday Blog so far:


Jan 23: J.L. Merrow and Josephine Myles discuss the better part of UST :)
Jan 24: Marie Sexton and Heidi Cullinan on their Cup-o-Porn Blog's birthday celebrations.:)
Jan 25: Mickie B. Ashling on the pictures that have inspired her Muse.
Jan 25: Chrissy Munder on finding Twitter a whole new experience!
Jan 26: Isabelle Rowan on the meaning of home, on Australia Day.
Jan 26: Ellis Carrington on seeing the world through perv-coloured glasses :)
Jan 27: Cornelia Grey on matching the best music to her writing mood.
Jan 28: Bookmark the posts on this tag for links to free fiction :)
Jan 29: S. A. Garcia on the art of obsession.


Jan 16: Sasha L. Miller making magic happen.
Jan 17: H. B. Pattskyn shares a free short story.
Jan 17: Becky Black on what can really happen after publishing.
Jan 18: Blaine D. Arden on keeping it close to her heart.
Jan 18: Tam battles with IKEA - and wins!
Jan 19: Toni Anderson shares her love of romance novels.
Jan 19: Poppy Dennison introduces the Boxer Falls m/m serial, plus a PRIZE DRAW for the (in)famous GRL bracelet **OPEN TO JAN 31**
Jan 20: Erastes shows us life from a horse's-eye view.
Jan 21: Anna Martin shares a beautiful and provocative ballet.
Jan 21: Andrea Speed shares snippets from Diary of the Damned.
Jan 22: Anne Barwell introduces her new WW2 m/m romance drama.




Jan 09: Lee Rowan shares her healthy resolution.
Jan 10: Rowena Sudbury and the beauty of a blue moon.
Jan 10: Sandra Lindsay and her WIP characters.
Jan 11: Shelley Munro and a tour of bedrooms through the ages.
Jan 11: Dany Sirene and her love of Goth characters.
Jan 12: Sarah Madison and her decision to stop competing.
Jan 13: Alix Bekins shares her love of kink.
Jan 14: Janis Susan May on writing one word at a time.
Jan 14: Charlie Cochrane watches movies with hankies at hand.
Jan 15: Megan Derr and the inspiration in fairytales.




Jan 01: luscious_words shares some fabulous icons.
Jan 02: Jordan Castillo Price shares her experience of re-releasing books.
Jan 03: Mara Ismine wonders how important is continuity in fiction?
Jan 04: Jen shares her favourite Rom Com movies.
Jan 05: Karenna Colcroft introduces her unusual werewolf.
Jan 06: Stevie Carroll takes us on a pictorial tour of her favourite locations.
Jan 07: Tinnean quotes Jack Benny on age.
Jan 07: Josie makes a brave leap into a scary sport.
Jan 08: Elin Gregory finds inspiration at every turn.



Check up on: Prior years fun HERE
and The 2012 Guest schedule HERE.

Want to join in but missed the original call? Email me at clarelondon11 AT yahoo.co.uk and I'll happily find you a space
♥

NOTE: most pictures chosen by me and credited where known, others may be used without direct permission, please contact me with any queries/concerns.

****All my posts are being mirrored at Dreamwidth, please feel free to friend me over there as well****