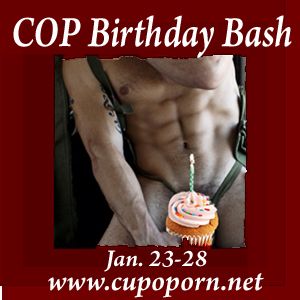 It's here! The
COP Birthday Bash
has started with a proverbial bang, and runs all the way to Jan 28 (no, that has nothing to do with the fact there's another event happening on that date that's rather closer to my heart... *cough*).
There's free fiction every day from authors who are either your favourites or destined to become so - and prizes and contests and giveaways.
Subscribe to the blog, and/or find it
HERE
.
And - catching me unawares because I forgot what day of the week it was - my own (very) short story appears today:
METHOD ACTING
BLURB: All the world's a stage, including time spent in the most intimate acts… but one night's fun for Gerald and Stephan could turn at any moment into an opening night disaster!
ENJOY!
♥