Today's guests are fellow authors Marie Sexton and Heidi Cullinan celebrating a birthday of a different kind - on their blog!

~~~~~~~~~~~~~~~~~~~~~~~~~~~~~~

A year ago, Heidi Cullinan and I wanted to start a new blog. The problem was, we didn't really know what kind of blog it should be. We wanted it to be fun. We wanted it to be relevant to our genre and our readers, and yet, we didn't want to focus on books too much. We didn't want to do reviews. And then one morning, over chat, we had this conversation: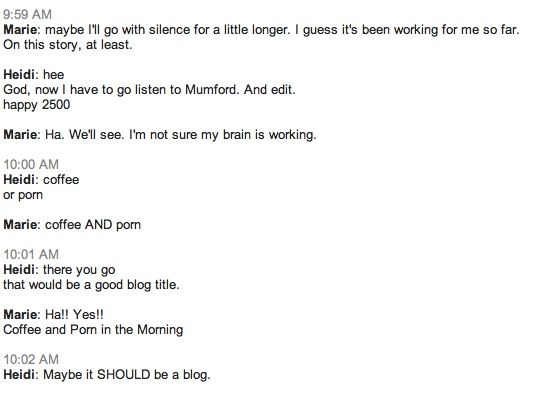 Just like that, our blog was born: Coffee and Porn in the Morning (Wine and Sex in the Afternoon). It started out as a bit of a joke, but also, we wanted to show that we're normal. We're all normal. We all live normal lives. Lots of us have kids. We take them to Girl Scout meetings and soccer practice. We read and/or write books. We drink coffee. And we just happen to like porn too.

It turns out, there are a lot of us.


Today, January 24th, is officially our one-year birthday.

To celebrate, we've put together a week-long party. We have contests and prizes (including a Kindle Touch or Nook Simple Touch, winner's choice) donated by Silver Publishing, Amber Quill Press, Dreamspinner Press, and Samhain Publishing.

We also have 25 free short stories from some of your favorite authors (including Clare!!).

You can find all the details HERE.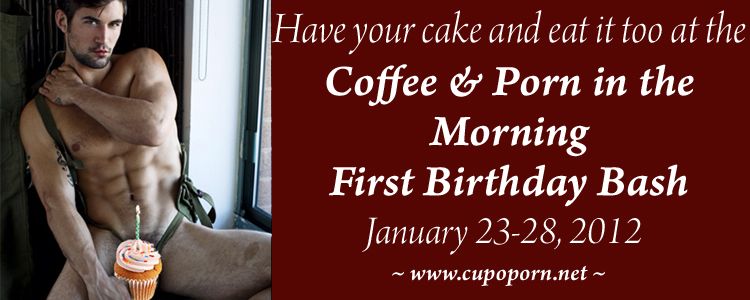 Coffee and Porn in the Morning, brought to you by Heidi Cullinan and Marie Sexton.

We like it fresh.



******




Marie Sexton was always good at the technical aspects of writing but never had any ideas for stories. After graduating from Colorado State University, she worked for eleven years at an OB/GYN clinic. She quit the clinic at about the same time she started reading M/M romances. At some point in the ensuing months the static in her head cleared and her first story, Promises, was born.
Marie lives in Colorado. She's a fan of just about anything that involves muscular young men piling on top of each other. In particular, she loves the Denver Broncos and enjoys going to the games with her husband. Matt and Jared often tag along. Marie has one daughter, two cats, and one dog, all of whom seem bent on destroying what remains of her sanity. She loves them anyway.
Visit Marie's website at http://mariesexton.net/, follow her on Facebook and Twitter, join her mailing list, and absolutely don't forget to check out her tumblr. (Tumblr not work safe.) And there's always her email.

******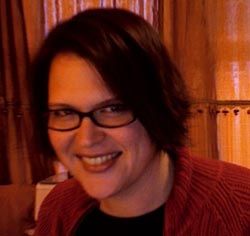 Heidi grew up in love with story. She fell asleep listening to Disney long-playing recordsand read her Little House On The Prairie books until they fell apart. She ran through the woods inventing stories of witches and fairies and enchanted trees and spent hours beneath the lilac bush imagining the lives of the settlers who had inhabited the homestead log cabin and two-story late 1800s home on her family farm.
A passionate advocate for LGBT rights, Heidi volunteers as often as she can for One Iowa and donates with her husband as a monthly partner to the Human Rights Campaign and Lambda Legal. She encourages you to support your own local and national LGBT rights groups, too.Heidi enjoys knitting, reading, movies, TV shows on DVD, and all kinds of music. She has a husband, a daughter, and too many cats.
Visit Heidi's website at www.heidicullinan.com and join her mailing list to keep up to date on her latest news and releases. Heidi is also an active social networker, updating on Twitter, Facebook, Tumblr, Livejournal, and of course has good old-fashioned email.





~~~~~~~~~~~~~~~~~~~~~~~~~~~~~~~~~~~~~


From Clare: Like to stretch your writing fingers after Christmas' excesses? Fancy writing something for the visitors this month? It can be anything from a flashfic 3 sentences to a drabble of 100 or so, or even more. Any genre, any theme, any rating, any character(s). Maybe ones you already love, maybe the chance to try on a new character for size.

I'm holding a FREE FICTION DAY on the 28th, so send me new fiction - links to your existing work also welcome! - to clarelondon11 AT yahoo.co.uk and I'll post it all then :).

~~~~~~~~~~~~~~~~~~~~~~~~~~~~~~~~~~~~

FOLLOW the Birthday Blog so far:
Don't forget the PRIZE DRAW for the (in)famous GRL bracelet **OPEN TO JAN 31**

Jan 23: J.L. Merrow and Josephine Myles discuss the better part of UST :)


Jan 16: Sasha L. Miller making magic happen.
Jan 17: H. B. Pattskyn shares a free short story.
Jan 17: Becky Black on what can really happen after publishing.
Jan 18: Blaine D. Arden on keeping it close to her heart.
Jan 18: Tam battles with IKEA - and wins!
Jan 19: Toni Anderson shares her love of romance novels.
Jan 19: Poppy Dennison introduces the Boxer Falls m/m serial, plus a PRIZE DRAW for the (in)famous GRL bracelet **OPEN TO JAN 31**
Jan 20: Erastes shows us life from a horse's-eye view.
Jan 21: Anna Martin shares a beautiful and provocative ballet.
Jan 21: Andrea Speed shares snippets from Diary of the Damned.
Jan 22: Anne Barwell introduces her new WW2 m/m romance drama.



Jan 09: Lee Rowan shares her healthy resolution.
Jan 10: Rowena Sudbury and the beauty of a blue moon.
Jan 10: Sandra Lindsay and her WIP characters.
Jan 11: Shelley Munro and a tour of bedrooms through the ages.
Jan 11: Dany Sirene and her love of Goth characters.
Jan 12: Sarah Madison and her decision to stop competing.
Jan 13: Alix Bekins shares her love of kink.
Jan 14: Janis Susan May on writing one word at a time.
Jan 14: Charlie Cochrane watches movies with hankies at hand.
Jan 15: Megan Derr and the inspiration in fairytales.




Jan 01: luscious_words shares some fabulous icons.
Jan 02: Jordan Castillo Price shares her experience of re-releasing books.
Jan 03: Mara Ismine wonders how important is continuity in fiction?
Jan 04: Jen shares her favourite Rom Com movies.
Jan 05: Karenna Colcroft introduces her unusual werewolf.
Jan 06: Stevie Carroll takes us on a pictorial tour of her favourite locations.
Jan 07: Tinnean quotes Jack Benny on age.
Jan 07: Josie makes a brave leap into a scary sport.
Jan 08: Elin Gregory finds inspiration at every turn.



Check up on: Prior years fun HERE
and The 2012 Guest schedule HERE.

Want to join in but missed the original call? Email me at clarelondon11 AT yahoo.co.uk and I'll happily find you a space
♥

NOTE: most pictures chosen by me and credited where known, others may be used without direct permission, please contact me with any queries/concerns.

****All my posts are being mirrored at Dreamwidth, please feel free to friend me over there as well****