Andrea Speed
with a snippet from her character Josh's diary. He's the star of her new releases at Riptide Publishing.
~~~~~~~~~~~~~~~~~~~~Diary of the Damned #6
In hopes of eventually publishing a book about his experiences at the Quik-Mart, Josh has decided to start keeping a work diary of his times on the night shift. Here is one random page.
11:57
– Carina was back on shift, as apparently Jordan – a/k/a the Troll in disguise – didn't show up for work. I pretend to be surprised, even though I know that Colin kicked his ass back through the hell portal for trying to take my place on the graveyard shift. But I can hardly tell her Jordan was a non-human, could I? At least playing dumb comes naturally to me.
12:28
– Do lizard men get drunk? Because I'm pretty sure the first creature of tonight was a drunk lizard. He was swaying unsteadily on his splayed feet, and almost fell over twice. Still, he bought a super sized bag of Ruffles, and left me $3.27 in change. He (she?) didn't smell like booze though – it smelled a bit like strawberries. I'm not even gonna try and figure that out.
1:04
– A Sasquatch showed up! Or a brown Yeti. It's not my Yeti, as he's got white fur. Also, this one seems to be a total grump. He grunted at me on his way in the door, and continued to make small grunts and burps as he shopped. He eventually came to the counter with a family pack of beef jerky, and a can of dog food. I was tempted to ask if Sasquatches and Yetis were different, or the same species with different colored fur, but he was nearly eight feet tall and smelled like a plate of tamales that had been left in the fridge too long, so I decided not to risk it. At least my Yeti's friendlier. Well, to me at any rate. Those guys who tried to rob me probably don't think so, assuming they can actually think. (Probably not. Best not to think about that.)
2:41
– I've never seen two zombies come in together, but it happened tonight. One with a missing foot staggered in, and right on his heels (well, heel) was a zombie missing a hand and most of his right forearm. (Eww.) They bought frozen burritos, and while they weren't traditionally together, I swear they kinda seemed like a couple. If so, good for them. Even zombies deserve love. Or something. I have to ask Colin if zombies can do anything other than shamble and rot (pretty much the sum total of what I've seen them do).
3:12
– Another vampire was in the shop when Colin dropped by. It was just a swarthy guy buying Powerade and a Twix (I hope he doesn't eat them together, 'cause that sounds gross), but he and Colin shared a frosty look and an acknowledging nod. When the guy was gone, Colin admitted he was an ex-boyfriend (!) and they didn't really talk much anymore. Colin didn't want to talk about him at all, but at least I got him to tell me the vamp's name was Nestor, and they'd only been together two months. Still, Colin and I have been together just a little over two months, and I barely know anything about him, except he's three hundred years old and is a real candy addict. Should I be worried?
3:15 – 4:05
– Fooling around with Colin.
4:08
– According to Colin, zombies don't feel anything beyond hunger, so love and friendship are pretty much beyond them. And sex is completely out of the question, as bits break off. That caused me to imagine something so gross I dropped the subject.
4:29
– Colin's gone maybe five minutes before Nestor returned to ask me what Colin bought and if he said anything. Curious ex, or potential stalker? I decided to play it safe and say he didn't say anything, just bought a Snickers and left. I wasn't sure he completely believed me, but luckily the portal was due to close soon, and he had to get going. Should I mention that to Colin?
4:37
– Since I'd been slacking off in my werewolf chasing duties, I decided to do a final sweep of the parking lot before Jorge showed up to relieve me for the morning shift. Although I smelled werewolf piss pretty strongly, I didn't see a single one, which was weird. There's always goddamn werewolves around here! I discovered why they were gone when I peeked around the corner where the Dumpster – and the hell portal – are, and saw the Sasquatch from earlier standing there, noshing on a werewolf leg like a big, furry turkey drumstick. So Sasquatches eat werewolves? Holy crap! I wonder if I can hire him to just stand around and scare the 'wolves before they can piss on everything and tear the bumpers off of cars.
4:45
– I've decided hiring a 'squatch is a bad idea. I mean, what if the werewolves didn't show for several days. Would he eat me instead? Maybe I feel like a complete asshole doing it, but I think me chasing them away with a silver broomstick is a much safer option.
***********************************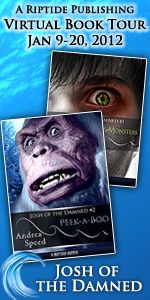 Did you enjoy this? Then maybe you'd enjoy the series
Josh of the Damned
. Pretty Monsters is the first story, and Peek A Boo, out now, is the second, both available from Riptide Publishing.
Thanks Clare – and happy birthday!
Josh knew the night shift at the Quik-Mart would be full of freaks and geeks—and that was before the hell portal opened in the parking lot. Still, he likes to think he can roll with things. Sure, the zombies make a mess sometimes, but at least they never reach for anything more threatening than frozen burritos. Still, with a hell vortex just a stone's throw away, Josh has learned to take nothing at face value—even if it's a very, very pretty face.
******
Andrea Speed writes way too much. She is the Editor In Chief of CxPulp.com, where she reviews comics as well as movies and occasionally interviews comic creators. She also has a serial fiction blog where she writes even more, and she occasionally reviews books for Joe Bob Briggs's site. She might be willing to review you, if you ask nicely enough, but really she should knock it off while she's ahead.
Visit her
web site
, her
Facebook
, and at
Twitter
.

~~~~~~~~~~~~~~~~~~~~~~~~~~~~~~~~~~~~ From Clare:
Like to stretch your writing fingers after Christmas' excesses? Fancy writing something for the visitors this month? It can be anything from a flashfic 3 sentences to a drabble of 100 or so, or even more. Any genre, any theme, any rating, any character(s). Maybe ones you already love, maybe the chance to try on a new character for size.
I'm holding a
FREE FICTION DAY
on the 28th, so send me new fiction - links to your existing work also welcome! - to clarelondon11 AT yahoo.co.uk and I'll post it all then :).
~~~~~~~~~~~~~~~~~~~~~~~~~~~~~~~~~~~~FOLLOW
the Birthday Blog so far:
Jan 16:
Sasha L. Miller making magic happen.
Jan 17:
H. B. Pattskyn shares a free short story.
Jan 17:
Becky Black on what can really happen after publishing.
Jan 18:
Blaine D. Arden on keeping it close to her heart.
Jan 18:
Tam battles with IKEA - and wins!
Jan 19:
Toni Anderson shares her love of romance novels.
Jan 19:
Poppy Dennison introduces the Boxer Falls m/m serial, plus a
PRIZE DRAW
for the (in)famous GRL bracelet
**OPEN TO JAN 31**
Jan 20:
Erastes shows us life from a horse's-eye view.
Jan 21:
Anna Martin shares a beautiful and provocative ballet.
Jan 09:
Lee Rowan shares her healthy resolution.
Jan 10:
Rowena Sudbury and the beauty of a blue moon.
Jan 10:
Sandra Lindsay and her WIP characters.
Jan 11:
Shelley Munro and a tour of bedrooms through the ages.
Jan 11:
Dany Sirene and her love of Goth characters.
Jan 12:
Sarah Madison and her decision to stop competing.
Jan 13:
Alix Bekins shares her love of kink.
Jan 14:
Janis Susan May on writing one word at a time.
Jan 14:
Charlie Cochrane watches movies with hankies at hand.
Jan 15:
Megan Derr and the inspiration in fairytales.
Jan 01:
luscious_words shares some fabulous icons.
Jan 02:
Jordan Castillo Price shares her experience of re-releasing books.
Jan 03:
Mara Ismine wonders how important is continuity in fiction?
Jan 04:
Jen shares her favourite Rom Com movies.
Jan 05:
Karenna Colcroft introduces her unusual werewolf.
Jan 06:
Stevie Carroll takes us on a pictorial tour of her favourite locations.
Jan 07:
Tinnean quotes Jack Benny on age.
Jan 07:
Josie makes a brave leap into a scary sport.
Jan 08:
Elin Gregory finds inspiration at every turn.
Check up on: Prior years fun HERE
and The 2012 Guest schedule HERE.
Want to join in but missed the original call? Email me at clarelondon11 AT yahoo.co.uk and I'll happily find you a space
♥
NOTE:
most pictures chosen by me and credited where known, others may be used without direct permission, please contact me with any queries/concerns.
****All my posts are being mirrored at Dreamwidth, please feel free to friend me over there as well****
Today's second guest is fellow author