Today's first post is from fellow author Anna Martin, sharing her thoughts on a beautiful and provocative interpretation of a traditional ballet.

~~~~~~~~~~~~~~~~~~~~~~~~

Firstly, Happy Birthday Clare!! And thank you for letting me be part of this month of frivolity.
So, boys and girls, I'm here today to talk to you about ballet.

WAIT!

Come back!
It's gay ballet! (That sounds wrong, even to my ears.)
I'll start with a history lesson. (Fuck, no one's going to read this, are they?!)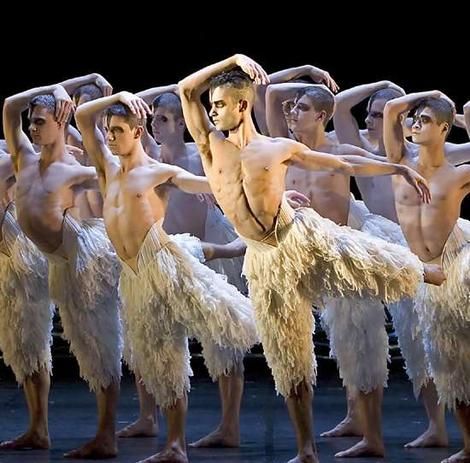 Way back in the dark ages (1995) a choreographer called Matthew Bourne decided to re-vamp the classic ballet Swan Lake. The concept was that the traditionally female swans would be replaced by an all male corps de ballet (chorus). Bourne argued that swans are by nature mean, powerful, vicious creatures and that it made sense to him that this creature should be portrayed by a male, rather than a female. So he filled his stage with twenty-odd beautiful, half naked men.

The main reason why this adaptation caused so much controversy, though, was because the Prince in the ballet was also male. Male Prince, male Swan. And it's a tragic romance.
Ooooooh.

All the men who played the swans were bare chested, barefoot, and wore costumes of feathered shorts and body paint (stick with me, it's very hot). The choreography itself is pretty much a study in the male body, musculature and grace and strength.

One more thing before I show you a clip.

The two dancers who played the Prince and the Swan in the original production were Scott Ambler and Adam Cooper (respectively). Cooper is straight - now married with kids and I haven't been able to find any conclusive facts regarding Ambler's sexuality (not that it really matters, of course, fans of Queer as Folk will happily confirm that straight actors can play gay characters rather well.)

But Swan Lake is about more than just sexuality. It's a love story between a man and a swan.
Yeah, I'm still trying to figure it out as well.

Watch an excerpt on YouTube here


There are a couple of moments I want to point out as just, ugh, stunning...

3.30 - the moment of intimacy there is so tender and sweet; the Swan gets scared and runs off, but a moment later he's back and offering his own kind of affection. It's very animalistic.

4.24 - things slowing down, where the love element comes in, perhaps? And through this whole next section, plenty of ass- to- groin action, if you're looking for that...

5.33 - that LOOK. Ugh!

And every time Adam Cooper's feet leave the floor - you know, there are very, very few dancers in the world who can leap like he can. It's incredible. This clip is clearly only a little bit of the production and probably the hottest the M/M action gets. But rather than the heat, it's the connection between the two dancers which I've always found so captivating. Maybe it's because of the non-verbal communication between the two of them, they have to find other ways to show this connection. Each movement is so carefully measured, each look, each pause...

Adam Cooper created the part of the Swan and I can say with reasonable confidence that no one has even come close to being as good as he was. I first watched the video of this when I was studying theatre back in 2003 and it entranced me completely. Back then I wasn't actively writing anything but I've always wanted to do something with this piece. I'm working on a short story at the moment which sort of features the ballet. We'll see what happens with that!

My point here, I think, is 1) ooh, look at the pretty boys, 2) good god, this is gorgeous and 3) one day I hope to be able to put into words the kind of intimacy and passion that those two men created on stage.

-- Anna Martin


If you wanna know more about my little incoherent ramblings...
My Website
Follow me on Twitter
and check out the cool things that I write for DSP HERE.

And finally - if you go to my website, click on 'Contact' and leave me your address, with SWAG in the subject line, I'll send you some stuff!


********




Anna Martin is from a picturesque seaside village in the south west of England. After spending most of her childhood making up stories (early versions of her illustrated tales starring her stuffed animals should be available on eBay shortly), she studied English Literature at university before attempting to turn her hand as a professional writer.
Apart from being physically dependent on her laptop, she is enthusiastic about writing and producing local grassroots theatre (especially at the Edinburgh Fringe Festival, where she can be found every summer), travelling, learning to play the ukulele and Ben & Jerry's New York Super Fudge Chunk.
Anna claims her entire career is due to the love, support, pre-reading and creative ass-kicking provided by her closest friend Jennifer. Jennifer refuses to accept any responsibility for anything Anna has written.




~~~~~~~~~~~~~~~~~~~~~~~~~~~~~~~~~~~~

From Clare: Like to stretch your writing fingers after Christmas' excesses? Fancy writing something for the visitors this month? It can be anything from a flashfic 3 sentences to a drabble of 100 or so, or even more. Any genre, any theme, any rating, any character(s). Maybe ones you already love, maybe the chance to try on a new character for size.

I'm holding a FREE FICTION DAY on the 28th, so send me new fiction - links to your existing work also welcome! - to clarelondon11 AT yahoo.co.uk and I'll post it all then :).

~~~~~~~~~~~~~~~~~~~~~~~~~~~~~~~~~~~~

FOLLOW the Birthday Blog so far:
Jan 16: Sasha L. Miller making magic happen.
Jan 17: H. B. Pattskyn shares a free short story.
Jan 17: Becky Black on what can really happen after publishing.
Jan 18: Blaine D. Arden on keeping it close to her heart.
Jan 18: Tam battles with IKEA - and wins!
Jan 19: Toni Anderson shares her love of romance novels.
Jan 19: Poppy Dennison introduces the Boxer Falls m/m serial, plus a PRIZE DRAW for the (in)famous GRL bracelet **OPEN TO JAN 31**
Jan 20: Erastes shows us life from a horse's-eye view.



Jan 09: Lee Rowan shares her healthy resolution.
Jan 10: Rowena Sudbury and the beauty of a blue moon.
Jan 10: Sandra Lindsay and her WIP characters.
Jan 11: Shelley Munro and a tour of bedrooms through the ages.
Jan 11: Dany Sirene and her love of Goth characters.
Jan 12: Sarah Madison and her decision to stop competing.
Jan 13: Alix Bekins shares her love of kink.
Jan 14: Janis Susan May on writing one word at a time.
Jan 14: Charlie Cochrane watches movies with hankies at hand.
Jan 15: Megan Derr and the inspiration in fairytales.




Jan 01: luscious_words shares some fabulous icons.
Jan 02: Jordan Castillo Price shares her experience of re-releasing books.
Jan 03: Mara Ismine wonders how important is continuity in fiction?
Jan 04: Jen shares her favourite Rom Com movies.
Jan 05: Karenna Colcroft introduces her unusual werewolf.
Jan 06: Stevie Carroll takes us on a pictorial tour of her favourite locations.
Jan 07: Tinnean quotes Jack Benny on age.
Jan 07: Josie makes a brave leap into a scary sport.
Jan 08: Elin Gregory finds inspiration at every turn.



Check up on: Prior years fun HERE
and The 2012 Guest schedule HERE.

Want to join in but missed the original call? Email me at clarelondon11 AT yahoo.co.uk and I'll happily find you a space
♥

NOTE: most pictures chosen by me and credited where known, others may be used without direct permission, please contact me with any queries/concerns.

****All my posts are being mirrored at Dreamwidth, please feel free to friend me over there as well****