Today's second post is from fellow author Poppy Dennison, one of the instigators of a new online m/m serial called Boxer Falls. Here she is to tell you about it!

~~~~~~~~~~~~~~~~~~~~~~~~~~

Boxer Falls is a free, online serial brought to you by Damon Suede, Ellis Carrington, and Poppy Dennison. Hosted by the M/M Romance group at Goodreads, this series has it all: hot men, high drama, and those greedy plot twists that leave you begging for more!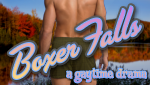 BLURB:
What goes up always comes down.

Peek behind the fly of Boxer Falls, and see what mischief lurks in its quiet streets and secluded spots of a small New England town with a queer reputation. Around here, the family closets hold more than skeletons and the fights are strictly gloves-off. With folks this gorgeous, the feuds are bound to get ugly.

When the wealthy Cotten family decides to turn their country estate into a luxurious resort, the residents of Boxer Falls face an influx of affluent tourists who rub their sleepy little town in the worst ways. Lust, greed, betrayal, and ambition might just yank the town to its knees.

Tune in each week to get the latest on scorching affairs, family dysfunction, and secret desire.

Boxer Falls: The bigger they are...

Sneak peak of Friday's episode by Poppy Dennison:

A sharp knock came from the front door. Grady hurried as fast as his aching back would let him to get it open. He locked eyes with the man standing on his front porch. Speak of the devil.

"I got your message," Conrad said.

"My mess…" Oh hell. Grady vaguely remembered calling after Phil left for work last night. What he couldn't remember was exactly what he'd said when Conrad's voicemail had picked up.

"Must we do this on the porch?" Conrad's voice sent a dark thrill down Grady's spine. Deep, smooth, and cultured. Grady remembered the sound of that husky voice whispering in his ear. That was before his flannel days.

He fought his embarrassment and pulled the door open. He quickly adjusted his robe, wishing he'd taken the time to get dressed. He felt vulnerable enough around Conrad without standing there in his old man pajamas.

Grady shuffled into the sitting room with Conrad following. Conrad looked around, his cool blue stare not giving away a hint of his thoughts. Grady tried to see the décor from Conrad's viewpoint. Exposed beams in polished dark wood lined the ceiling. A newly refurbished fireplace flanked by bookcases covered the far wall. Comfortable furniture, patterned rug. Everything in its place.

With a pleased sigh that at least his home was up to snuff, he scooped up Tock, one of their huge Maine Coons, from his curled up position in a club chair. His back twinged at the weight. Dammit. He couldn't even lift their cat now?

Conrad settled in the chair opposite. Grady admired his perfectly put together clothes. Light khaki pants, crisp white button down, and a sinfully dark leather jacket. Grady knew that jacket probably cost more than his monthly mortgage and tried to hold back the bite of resentment.

If only. But no, he'd made his bed and now he had to lie in it. He couldn't help but sometimes wish he could be lying in it with Conrad.

Conrad smirked, seeming to read Grady's thoughts as well as he always had. "So, you miss me." He crossed his legs, propping his left ankle on his right knee.

Grady's gaze zeroed in on the peak of the triangle the position formed, caught on the forbidden bulge at the apex of his thighs.

He forced his eyes up, over the stomach and chest he'd once worshipped. Was Conrad still as muscular as he'd been back then? Had his chest hair lightened to the salt and pepper of his full beard? God, Grady wanted to know. He shivered. Everything laid bare in front of this man he'd once loved to distraction. "I do."



Want to read more? Check us out at Boxer Falls on Goodreads

Interested in being a guest author for the series? Contact Poppy, Damon, or Ellis for more information.

Poppy's Website
Poppy on Facebook
Poppy on Goodreads

~~~~~~~~~~~~~~~~~~~~~~~~

From Clare: And there's MORE!



GRL SOUVENIR BRACELET GIVEAWAY!

I met this band of merry soap-sters at GayRomLit last year, and a great time we had too!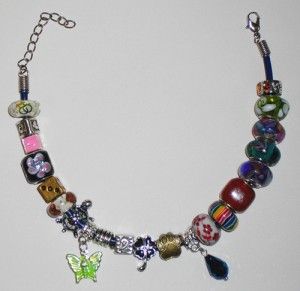 We were all involved in hosting a Scavenger Hunt for an exclusive bracelet of beads from all the 17 participating authors - including me :).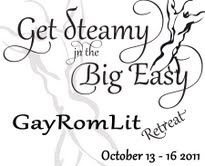 One of these bracelets could be YOURS!

Add a comment to this post, plus your email address if you're not an LJ-user, and you'll be entered into the draw. Winner to be announced on 31 January.


The contest is open to all, but if the winner is in the US, Poppy will also add a bunch of GRL souvenirs along with the bracelet.


~~~~~~~~~~~~~~~~~~~~~~~~~~~~~~~~~~~~

From Clare: Like to stretch your writing fingers after Christmas' excesses? Fancy writing something for the visitors this month? It can be anything from a flashfic 3 sentences to a drabble of 100 or so, or even more. Any genre, any theme, any rating, any character(s). Maybe ones you already love, maybe the chance to try on a new character for size.

I'm holding a FREE FICTION DAY on the 28th, so send me new fiction - links to your existing work also welcome! - to clarelondon11 AT yahoo.co.uk and I'll post it all then :).

~~~~~~~~~~~~~~~~~~~~~~~~~~~~~~~~~~~~

FOLLOW the Birthday Blog so far:.
Jan 16: Sasha L. Miller making magic happen.
Jan 17: H. B. Pattskyn shares a free short story.
Jan 17: Becky Black on what can really happen after publishing.
Jan 18: Blaine D. Arden on keeping it close to her heart.
Jan 18: Tam battles with IKEA - and wins!
Jan 19: Toni Anderson shares her love of romance novels.




Jan 09: Lee Rowan shares her healthy resolution.
Jan 10: Rowena Sudbury and the beauty of a blue moon.
Jan 10: Sandra Lindsay and her WIP characters.
Jan 11: Shelley Munro and a tour of bedrooms through the ages.
Jan 11: Dany Sirene and her love of Goth characters.
Jan 12: Sarah Madison and her decision to stop competing.
Jan 13: Alix Bekins shares her love of kink.
Jan 14: Janis Susan May on writing one word at a time.
Jan 14: Charlie Cochrane watches movies with hankies at hand.
Jan 15: Megan Derr and the inspiration in fairytales.




Jan 01: luscious_words shares some fabulous icons.
Jan 02: Jordan Castillo Price shares her experience of re-releasing books.
Jan 03: Mara Ismine wonders how important is continuity in fiction?
Jan 04: Jen shares her favourite Rom Com movies.
Jan 05: Karenna Colcroft introduces her unusual werewolf.
Jan 06: Stevie Carroll takes us on a pictorial tour of her favourite locations.
Jan 07: Tinnean quotes Jack Benny on age.
Jan 07: Josie makes a brave leap into a scary sport.
Jan 08: Elin Gregory finds inspiration at every turn.



Check up on: Prior years fun HERE
and The 2012 Guest schedule HERE.

Want to join in but missed the original call? Email me at clarelondon11 AT yahoo.co.uk and I'll happily find you a space
♥

NOTE: most pictures chosen by me and credited where known, others may be used without direct permission, please contact me with any queries/concerns.

****All my posts are being mirrored at Dreamwidth, please feel free to friend me over there as well****