Today's second guest is Tam of Tam's Reads, Brief Encounters Reviews, and now - apparently - Ikea furniture fitter supremo...:)

~~~~~~~~~~~~~~~~~~~~~~~~~~~~~~

Ikea Furniture: Greatest Swedish invention since the smörgåsbord or crappy furniture for the masses?





During my Christmas vacation I had the pleasure (?) of visiting the biggest Ikea in Canada. I needed a new TV stand and coffee table, so figured it was time to venture forth into the behemoth that is all things Swedish. It wasn't that bad, I enjoyed seeing the little tiny apartments completely set up, and we finally wended our way through the warehouse, got the boxes and managed to get them home without causing too much damage to walls.
My daughter helped me set up the TV stand, definitely a two-person job, but I was determined to assemble the coffee table on my own. This is my diary of the experience.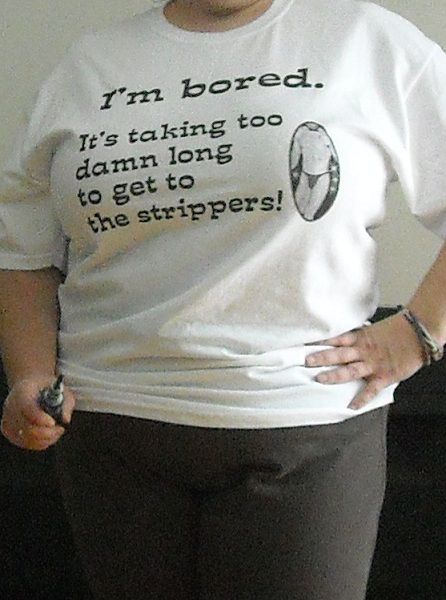 First step is appropriate Ikea assembly attire. You know you are going to be crawling around on the floor and digging for dropped screws under the couch, so I think sweats and a suitably irreverent t-shirt sent by a friend based on a New Orleans text is the perfect start.





You also need to get the right tools, which means going to that drawer we all have in our kitchen, and finding the screw driver and hammer, which may or may not have been on the bedroom dresser. Because … well, I'm sure there was a good reason it was there.





Time to open the box and admire the engineer who fit everything in so neatly, and even take time to admire the interesting corrugated cardboard the Swedes use. All this used as an opportunity to postpone the inevitable start of the project.




Okay, get the instructions. First thing it says is do NOT do this alone. Have a friend. Excuse me? Are the Swedes wimps or what? And they're not even wearing pants! I'm a Canadian single mom who works full-time. I don't need no stinkin' assistant. (Makes note to try and complete project before sleeping teen leaves the house in case Ikea decides to prove me wrong)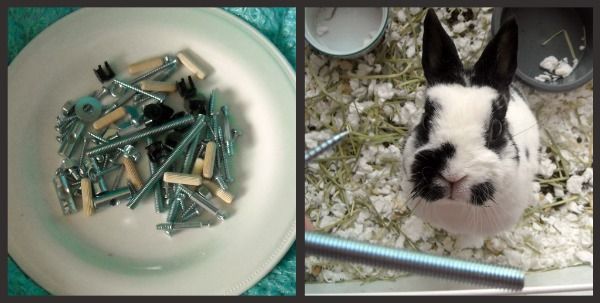 Get out all the screws and gadgets. Lay them all out in nice order ensuring they are all there exactly like the instructions show you. Ha! Right. Let's dump these suckers on a plate and ask Bun which long screw he suggests I use for the first step.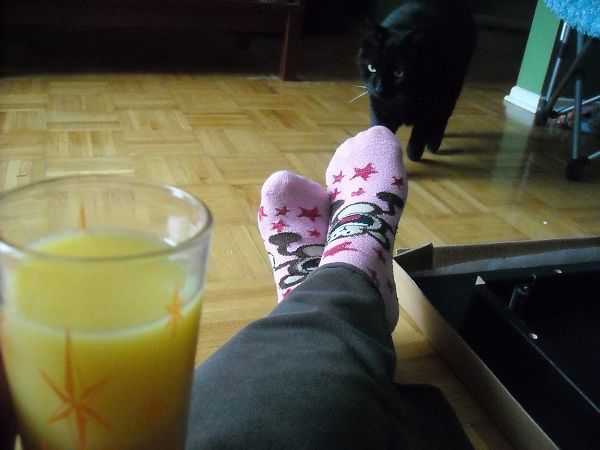 Time to take a break from screwing for some juice, and admire pink sparkly monkey socks. Yeah yeah, you all have filthy minds. I wish. This project had more screwing than most m/m books I've read. Feline Foreman Max decided to come and see how I was progressing.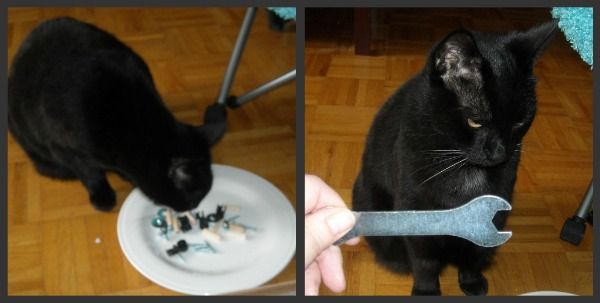 Max decided to help me choose the right screws. He did not look thrilled that I wanted to use the wrench thing Ikea so kindly provided. I think he may have been right on that. Back to more screwing. (If I was the hero of an m/m romance, I'd be suffering from dehydration and my balls would be shrivelled already.)



Things appear to be going a bit too well. I've yet to screw up and have to unscrew something and switch it around. Oh shit. I spoke too soon. I jammed the peg in the wrong hole and can't get it out. (I think I read that in a book as well.) Back to that magical drawer to find the pliers. Luckily an easy fix.

Okay, it's looking pretty good. It actually looks like an upside down table. So far, so good.





Yay me. It's finished by myself and there are no extra pieces left in the plate (unlike the TV stand, oops). Bun decided to come out and check out the table to ensure that it was up to his rodent standards. Approval received.






So any bets on how long it takes to go from its current state (with a few yaoi and m/m books underneath waiting my attention along with Christmas chocolate) until it looks like the old table? This one is bigger so perhaps it will take it a bit longer to cover the top in paper and "stuff".






So how much Ikea furniture do you have in your house? Is it the greatest Swedish invention, or a curse from the Norse gods to punish the non-believers? I have to say I like the new dark black/brown color and my new TV stand that holds so much more than the old one. Next question: What the heck do I do with my old TV stand and coffee table? They are ugly, but still usable. I suppose I'll put them up on Freecycle and see if someone needs something for their basement or cottage. I just want them out of my house.

Thanks for having me on the blog Clare, sharing my furniture assembly experience. Have a wonderful birthday month.

~~~~~~~~~~~~~~~~~~~~~~~~~~~~~~~~~~~~

From Clare: Like to stretch your writing fingers after Christmas' excesses? Fancy writing something for the visitors this month? It can be anything from a flashfic 3 sentences to a drabble of 100 or so, or even more. Any genre, any theme, any rating, any character(s). Maybe ones you already love, maybe the chance to try on a new character for size.

I'm holding a FREE FICTION DAY on the 28th, so send me new fiction - links to your existing work also welcome! - to clarelondon11 AT yahoo.co.uk and I'll post it all then :).

~~~~~~~~~~~~~~~~~~~~~~~~~~~~~~~~~~~~

FOLLOW the Birthday Blog so far:.
Jan 16: Sasha L. Miller making magic happen.
Jan 17: H. B. Pattskyn shares a free short story.
Jan 17: Becky Black on what can really happen after publishing.
Jan 18: Blaine D. Arden on keeping it close to her heart.



Jan 09: Lee Rowan shares her healthy resolution.
Jan 10: Rowena Sudbury and the beauty of a blue moon.
Jan 10: Sandra Lindsay and her WIP characters.
Jan 11: Shelley Munro and a tour of bedrooms through the ages.
Jan 11: Dany Sirene and her love of Goth characters.
Jan 12: Sarah Madison and her decision to stop competing.
Jan 13: Alix Bekins shares her love of kink.
Jan 14: Janis Susan May on writing one word at a time.
Jan 14: Charlie Cochrane watches movies with hankies at hand.
Jan 15: Megan Derr and the inspiration in fairytales.


Jan 01: luscious_words shares some fabulous icons.
Jan 02: Jordan Castillo Price shares her experience of re-releasing books.
Jan 03: Mara Ismine wonders how important is continuity in fiction?
Jan 04: Jen shares her favourite Rom Com movies.
Jan 05: Karenna Colcroft introduces her unusual werewolf.
Jan 06: Stevie Carroll takes us on a pictorial tour of her favourite locations.
Jan 07: Tinnean quotes Jack Benny on age.
Jan 07: Josie makes a brave leap into a scary sport.
Jan 08: Elin Gregory finds inspiration at every turn.

Check up on:
Prior years fun HERE and
The 2012 Guest schedule HERE.

Want to join in but missed the original call? Email me at clarelondon11 AT yahoo.co.uk and I'll happily find you a space ♥

NOTE: most pictures chosen by me and credited where known, others may be used without direct permission, please contact me with any queries/concerns.