Today's guest is fellow author Rowena Sudbury talking about what the mystery and beauty of a blue moon has come to mean to her.

~~~~~~~~~~~~~~~~~~~~~~~~~~~~~~~~~~~~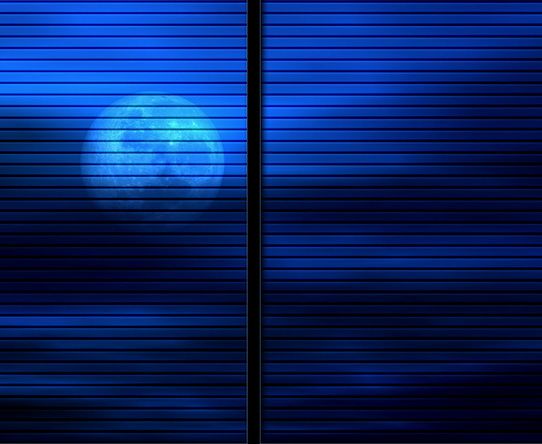 Blue Moon

The first time I learned what the phrase, "once in a blue moon," meant was in May of 1988. My son was born in the middle of that month, and on May 31 there was a second full moon. From what I've read a few places online, this was the genesis of the modern day fascination with the blue moon, but as a new mother it was just another piece of information to jot in the baby book. My son was born during a month when there was a blue moon, and as he is my only child the myth holds true, that things that happen during a blue moon are rare.

Back in 1988, the definition of the term "blue moon" meant the second full moon during a month. These days the definition has changed, and per the Wikipedia the current definition is: A blue moon can refer to the third full moon in a season with four full moons. Be that as it may, back on December 31, 2009 there was a blue moon. This is also verified in the Wikipedia article, as much as the Wikipedia can be trusted.

So, what does all this have to do with my newest release, the novella Blue Moon, you ask? Well, let me tell you a little story of my "ill fated novella"…

At the end of 2009 I was flying high, and thought I was invincible. My first novel, The King's Tale, was well received, and my short story, Silent Night, was accepted for the Dreamspinner Press Mistletoe Madness Advent calendar. I had a few weeks off from work, and I decided to polish up an old short story I'd written and submit it to DSP. Entitled Devil with Angel's Wings, it told the story of a pair of kinky pro-wrestlers. It took me a few days to finish it up, and I sent it off on December 31, 2009.

New Year's Eve was spent as per usual, a big seafood feast and off to bed early. I had a little trouble sleeping that night, nothing really out of the ordinary for me, and I got up at around four a.m. to get a cup of water. There was a stream of silvery moonlight coming in through the window, and pooling on the floor. Fascinated, I stood shivering at the foot of the bed in awe of this light that I knew came from a blue moon. As I stepped into the pool of light I felt a delicious chill on my feet, and after I returned to bed I started to think of the story I'd sent off the day before, and suddenly I knew I needed to lengthen it into a novella.

New Year's Day I contacted DSP and asked them to wait on reading it, and then spent three feverish days expanding the story. Within a month of sending it for the second time I received an emphatic rejection. I was crushed, and in that instant I realized that I was not invincible at all.

With the kindness of hindsight I see exactly what the problem was. I was too cocky, too self-assured, and I was attempting to write about something I really knew nothing about. Fine when you're writing little stories to entertain your friends, but not fine when you let those stories out into the world. I decided to shelve the project and learn from the mistake.

In the months that followed I was in pretty close contact with Mel Keegan of the GLBT Bookshelf. I had a few stories accepted for Rummage Sales on the Bookshelf, and Mel advised that I shouldn't let this novella get buried. I was fine with letting it get buried, but the advice niggled in the back of my head until one day I began noodling with it.

Flash forward to May of this year. I had poked and prodded at the story enough that I knew it was ready for another go-round with DSP. At the time I was also working on my sequel for my first novel, The King's Tale, and I had come to a sticking point. I remember sitting at my computer one day with an inquiry letter all completed for Blue Moon, and I was thinking in my head, "Yes? No? Yes? No?..." until finally it was "Yes!" and I sent it off. It was a relief, and it opened up the creativity with The King's Heart again. I almost forgot about Blue Moon as I was so intent on the other story. The contract to publish it took me by surprise!

That silvery, magical puddle of blue moonlight on the floor early on the morning of January 1, 2010 made its way into the novella. The lesson I learned from the experience is to never be too sure of myself, but also to trust my instincts.

Thank you Clare for giving me the space to babble in your blog, and happiest of birthdays to you :)



******



Rowena Sudbury lives in southern California with her husband, son, and their wonderful rescue dog. Her love of reading was born in the fifth grade, and she began writing soon after that. Writing has always been her passion and escape from the real world.

Rowena finds herself thinking through the minds of her characters quite often, to the point that she always has to carry a small journal with her so she can capture their thoughts and weave them into stories when she gets home.

Visit Rowena's BLOG and e-mail her at rowenasudbury@gmail.com.




~~~~~~~~~~~~~~~~~~~~~~~~~~~~~~~~~~~~

From Clare: Like to stretch your writing fingers after Christmas' excesses? Fancy writing something for the visitors this month? It can be anything from a flashfic 3 sentences to a drabble of 100 or so, or even more. Any genre, any theme, any rating, any character(s). Maybe ones you already love, maybe the chance to try on a new character for size.

I'm holding a FREE FICTION DAY on the 28th, so send me new fiction - links to your existing work also welcome! - to clarelondon11 AT yahoo.co.uk and I'll post it all then :).

~~~~~~~~~~~~~~~~~~~~~~~~~~~~~~~~~~~~

FOLLOW the Birthday Blog so far:
Jan 09: Lee Rowan shares her healthy resolution.

Jan 01: luscious_words shares some fabulous icons.
Jan 02: Jordan Castillo Price shares her experience of re-releasing books.
Jan 03: Mara Ismine wonders how important is continuity in fiction?
Jan 04: Jen shares her favourite Rom Com movies.
Jan 05: Karenna Colcroft introduces her unusual werewolf.
Jan 06: Stevie Carroll takes us on a pictorial tour of her favourite locations.
Jan 07: Tinnean quotes Jack Benny on age.
Jan 07: Josie makes a brave leap into a scary sport.
Jan 08: Elin Gregory finds inspiration at every turn.

Check up on:
Prior years fun HERE and
The 2012 Guest schedule HERE.

Want to join in but missed the original call? Email me at clarelondon11 AT yahoo.co.uk and I'll happily find you a space ♥

NOTE: most pictures chosen by me and credited where known, others may be used without direct permission, please contact me with any queries/concerns.