Today's guest is fellow author Stevie Carroll, who takes us on a delightful - and pictorial! - tour of the UK locations she's fond of, and used in her fiction.

~~~~~~~~~~~~~~~~~~~~~~~~~~~~~~~~~~~~


Location, Location, Location

Today's guest, Stevie Carroll, was born in England's Steel City, and raised in a village on the boundary of the White and Dark Peaks, Stevie Carroll was nourished by a diet of drama and science fiction from the BBC and ITV, and a diverse range of books, most notably Diane Wynne-Jones and The Women's Press, from the only library in the valley. After this came a university education in Scotland, while writing mostly non-fiction for various underground bisexual publications under various aliases, before creativity was stifled by a decade of day-jobs.
Now based in Hampshire, Stevie has rediscovered the joys of writing fiction, managing to combine thoughts of science fiction, fantasy and mysteries with a day-job in the pharmaceuticals industry and far too many voluntary posts working with young people, with animals and in local politics. Stevie's short story, The Monitors, in Noble Romance's Echoes of Possibilities, was longlisted by the 2010 Tiptree Awards jury, and in 2011 Stevie had two short stories published in each of the UK Meet anthologies British Flash and Tea and Crumpet. Stevie has an LJ for writing updates, and really needs to get a website.



***



Locations in stories... how important are they? Some would have us believe that a certain type of reader wants stories set the US, especially in a generic small town or in one of a very few major cities. On the other hand, I tend to avoid those stories unless the plot and characters really grab me, but will read stories set in more unusual places even when the plot and characters sound less enticing. All the stories I wrote this year were set in places I've visited and fallen in love with, although I took liberties or combined more than one place into my fictional background (my two stories about Ash and Colin, one of which was in British Flash take place in an Essex town that owes a lot to Colchester, but also a little to Chelmsford).




This picture was taken at an open-air museum in Sussex, but I imagine the pair walked under very similar buildings in their other story, which should be out next year (British towns have many streets that really didn't anticipate the size of modern vehicles):






One of my stories in Tea and Crumpet, 'What Katy Did on Holiday', was set very firmly in the 'Book Town' of Hay-on-Wye. This eccentric place is just over the border in England rather than Wales, and has many, many bookshops as well as its famous literary festival. It also has a castle, although not nearly so impressive a one as Portchester Castle, which I used in a story I'm currently preparing for submission: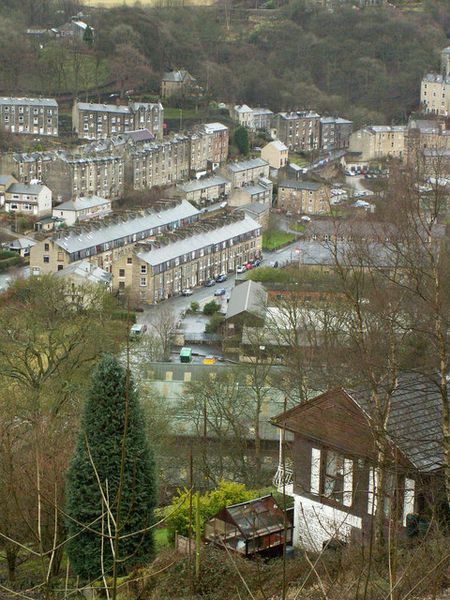 Heading north, I have three linked stories, two of which are set in and around the Yorkshire town of Hebden Bridge. Once famous for its mills, the town is now a tourist attraction and home to a thriving community of writers, artists and lesbians (the latter two groups featuring heavily in my story). The town is built on two sides of a steep valley, and many of the houses are of a design not seen elsewhere because of this (one house on top of the other with 'front doors' at opposite sides and different levels of the building):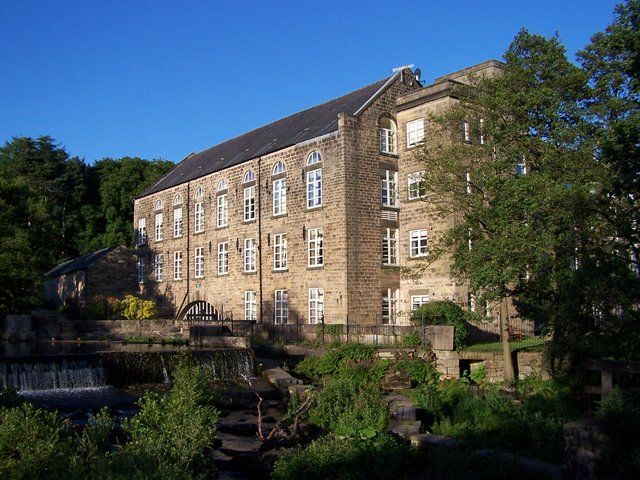 Millworkers' cottages of a more usual design play a minor role in my ghost story, 'The Footballer's Mistress', coming out next year. That one's really about the mill itself, though. Like this one, the mill is now converted into flats and houses:







Next year, I really do want to go back to writing longer stories. I have a novel I want to revise, all about a Derbyshire stately home and estate. Derbyshire has a lot of stately homes, the most famous being Chatsworth. Of course the one I'm writing about is nowhere near as grand as this (ignore the scaffolding on the left, they'd only just finished the internal decoration when I visited that time):






My fictional house will however have kitchens like this (actually Petworth House where the delightful Andrew Graham-Dixon did his 'Big Spring Clean'):






And it will have a kitchen garden like this (part of the kitchen gardens at Walmer Castle in Kent, which are on a grander scale than most):








I also want to write a story in which one of my main characters rents a house that's only slightly less higgledy-piggledy than this one (Little Moreton Hall in Derbyshire):So there we have it: a quick dash round some of the locations behind my stories. Which do you like best, real places or totally made-up locations? And do you prefer the familiar or the foreign?





Happy Birthday, Clare! And thank you for letting me ramble here!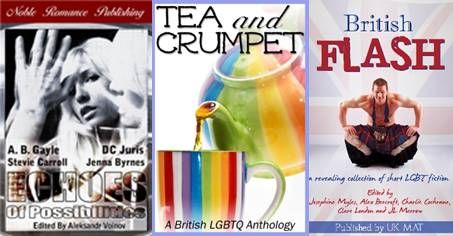 ~~~~~~~~~~~~~~~~~~~~~~~~~~~~~~~~~~~~

From Clare: Like to stretch your writing fingers after Christmas' excesses? Fancy writing something for the visitors this month? It can be anything from a flashfic 3 sentences to a drabble of 100 or so, or even more. Any genre, any theme, any rating, any character(s). Maybe ones you already love, maybe the chance to try on a new character for size.

I'm holding a FREE FICTION DAY on the 28th, so send me new fiction - links to your existing work also welcome! - to clarelondon11 AT yahoo.co.uk and I'll post it all then :).

~~~~~~~~~~~~~~~~~~~~~~~~~~~~~~~~~~~~

FOLLOW the Birthday Blog so far:
Jan 01: luscious_words shares some fabulous icons.
Jan 02: Jordan Castillo Price shares her experience of re-releasing books.
Jan 03: Mara Ismine wonders how important is continuity in fiction?
Jan 04: Jen shares her favourite Rom Com movies.
Jan 05: Karenna Colcroft introduces her unusual werewolf.

Check up on:
Prior years fun HERE and
The 2012 Guest schedule HERE.

Want to join in but missed the original call? Email me at clarelondon11 AT yahoo.co.uk and I'll happily find you a space ♥

NOTE: most pictures chosen by me and credited where known, others may be used without direct permission, please contact me with any queries/concerns.