Today's guest is author Josephine Myles, another British resident, and enthusiastically so! She is running an entertaining and fond series on her blog of topical romance tropes, and today she examines one that many romance readers may view with caution :).





Bio: English through and through, Josephine Myles is addicted to tea and busy cultivating a reputation for eccentricity. She writes gay erotic romance because she has a particular fondness for British slang, and claims there aren't enough m/m books out there catering to her tastes. She desperately wants to be able to paste a little row of cover artwork here, but to date has only had short stories published. She is currently working on the final draft of her first novel and getting stuck into writing a quirky little novella.

Vist Jo's website and blog to find out more.

Sez Clare: and here's a rather glorious row of covers that Jo's been involved in, looking rather fine, in my opinion...







~~~~~~~~~~~~~~~~~~~~~~~~~~~~~~~~~~~~~~



When I originally picked today to blog over at Clare's it was because I wanted to do something to celebrate the release of Cosmo Jarvis' Gay Pirates (YouTube clip below) - a song I fell in love with the very first time I heard it. I didn't know what I'd write but wanted it to be in some way connected with the song, and how it's a great example of a gay romance.

Then it hit me: Sebastian and Cosmo Pirate are a perfect example of a classic romance trope: the Star Crossed Lovers. I've been making weekly blog posts poking affectionate fun at some m/m romance tropes, so here is a continuation of my Trope Tuesday, but on a Monday...

The Star Crossed Lovers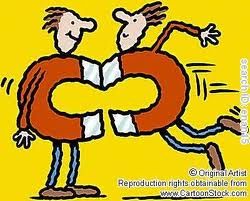 You know the "Star Crossed Lovers" when you see them: they're the ones who fall in love at first shag, the ones who would do anything for each other and are so sweet together it makes your teeth hurt. You might find yourself wondering what the rest of the plot will be if the two heroes have already confessed their undying love and you're only three chapters in. You probably won't, though, because you've read the blurb and you've seen the warning signs: our heroes may be perfect for each other, but the sadistic author is about to throw a whole load of trouble their way.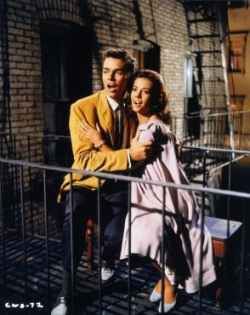 Authors are spoilt for choice when it comes to setting the world against those lovely boys. An evil, homophobic father is a frequent choice of villain, or failing that, an evil, homophobic pirate Captain. All the old heterosexual romance obstacles and barriers can be called out: differences in class, race, religion, wealth, age - you name it, if society doesn't approve of their union, it will feel like the whole world is against our plucky lovers. What's more, when the lovers are both male, there's a whole extra set of prejudices and even laws that can get in the way of their path to happiness. War is a frequent device to separate those two "Star Crossed Lovers", particularly if a civil war tests their loyalties and the two end up fighting against each other.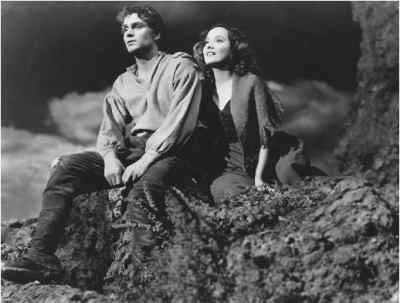 Yes, it will seem like the whole world is out to separate the perfect pair. Even the weather will be against them. Volcanoes will erupt, earthquakes carve up the ground between them, tidal waves carry them apart. There may be kidnappings, torture and death threats. We're not talking about a little bit of internal angst driving the conflict - fretting about their sexuality or whether people will accept them together - we're talking conflict on a biblical scale. This is not something a well-reasoned argument or even a quick bout of fisticuffs will sort out. This is two, tiny beings set against Fate and Destiny. They don't stand a chance. Handkerchiefs on standby, dear reader...




Of course, this being M/M romance, happy endings are in great demand. That's why we often end up with a rather bizarre twist of fate that somehow allows these two men to find a little desert island paradise where they can be together. The reader will cheer, but there will probably be that nagging feeling of "hmmm, that seemed a bit too easy" and they might be asked to turn a blind eye to numerous, gaping plot holes.




I think it's a shame that the "Star Crossed Lover" trope is rarely taken to it's Shakespearean conclusion, when the two end up like Romeo and, er, Julian, and pay the ultimate price for their doomed love. True tragedies tear at the heartstrings and can linger in the mind long after the final page is turned (or these days, clicked). We can imagine the "Star Crossed Lovers" together in some kind of gay heaven, like those gay pirates in the video, where they will no longer be persecuted for their love.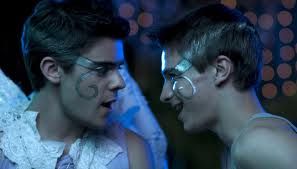 However, it takes a brave author to write a tragic ending these days. I wonder if some of the resistance to it is more than simply a concern about reader reaction, and perhaps a response to the longstanding trope across all mainstream media where gay relationships have always been doomed. M/M romance as a genre seems to be a reaction against the "bury your gays" trope that has held sway for so many years.



I usually end these trope posts by listing a few examples of stories I've read where I think the trope has been handled particularly well, but I need to ask for your help with this one. I'm not very brave at picking up stories with tragic endings these days, so perhaps those of you with more emotional resiliance can recommend your favourite "star crossed lovers"? Also, if you have any ideas for tropes you'd like me to look at in future posts, then do let me know - I'd be most grateful!




Movie stills from: West Side Story, Wuthering Heights, Romeo & Juliet, Brokeback Mountain, Were the World Mine.



~~~~~~~~~~~~~~~~~~~~~~~~~~~~~~~~~~~



AND JUST FOR FUN, A FICTION PROMPT CALL...!!

Like to stretch your writing fingers after Christmas' excesses? Take the prompt "A NEW RESOLUTION" and write something for the visitors this month. It can be anything from a flashfic 3 sentences to a drabble of 100 or so, or even more. Any genre, any theme, any rating, any character(s). Maybe ones you already love, maybe the chance to try on a new character for size.


I'm holding a FREE FICTION DAY on the 28th, so send me new fiction - links to your existing work also welcome! - to clarelondon11 AT yahoo.co.uk and I'll post it all then :).

♥


~~~~~~~~~~~~~~~~~~~~~~~~~~~~~~~~~~~~

Follow this month with Clare - and the goodies so far:

JAN 22: Sexy or sweet, men in fiction?
dontkickmycane.
JAN 23: The release of my short story THREADBARE at JMS books.


JAN 15: Favourite worldwide travel with
cdn_tam.
JAN 16: 10 cautionary tales from ZA Maxfield!
zamaxfield.
JAN 17: The business/pleasure balance of writing from
libby_drew.
JAN 18: Why M/M? And who wants to know? from
jordan_c_price.
JAN 19: What makes fiction short and sweet for
jenre.
JAN 20: The pursuit of beautiful things by
wrenboo.
JAN 21: Bawdy and brazen humor in the new release from Rick R. Reed.



JAN 08: A great new novel and sequel from
mickieashling.
JAN 09: Fiction and beautiful illustrations from
essayel.
JAN 10: Forthcoming menage release from
lc_chase.
JAN 11: Fabulous mix of SF and erotic romance from Sloane Taylor and Robert Appleton.
JAN 12: Follow the bizarre photographic history of Wind in Hair Guy with
egret17.
JAN 13: When only your family understands the joke, with
charliecochrane.
JAN 14: A top 10 of gay books you should read from
erastes.



JAN 01: A FREE short from me, revisiting Nic and Aidan from Sparks Fly.
JAN 01: Delicious m/m icons from
luscious_words.
JAN 02: Why I want to be a Bond villain! by
chrissymunder.
JAN 03: The world of inspiration between 'historical' and 'contemporary' with
stevie_carroll.
JAN 04: Some fascinating Swedish proverbs from
1more_sickpuppy.
JAN 05: A round-up of a great year just gone from
angelasstone.
JAN 06: The countryside and history that inspires author
sandra_lindsey.
JAN 07: The challenge of trying to balance edits, with
diannefox and
anahcrow.


~~~~~~~~~~~~~~~~~~~~~~~~~~~~~~~~~~~~

Check up on the original post and the Guest Schedule for January HERE.

Want to join in but missed the original call? Email me at clarelondon11 AT yahoo.co.uk and I'll happily find you a space ♥