Today's guest is the well-known and respected author Rick R. Reed, with successful and entertaining books in many genres. He's sharing with us today his new release - and a new direction for him!

Bio: Rick R. Reed has been described as the "Stephen King of gay horror" by Unzipped Magazine. And Dark Scribe magazine said, "Reed is an established brand — perhaps the most reliable contemporary author for thrillers that cross over between the gay fiction market and speculative fiction." Reed also chronicles the emotional lives of gay men in his work, with an increasing eye toward exploring the romance genre.



~~~~~~~~~~~~~~~~~~~~~~~~~~~~~~~~~~~~~~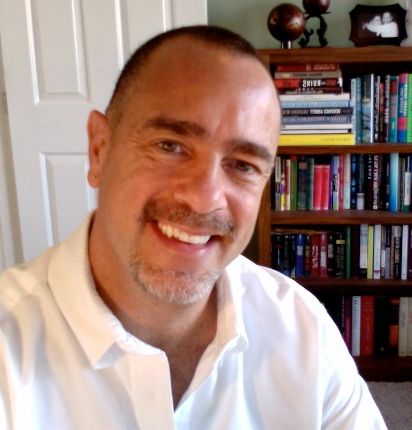 A Few Words from the Author

My latest novel, a "romantic comedy" more in the style of John Waters than Neil Simon, Dignity Takes a Holiday releases just this week. The new release marks a real departure for someone who thinks of himself primarily as a horror/suspense author.

Now, if you are looking for lofty literary aspirations, good taste, or a serious commentary on the human condition, then go somewhere else. Dignity Takes a Holiday is for those of you who like bawdy and brazen humor about a true underdog looking for love in all the wrong places. Someone asked me what the the theme of the book was and I said, "There's a part in the story where yet another awful fate has befallen Pete and the book says, "What could he do but laugh?" And I think that's the guiding principle behind Dignity Takes a Holiday--that laughter in the face of adversity is often the best, and most appropriate, response. I wanted to write a book that was not only funny, but showed that not all gay men are alike. Pete Thickwhistle is definitely an original."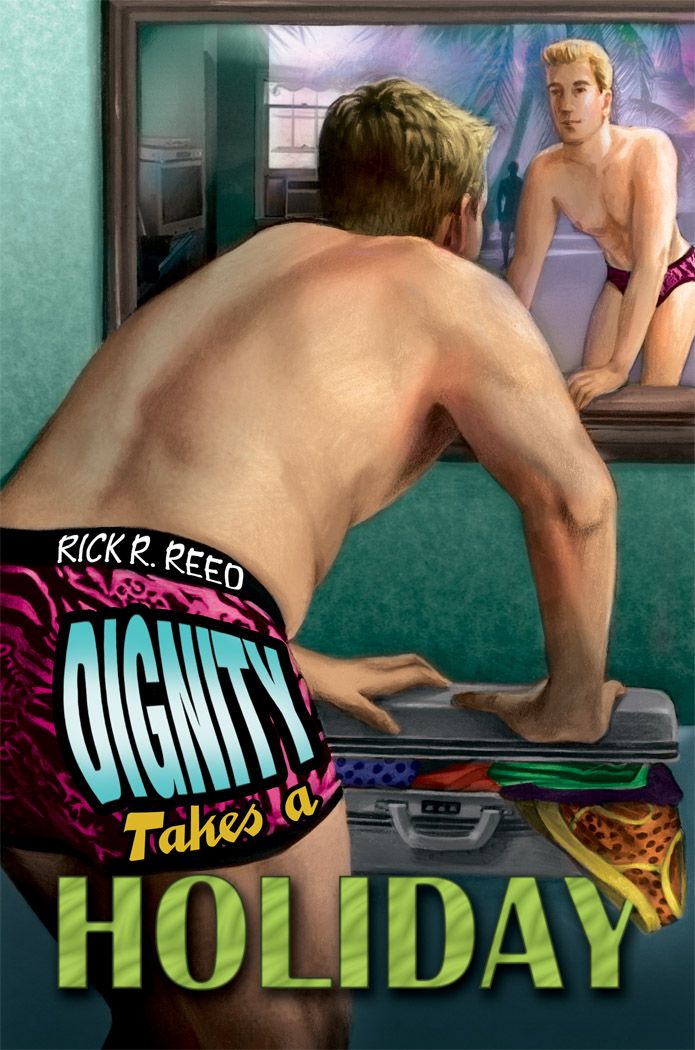 Synopsis
Meet Pete Thickwhistle. Pete doesn't live what one might call a charmed life. At age forty-seven, he's a flamboyant gay man who believes no one knows he's gay, still living at home with his harpy of a mother. Worse, he's still a virgin, longing to find just the right man to make his life complete. Pete's an upbeat kind of guy, yet he's never learned that the answer to his motto "What could possibly go wrong?" is always: "Everything."

Pete's road to love and happiness is full of potholes, yet he never tires of searching, despite job losses, weight battles, clothing faux pas, and disastrous vacations, parties, and dating debacles. Pete is the ultimate underdog living a television situation comedy, one named Dignity Takes a Holiday.

EXCERPT:

Pete spent the next two weeks in a fruitless job search. No one wanted to hire him ("Personally, I can't blame them," Helen told him). He was feeling particularly tense when he emerged, looking guiltily up and down the street, from L'Amour Adult Playhouse. He wore a trench coat bought at Goodwill, giant sunglasses and a beat-up fedora he had hung on to from the 1960's. Concealed beneath the trench coat was a #36, The Kamikaze, dildo. The dildo was eight inches long and six inches around. Pete both feared and desired the object. He prayed Mother would never discover its existence.



A few days later, Pete was starving as he watched Helen at the stove, stirring a big, steaming pot. He wiped away a line of drool that had formed at the corner of his mouth.

"There ya go!" Helen had done the plate up beautifully: with a sprig of parsley and a pat of butter positioned just so on Pete's heap of corn. Steam rose from the hot dog, hidden beneath its toppings, and Pete breathed it in, savoring the aroma of the warm roll and all the trimmings. "I made it just like at the restaurant. I hope you like it...honey." Helen was grinning.

"Why are you being so nice to me?" Pete picked up the warm bun, opened wide, bit down and found he could not bite through the hot dog. Brushing aside all the trimmings, Pete discovered that there was not a hot dog encased in the bun, but the dildo he had so carefully hidden. There still remained the impression of his teeth in the flesh–colored rubber.

Pete covered his mouth, eyes wide and staring. He suppressed a gag at the back of his throat. And yet again, heat radiated upward from his neck to envelope his face and ears. The heat was not from the steam.

Helen stood at the stove, watching her son and snickering.

"Mother, how could you?"

"I was cleaning your room."

"You had no right."

"I had every right. This is my house and I intend to keep it clean."

Pete was flabbergasted. "I'm entitled to a little privacy, don't you think? I am 47 years old."

"You're sick. If that's what you need your privacy for, then you're sick."

"Mother! I'm a grown man and I have my needs."

Helen waved her son's remarks away. "There are plenty of men around if it's fucking you need."

"Mother! I never told you I liked men!"

"Well..." Helen snickered, ignoring Pete's 'coming out' remark. He supposed, dejectedly, it hadn't needed saying. "Where'd you get that thing, anyway?"

Helen was still chuckling to herself as Pete rushed from the room in tears. Helen doubled over in renewed laughter when she heard the slam of her son's bedroom door. She picked up the dildo, shaking her head and staring at it. "Christ Almighty."



Buy Dignity Takes a Holiday direct from the publisher Dreamspinner Press in paperback HERE
or e-book HERE.

Dignity Takes a Holiday is also available from Amazon in Kindle and paperback, as well as all major digital and print booksellers.



***



Visit: http://www.rickrreed.com
Follow: http://rickrreedreality.blogspot.com/
Latest releases:
A Demon Inside: http://tinyurl.com/28eylrp
Tricks: http://tinyurl.com/2cm786g



~~~~~~~~~~~~~~~~~~~~~~~~~~~~~~~~~~~



AND JUST FOR FUN, A FICTION PROMPT CALL...!!

Like to stretch your writing fingers after Christmas' excesses? Take the prompt "A NEW RESOLUTION" and write something for the visitors this month. It can be anything from a flashfic 3 sentences to a drabble of 100 or so, or even more. Any genre, any theme, any rating, any character(s). Maybe ones you already love, maybe the chance to try on a new character for size.


I'm holding a FREE FICTION DAY on the 28th, so send me new fiction - links to your existing work also welcome! - to clarelondon11 AT yahoo.co.uk and I'll post it all then :).

♥


~~~~~~~~~~~~~~~~~~~~~~~~~~~~~~~~~~~~

Follow this month with Clare - and the goodies so far:

JAN 15: Favourite worldwide travel with
cdn_tam.
JAN 16: 10 cautionary tales from ZA Maxfield!
zamaxfield.
JAN 17: The business/pleasure balance of writing from
libby_drew.
JAN 18: Why M/M? And who wants to know? from
jordan_c_price.
JAN 19: What makes fiction short and sweet for
jenre.
JAN 20: The pursuit of beautiful things by
wrenboo.



JAN 08: A great new novel and sequel from
mickieashling.
JAN 09: Fiction and beautiful illustrations from
essayel.
JAN 10: Forthcoming menage release from
lc_chase.
JAN 11: Fabulous mix of SF and erotic romance from Sloane Taylor and Robert Appleton.
JAN 12: Follow the bizarre photographic history of Wind in Hair Guy with
egret17.
JAN 13: When only your family understands the joke, with
charliecochrane.
JAN 14: A top 10 of gay books you should read from
erastes.



JAN 01: A FREE short from me, revisiting Nic and Aidan from Sparks Fly.
JAN 01: Delicious m/m icons from
luscious_words.
JAN 02: Why I want to be a Bond villain! by
chrissymunder.
JAN 03: The world of inspiration between 'historical' and 'contemporary' with
stevie_carroll.
JAN 04: Some fascinating Swedish proverbs from
1more_sickpuppy.
JAN 05: A round-up of a great year just gone from
angelasstone.
JAN 06: The countryside and history that inspires author
sandra_lindsey.
JAN 07: The challenge of trying to balance edits, with
diannefox and
anahcrow.


~~~~~~~~~~~~~~~~~~~~~~~~~~~~~~~~~~~~

Check up on the original post and the Guest Schedule for January HERE.

Want to join in but missed the original call? Email me at clarelondon11 AT yahoo.co.uk and I'll happily find you a space ♥

NOTE: most pictures chosen by me and credited where known, others may be used without direct permission, please contact me with any queries/concerns.