Today's guest is author and artist
lc_chase, a fellow January birthday-baby, sharing the news of a forthcoming release - and the fun and passion there can be in a menage a trois :).




Artist by day, author by night, L.C. Chase is a hopeless romantic and adventure seeker. Many of those adventures are fodder for her stories. The first time she left home, she traveled 1200 miles to California - to be a rock star - with two hundred dollars in her pocket. A four-year walkabout took her on a coast-to-coast back roads tour of the USA, across both of New Zealand's islands by bicycle, and on a short road trip in Australia. Now that L.C. has two of the coolest nephews on the planet, she calls the Canadian West Coast home. When not writing sensual tales of romance, L.C. can be found reading, drawing, painting, horseback riding, or running the trails with her goofy Australian Shepherd, who, if he were human, would be a stand up comedian.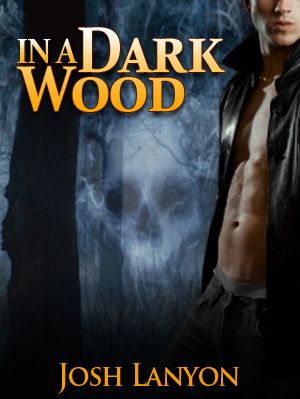 Clare sez: and please note! L.C.'s fabulous cover design recently won first choice for Josh Lanyon's upcoming re-release of In a Dark Wood.






~~~~~~~~~~~~~~~~~~~~~~~~~


It Takes Three to Tango

This is such a wonderful opportunity Clare offers to us all, and as a January baby as well, I had to take part.

I'd wanted to pimp my first book (co-written with my very good friend, Chloe Cole) releasing on Loose Id at the end of February. But, as we're still doing edits we don't have cover art or official blurbs/excerpts to share just yet. Instead, I'll share a little bit about how Three to Tango came to be, a tiny teaser you won't see in the book, and a short "unofficial" blurb.

As for me, I've always written though never focused on actually becoming a writer, I just enjoyed the "therapy" of the craft. It wasn't until, completely out of the blue, my Mom said, "You should write a book."

Yes, I'd taken creative writing in school -- even won some awards. Yes, I'd published, and wrote for, my own music magazine. But a novel? Uh... right. The bug however, had been planted. I started a couple stories, but life sent me on some great adventures that put writing anything more than a travel blog on the back burner for a decade.

A couple years ago I started jonesing to write again. I dug up a story I'd started way back when, and joined a fabulous critique group. About the time I finally finished that story, I discovered and fell madly in love with M/M. One of the ladies in my crit group, the wonderfully talented Chloe Cole, was interested in the genre and asked if I'd like to co-write a novella with her. That was a half-second decision. *g*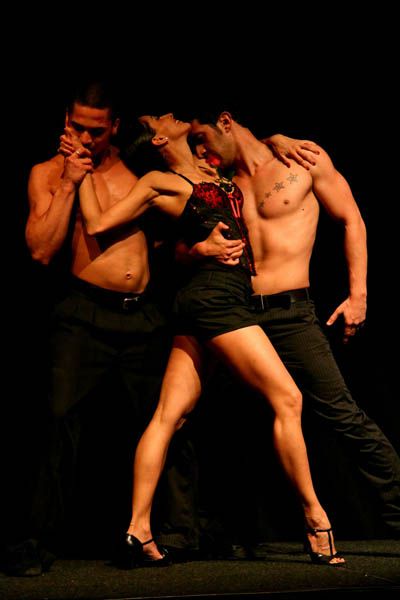 We bounced around a few ideas and the concept for Three to Tango was born – a fun and flirty M/M/F about three sexy roommates. As a writing team we clicked right from the get-go, even though we are quite different writers – I tend to be descriptive and angsty, while Chloe is sharp and sassy. But the merge of our voices was so seamless the majority of our CP group couldn't tell who wrote what.

When the story was three quarters finished, Chloe decided we should start shopping it, since it would likely sit in a slush pile for a few weeks at least. A week later the full was requested. *gasp* We hustled to finish, and a month after submitting the full we were offered a contract with Loose Id. Yep, there were "hoots" heard clear across the country and happy Snoopy dances all around.

L.C. Chase: www.lcchase.com
Chloe Cole: www.christine-bell.com

First, the unofficial blurb:

Best friends and roommates, Jace and Melody have been inseparable since middle school. Although Jace is gay, Mel has yet to find a man who can compare. When they decide to add a third roommate to their nest, things heat up as they both find themselves falling for him. Agreeing Alec should be the one to choose, they begin a heated competition for a place in Alec's bed and his heart. Winner take all, no hard feelings…

Alec has lived with his two gorgeous roomies for six months. So far, he's managed to relegate his desire for each of them to his daydreams. When he discovers that they both want him and have decided to compete for his attention, he sets out to prove that it can be win-win situation for all of them, and he shouldn't have to choose just one.

And I leave you with a tiny "extras" teaser from Jace's POV:

I was still wiping the spit off my hand when Melody bounced down the stairs to play one-on-one with Alec. Why she still insisted on sealing deals with a spit shake, I'll never know. It's not like we're thirteen anymore. But that's Mel for you—tall, gorgeous and a tomboy through and through. Picture Gabrielle Reese taking down all the boys and you get the idea.

It's really too bad she's not a man. I have yet to meet one who can match up to her. Well, our roommate Alec might actually be that man. But therein lies the problem—not only is he our roomie, there's also the little detail of him being straight. Such a shame, really.

I wonder sometimes though. A couple weeks ago, on our last "Roomie Appreciation Night", we were all kicked back watching a DVD. Mellz and I were cuddled up on the couch, and Alec was sitting in one of the arm chairs. I don't know what made me look over at him just then, but he wasn't watching the movie. He was looking at Mel with lust in his eyes. Then he looked up and those incredible bottle-green eyes seared into me. I damn near burst. My skin felt too hot and my jeans were suddenly uncomfortable. I couldn't help myself, I dropped my gaze—and Alec was hard.

Mel snorted a very ungirly laugh and the moment broke.

So, back to the spit shake.

We've always been making crazy bets and daring each other to silly misadventures. Tonight I think we made the craziest bet yet—winning Alec's heart.

We were sitting on the patio watching the totally hot Alec shoot hoops with his work buddies—as was our Friday night ritual. Mel said she'd be all over that if he weren't our roommate, and of course, I told her not if I got there first. And the challenge was on.

She thinks she's got it made because "Hello? Not gay." But I have an odd feeling the playing field is a bit more level than either of us realize…

-------------------------------

Three to Tango - Coming soon from Loose Id

Website: www.lcchase.com
Blog: www.lcchase.blogspot.com
Twitter: @LC_Chase
GoodReads: www.goodreads.com/profile/LC_Chase


~~~~~~~~~~~~~~~~~~~~~~~~~~~~~~~~~~~



AND JUST FOR FUN, A FICTION PROMPT CALL...!!

Like to stretch your writing fingers after Christmas' excesses? Take the prompt "A NEW RESOLUTION" and write something for the visitors this month. It can be anything from a flashfic 3 sentences to a drabble of 100 or so, or even more. Any genre, any theme, any rating, any character(s). Maybe ones you already love, maybe the chance to try on a new character for size.

Depending on how many (if any!) contributions we get, I'll post them during the month or all in the last week. Just send them in to me at clarelondon11 AT yahoo.co.uk and we'll go from there :).

♥


~~~~~~~~~~~~~~~~~~~~~~~~~~~~~~~~~~~~

Follow this month with Clare - and the goodies so far:

JAN 08: A great new novel and sequel from
mickieashling.
JAN 09: Fiction and beautiful illustrations from
essayel.


JAN 01: A FREE short from me, revisiting Nic and Aidan from Sparks Fly.
JAN 01: Delicious m/m icons from
luscious_words.
JAN 02: Why I want to be a Bond villain! by
chrissymunder.
JAN 03: The world of inspiration between 'historical' and 'contemporary' with
stevie_carroll.
JAN 04: Some fascinating Swedish proverbs from
1more_sickpuppy.
JAN 05: A round-up of a great year just gone from
angelasstone.
JAN 06: The countryside and history that inspires author
sandra_lindsey.
JAN 07: The challenge of trying to balance edits, with
diannefox and
anahcrow.


~~~~~~~~~~~~~~~~~~~~~~~~~~~~~~~~~~~~

Check up on the original post and the Guest Schedule for January HERE.

Want to join in but missed the original call? Email me at clarelondon11 AT yahoo.co.uk and I'll happily find you a space ♥

NOTE: most pictures chosen by me and credited where known, others may be used without direct permission, please contact me with any queries/concerns.