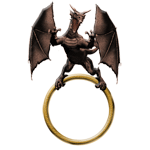 To celebrate Halloween, Dreamspinner is inviting people to come trick-or-treating at their web site throughout the month of October.
****Thirty-one of our fantastic authors have donated
free short stories
****.
Search through the different pages on the web site for
Gary the gargoyle
. Each time you find him, click on him for a free download by the author whose page he's hiding on! And make sure to check out the end of each story for a discount code good any time in the next year.
Links to the short stories are live NOW!



It's a marvellous treasure trove, I hope plenty of people manage to collect the whole set during October.

And yes, I have one included :). A brief moment in a sub's life, with teasing and black lace panties...
(that's the story, not a description of ME...)

Enjoy the fun of finding it, I think you'll find it somewhere connected with my author brand...! *smirk*
♥