Today I welcome fellow author Josephine Myles, celebrating the release of her novel BARGING IN with a fun-packed blog tour around the net. Jo is a fellow Brit whom I had the pleasure of working closely with during the UK Meet in July - and whose fiction has a lovely blend of wit, attractive and sympathetic characters, great authenticity, gratifyingly sexy scenes - and, in this case, the extra fun of narrowboats!
Now, over to Jo herself ...
****
Life on a narrowboat - the best and the worst aspects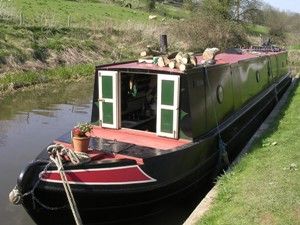 I spent two and a half years living on a narrowboat and I often get asked what were the best and worst things about life on the water. Here, in no particular order, are mine:
Best:
1. You live on the canal. The canal network in England runs through some of our most stunning scenery. Also, there's nothing quite like the sight of the early morning mist above the water - it's hauntingly beautiful
2. You live on a boat! Boats make cosy and charming homes, and I love them dearly. They're much easier to repaint and customise than houses are, and if you're willing to put in the time you can make them look absolutely stunning. You can also touch your ceiling really easily, which I consider a DIY plus point :)
3. If you want a change of scenery or new neighbours, all you have to do is untie your mooring lines and cruise somewhere else!
4. The wildlife. Not only will you see fish jumping out of the water, but there are ducks, swans, moorhens and coots living there too. If you're really lucky, you might see a water vole or a kingfisher. The hedgerows along the towpath are bursting with autumn berries, and if you learn your plants you can forage all year round. Nettle soup, anyone? Oh go on, it's delicious!
5. Towpath parties. Wider stretches of grass between the towpath and the boats, or fields and woodlands next to the canal are often used for impromptu boater parties. These are incredibly relaxed affairs with campfires and free flowing tea and booze. Usually someone has a guitar with them, and if you're lucky you might get some free entertainments from those with circus skills.
6. You will never be stuck for a topic of conversation with strangers. I never met anyone who wasn't fascinated by the fact I lived in a boat and they always had lots of questions about the boating life.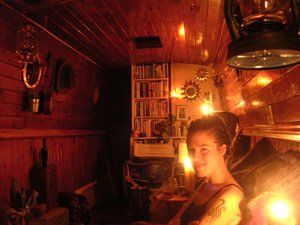 7. It's so much cheaper than living on dry land. Both to buy the boat in the first place, and for the ongoing fuel bills and maintenance.
8. There's a great sense of community among boaters and everyone looks out for each other, whether they know you or not. You'll never be short of help if you need it. Also, you get invited onto other boats for cups of tea all the time. Sometimes it would take me over an hour to make a ten minute cycle ride along the towpath!
9. You meet interesting people. Boaters are a really mixed bunch and you'll find people from all kinds of backgrounds and with all sorts of skills. I knew PHD students, scientists, university lecturers and actors living on the canal. I also knew alcoholics, tramps, heroin addicts and ex-convicts. It was never boring, that's for sure!
10. You keep fit, agile and healthy simply from the lifestyle. As it's difficult to own a car when you're on the move like that, you cycle everywhere. You spend so much time outside you keep a tan all year round, even in Britain, thus being the envy of all landlubbers in the middle of winter.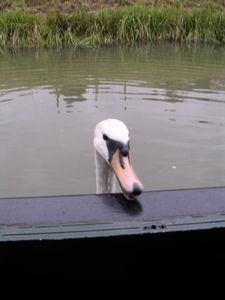 Worst:

1. Nosy passers-by. They will peer into your windows and make loud comments about the state of your boat, not realising you're inside and can hear every word.
2. Soot. When a wood/coal burning stove is your main source of heat, everything ends up getting dirty. There isn't any point in owning light coloured clothing when you live on a boat.
3. No mains sewerage. It's no wonder boaters are obsessed with shit - you would be too if you had to empty your toilet manually. A guaranteed topic of conversation when boaters get together is strategies to minimise the frequency of emptying your toilet tank.
4. No mains water supply. You can guarantee your water tank will run out while you're in the middle of washing your hair. This also means you can't run a washing machine, so all laundry ends up being handwashed or taken to the launderette. It's no wonder boaters all look a bit scruffy and smell of woodsmoke and engine oil.
5. No mains electricity. You end up only being able to run things that can work off a 12v car battery, which really limits your choice of technology. Okay, so you can run a generator if you really want mains voltage, but it's noisy and quite a hassle. Alternatively you could moor up in a marina where mains is provided, but that's pricey and limiting. Surely the whole point of living on a boat is so you can move around?
6. No mains gas supply. Again, the gas bottles are guaranteed to run out while in the middle of cooking, and they're an absolute bugger to change over when it's cold.
7. No baths. Even though my narrowboat had a tiny bath, I never used it because it would have emptied half the water tank and used up loads of gas. It was just a glorified shower tray. Boaters end up getting really good at inviting themselves around to friends' houses for baths!
8. No rubbish or recycling collection. You have to ferry everything to the nearest rubbish point yourself, and there aren't nearly enough of them for the amount of boaters living on busy stretches. It's no wonder boaters become obsessed with minimising waste.
9. Tourist boaters. Yes, most of them are lovely, but many cruise past way too fast leaving a wake that rocks your boat. The hen and stag parties are the worst because they seem to think that drink driving laws need not apply on the waterways, and they end up getting themselves stuck when turning, crashing into moored up boats, and occasionally sinking their hire boats when leaving them tied up in an emptying lock while they go for a pint. Yes, this really did happen in Bath one time!
10. Prejudice against your lifestyle. If you spend any time living on a boat, you are bound to encounter people living in houses by the canal who treat you with fear and loathing. You will also have to put up with all kinds of bureaucratic problems associated with having "no fixed abode".
***
So, those are a few of the best and worst things about the boating lifestyle. Ultimately, it became too much for me when my daughter was born, and I suddenly saw the value in being somewhere with easier access to schools, doctors and other amenities - and a washing machine, of course! I did have a wonderful time living on the waterways, though, and I'll always have those special memories to treasure... and call on for new story ideas ;D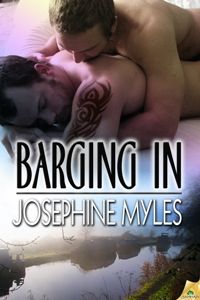 Barging In blurb:
When the boat's a rockin', don't come knockin'!
Out-and-proud travel writer Dan Taylor can't steer a boat to save his life, but that doesn't stop him from accepting an assignment to write up a narrowboat holiday. Instead of a change of pace from city life, though, the canal seems dull as ditchwater. Until he crashes into the boat of a half-naked, tattooed, pierced man whose rugged, penniless appearance is at odds with a posh accent.
Still smarting from past betrayal, Robin Hamilton's "closet" is his narrowboat, his refuge from outrageous, provocative men like Dan. Yet he can't seem to stop himself from rescuing the hopelessly out-of-place city boy from one scrape after another. Until he finds himself giving in to reluctant attraction, even considering a brief, harmless fling.
After all, in less than a week, Dan's going back to his London diet of casual hook-ups and friends with benefits.
Determined not to fall in love, both men dive into one week of indulgence…only to find themselves drawn deep into an undertow of escalating intimacy and emotional intensity. Troubled waters neither of them expected…or wanted.
Product Warnings:
Contains one lovable tart, one posh boy gone feral, rough sex, alfresco sex, vile strawberry flavoured condoms, intimate body piercings, red thermal long-johns, erotic woodchopping, an errant cat, a few colourful characters you wouldn't touch with a bargepole, and plenty of messing about on the river.
Available now from Amazon and Samhain
.
Author bio:
English through and through, Josephine Myles is addicted to tea and busy cultivating a reputation for eccentricity. She writes gay erotica and romance, but finds the erotica keeps cuddling up to the romance, and the romance keeps corrupting the erotica. She blames her rebellious muse but he never listens to her anyway, no matter how much she threatens him with a big stick. She's beginning to suspect he enjoys it.
Visit Jo's
website
for more about her published work, saucy free reads and regular blog posts.
COMMENT TO WIN:
All comments during the
Barging In blog tour
will be entered into a prize draw for a 10″x7″ signed and mounted print of my photograph of the Kennet and Avon canal, near Bath – as used on the cover of
Barging In
! What's more, the stretch of canal shown here is the very part where Dan first crashes into Robin – ah, happy memories!
The more comments you leave, the more chances to win.
Please remember to leave your email address in the body of the comment so I can get in touch with you.
I'll make the draw on 2nd October, 9pm GMT, so you have until then to leave your comments :)