I'm a great fan of Dusk Peterson's writing, especially the "Eternal Dungeon" series. The world-building is awesome, the tone is dark but deep and the prose is a pure treat to read. The characters suffer - my, how they suffer! *g* - but the overwhelming theme is of redemption and reward. The mood of the contemporary fiction is lighter, more witty, but still offers a fascinating look into the depths of the characters' hearts.
So ... now's a good opportunity to look it up, if that takes your fancy! See the message below from Dusk ....
*******
Dusk Peterson writes fantasy, historical fantasy, science fiction, and contemporary fiction. Suspense plays an important role in many of the tales; the conflict in those tales is both external and internal. Peterson's stories are often placed in dark settings, such as prisons or wartime locations. The mood of the stories, however, is not one of unrelieved gloominess: friendship, heterosexual love, gay love, and faithful service are recurring themes.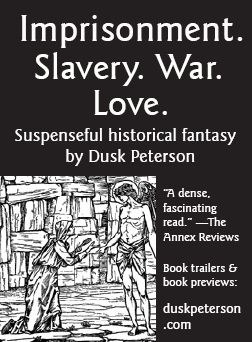 Message from Dusk:
This is to let you know that, as of October 15, all of the items at my Lulu store, including "Love in Dark Settings Omnibus," will cease to be available. This is because Lulu has decided to no longer permit the sale of any digital files except ePub and PDF. So you might want to browse through my Lulu store now (most of the items are free) and see whether there's anything there you'd like. I don't plan to republish any of these items, except the booktrailers, if I can find a proper host for them.
(The e-book prices are the same as earlier this year, incidentally, because Lulu has frozen my access to all of the files; I can delete the files, but I can't lower any prices.)
http://stores.lulu.com/duskpeterson
http://www.lulu.com/product/media-download/love-in-dark-settings-omnibus/11788657
Dusk Peterson
--
Imprisonment. Slavery. War. Love.
Love in Dark Settings: Suspenseful historical fantasy on
friendship, romance, and loyal service
http://duskpeterson.com
******
♥