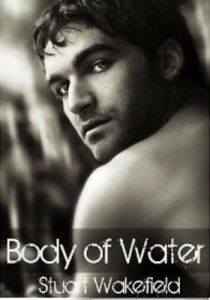 Today I'd like to welcome my fellow author
Stuart Wakefield
, celebrating the release of his new novel
Body of Water
. I met Stuart this year at the UK Meet - maybe a baptism of fire! - where we swapped news of our books and route to publication. And I'm very glad I have an opportunity to "meet" him again today.
Now over to Stuart himself:
***
When I told people at this July's GLBT UK Meet that I was going to self-publish my debut novel,
Body of Water
, most of them looked at me in shock.
"You're brave. Publishers will buy pretty much anything."
Up until then I'd thought that being an Indie Author was cowardly.
I first drafted
Body of Water
during
National Novel Writing Month
in 2009. Prior to that I'd only written down an idea or a few pages of dialogue. Even then I left it alone and didn't pick it up again until I co-founded
Writebulb
in December 2010. Writebulb is an open, supportive community of writers in Essex, England. During our January session each writer was asked to state their writing goal. I cleared my throat and said that I'd finish
Body of Water
by September. The pressure was on. Although I didn't have a publisher's deadline I knew I had made a public statement and I was going to be damned if I was going to miss that deadline.
Penelope Fletcher
visited Writebulb to talk about her experiences as an Indie Author. Penelope is selling shed-loads of YA ebooks and she convinced me to give self-publishing some serious consideration. To keep me inspired I designed my book cover. Although I do love a bit of naked flesh I wanted something more representative of the dark and gloomy setting so went through thousands (and I'm not kidding about that) of images looking for one that I had an emotional reaction to. Once finished, my novel seemed more real and I picked up the pace of my editing.
When I split up with my partner in late June my editing ground to a halt but a month later it was the creation of my book trailer that got me going again. Five hours sweating over my iMac and I had a ninety second
trailer
that even made me excited. Guy Saville, author of
The Afrika Reich
, later told me that my trailer was better than some of those produced by the traditional publishing houses.
And, like so many men, I suffered from premature release.
I published last weekend instead of September and went straight to number two in Kindle's Gay Fiction chart. I'm selling on Amazon in the
UK
,
Germany
and
US
, and everywhere else on
Smashwords
.
Better still, as soon as some typos were noticed I corrected them and re-uploaded a new ebook file.
Now I have the satisfaction of knowing that
Body of Water
is my baby. I had full creative control. If it fails it's my fault. If it flies I'll have the satisfaction of knowing that I did it all myself.
And I'm on 70% commission. Not bad, eh?
I'm proud to call myself an Indie Author. As Penelope Fletcher says, "Do your own damn thing and do it well."
***
If you read the book and would like to chat about it with Stuart direct - he's a very charming, welcoming chap - he has a new
Goodreads Group
where you can discuss all sorts of things! :).
And if you'd like to read more of Stuart's writing, he has a story in the Goodreads M/M Romance Group's "Hot Summer Days" project.
The Elements of Love
is a marvellously romantic, sexy and haunting fantasy tale, and available to read for free :).
(The M/M Romance Group requires membership as it's an adult group, but it's free to enter
HERE
).
And look, I have a new Red Carpet icon to celebrate LOL.
♥