HOT SUMMER DAYS
have started at the Goodreads
M/M Romance Group
.
Group members were offered the chance to post a picture and request a story written to its prompt. Then authors joined in to "claim" whatever pic spoke to their Muse.
There's been a great response to this. Around 20,000 words will be released for reading EVERY DAY: stories of all lengths, of all genres and styles. And at the end of the month they'll be collected into a full volume to be archived on Goodreads. Over ONE MILLION words of free fiction to be enjoyed - if you can keep up LOL.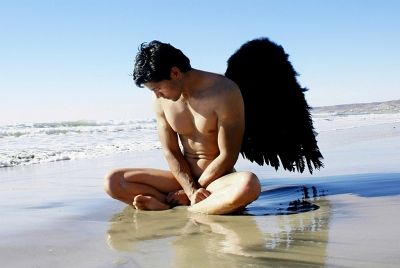 I mean, how could I resist
Bookwatcher's
request on *this* pic???
Say a Little Prayer
Jonathan's a hardworking student running a couple of jobs to fund himself through college and also help his Mum run her B&B on the Dorset coast. Despite his mischief-making Gran's insistence, he doesn't have the time or the nerve to chase potential dates. Then one day on the beach, after a hard day's ice cream sales, he meets Admael. Now Jonathan doesn't *need* to do the chasing - Admael's ready and willing for whatever Jonathan wants. And even if Jonathan's too nervous to think of anything beyond how to smuggle Admael home on the No. 7 bus, Gran is always on hand to offer him some lewd suggestions.
No idea when it'll be posted during the month, but there'll be plenty of other reading every day.
Not yet a member of the M/M Romance Group? You have to join because of the specifically adult nature of some of the content, but there's no cost and no commitment to join in beyond sharing your love of M/M Romance - though there's always plenty going on over there :).
JOIN HERE
and I hope you enjoy the free fiction, all month.
♥
(
Collapse
)