Welcome today to a guest post from fellow Carina author Hunter Raines, celebrating the release of Paradise Found at Carina Press this coming week, and the move to fill-time author.

Paradise Found has already received glowing pre-release reviews: I hope you'll enjoy reading about it, too :).


****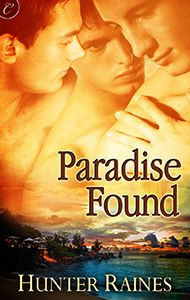 Thanks so much, Clare, for having me here as part of the blog tour for my upcoming Carina Press release, PARADISE FOUND!
As I write this, I'm sitting by the pool in Austin, Texas, which is quite a change from my usual writing nook in Ottawa, Canada. I'm here to see friends and shop while hubby works, and it feels more like a real vacation than the working holiday it's supposed to be.
Neither my husband nor I are social creatures. We're homebodies, and we'll take a good book or movie over a loud party any day of the week. But while we're in Austin, we're making the rounds, getting in as much socializing as we can. At times it's been overwhelming, especially when everyone wants to ask about my life as an author.
You see, I left the corporate world behind and made the switch to being a full time author a couple of months ago. Our friends are intrigued, fascinated, and a little appalled by this decision. Naturally, they want to know everything about how I spend my days. Do I stare out the window and daydream? (Not much.) Do I keep regular office hours? (Sure do, 8:00AM to 5:00PM) How do I stay motivated? (Chocolate.) What do I write?
Uhh… that one's a little harder for me. As much as I love the M/M erotic romance genre, I get tongue-tied when it comes to explaining it to people who don't read romance, much less romance involving two men. And although our friends are quite open-minded, I still find myself muttering the answer to that question under my breath.
That's where my husband comes to the rescue, bless him. He doesn't read M/M. He doesn't read M/F romance, either. But he's so proud of me that he has no qualms about loudly announcing, "My wife writes gay erotic fiction for women." And when he gets blank, confused, or shocked stares, he continues. "Just like guys love two women together, women love reading about two guys together." That seems to satisfy most people, though the looks of wonder on their faces tell us we've just opened their minds to something they've never considered.
I draw strength from hubby's support. So when our friends want to know what my next book is about, I'm a little braver when I say it's a ménage with strong BDSM elements. After that, I'm on my own. Hubby will only help up to a point, and then he'll retreat into the kitchen, grab a beer, and leave me to fend off dozens of questions about male sexuality, techniques, and the psychology of BDSM play.
The price I pay for living an artist's life, I guess. And hey, at least I'm not a total bore at parties.
---
BLURB
Paradise is just an illusion…

Or so Philip thinks as he vacations on exotic Anguilla. He should be celebrating the end of law school and the start of his successful career, but he's tired of living a lie for his family's sake. For just one night, he lets down his guard with two men he thinks he'll never see again.
He isn't the only one with secrets. For years, Cameron Drake has suppressed his need for dominance, afraid of hurting his lover, Mark Wilder. But when Cameron's hand meets Philip's ass, there's no more pretending. Mark can't face his conflicting feelings about the ménage; does Cameron want more than Mark can give?
The three of them may have been perfect together but consequences follow them back to their real lives. Will their desire for another encounter shatter the illusions they've built to protect themselves or clear the obstacles to paradise?
PARADISE FOUND will be available at Carina Press, Amazon, and other online retailers on June 6.
---
About the Author
Hunter Raines holds an Honors B.A. in English Literature, and is the author of numerous short stories and novellas. When she's not working or writing, she can be found curled up in her library of more than four thousand books, or playing video games with her husband. Find her on her website, Twitter, and Facebook, or join her Yahoo Group.