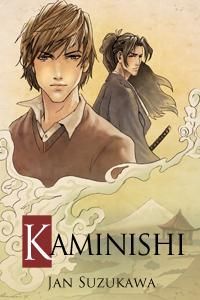 Today I'm featuring fellow author
Jan Suzukawa
and the release of her new novel
Kaminishi
at
Dreamspinner Press
.
****
Hello, everyone! My thanks to the lovely Clare London for allowing me to do a guest post on her blog.
My novel
Kaminishi
was recently released by Dreamspinner Press.
Kaminishi
is about Michael Holden, a student at Berkeley, who falls asleep while studying at his desk one night. He wakes up to find himself in Japan... in 1851.
He is taken to a nearby castle, where he becomes the prisoner of samurai warlord Shinjaro Kaminishi, a handsome and commanding figure who rules strictly but with fairness over his domain. Loyal to the Shogun, he is a true Japanese patriot—one who is more than willing to give his life for his country.
It's only two years before Commodore Perry will arrive with his black ships to force Japan out of its centuries-long isolation. Michael doesn't know how or why he has traveled back in time to an era when white men were forbidden to be in Japan. Not only is his life in danger, but he finds he is sexually attracted to Shinjaro…
To read the Prologue and Chapter 1, and find all the purchase details, please click through to the Dreamspinner Press site
HERE
.
A little about me: I freelance in two fields, law and publishing. One of my main gigs is editing and writing English adaptations of manga and anime-related books. I've worked on a number of the
Code Geass
,
Eureka Seven
and
Gundam 00
novels for Bandai Entertainment and on yaoi novels for Digital Manga Publishing. I've done copy editing work on more than 40 manga books for Tokyopop, including the
Hetalia: Axis Powers
series. I'm a huge anime fan, and so I really love working on these books.
California has been my home for most of my life. I've also lived in London, England, and Denver, Colorado. As for new writing projects, I'm currently finishing a m/m romance novella and plan to start on a science fiction romance novel after that.
A final word on
Kaminishi
, more specifically, its ending. Although it's a part of Dreamspinner Press' Bittersweet Dreams line,
Kaminishi
has what I'm calling a "non-traditional happy ending." I hesitate to say anything more for fear of giving it away, so I'll stop with that. (You have my word on that happy ending, though. ;))
Jan's links:
Neo-Shonen Fujoshi (anime and manga blog)
http://jansuzukawa.blogspot.com
atypicalromance (romance writing blog)
http://atypicalromance.blogspot.com
****