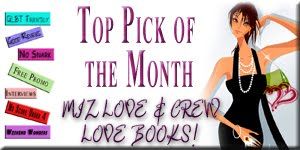 My Carina book "The Tourist" is up for March "Pick of the Month" at
Miz Love Loves Books
review site.
I'm up against some pretty good books so if you see one you prefer, please go ahead and vote for that, I quite understand! But if you *did* enjoy The Tourist and can see your way to voting...
Voting closes in the next few days. And as a reminder, here's their
great review
that got it into the voting :).
♥