Today's guest is the awesome blogger and reviewer
cdn_tam
.
You can follow Tam on her blog
Tam's Reads
, or at the short-story review site she's recently launched with
jenre
at
Brief Encounters Reviews
.
And now, to brighten up a weekend that's grey, wet or freezing cold for so many of us ... she takes us off on a worldwide tour! :)
~~~~~~~~~~~~~~~~~~~
A Few of My Favourite Places
Most people who know me on-line, know me as a book addict. Some also know me as a travel addict. Only my income keeps me home as much as it does. If I was rich, I think I'd only be home once in a while. I started wanting to travel as a child, raised in a family that stuck pretty close to home, although my Mom and step-Dad probably fueled that a bit with camping trips to the Rocky Mountains and US a few times when I was a kid.
Then when I was 16, my marching band did a three week tour of Europe, and holy hell, I was totally hooked. I also read like a demon, again, in family of non-readers, so I'm not sure my desire to travel/escape was fuelled by all the books I read, or whether the books I read fed my need to travel. To me they are linked though. So today, I thought I'd tell about five of my favourite places I've had a chance to visit. I rarely go back to the same place twice, far too many places in the world to see to waste time revisiting places you've been, but it can happen.
On with the show in no particular order: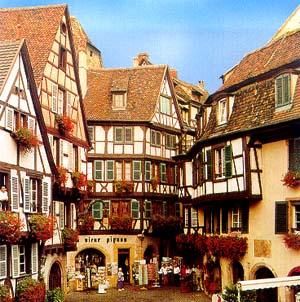 Alsace, France
– When I was married, my ex attended a large mineral trade show in St. Marie-aux-Mines in Alsace. We were living in the Czech Republic so drove there and it was just so gorgeous. It's right in mountains, there are vineyards, tiny picturesque villages and towns and the people were amazingly friendly. We had car trouble one year, and although my French sucked (having just learned Czech I couldn't speak any language fluently it appeared), the woman at the gite we were staying at arranged for a friend to fix our car, drove me to pick it up, they were just amazing. Despite everything you heard about the French being snobby and rude, not in Alsace. We went there twice and it was always a pleasure.
Aruba
– This was my honeymoon destination and that was before Aruba was as popular as it is now. We went in February, and perhaps that colours my perception. Pretty much anywhere that wasn't -30C would be paradise. But it truly was. We were staying on the whitest widest beach (not all beaches are wide there) and it was +30 everyday with a strong breeze keeping it comfortable. It's a small island of Dutch background, the people were friendly and we were able to rent mopeds and pretty much travel around the whole island. Wonderful food, blue water, fruity drinks, perfect.
New York City
– While I said I rarely return, well, New York is the exception. I've been back three years in a row with my daughter and will likely try it again next year. We are both rather hooked. New York is everything you imagine, busy, crowded, noisy, loud, and wonderful. There is something for everyone there, a quite day wandering Central Park, trying on $5,000 sunglasses on 5th Avenue, museums, shows, wonderful food and sore feet. :)
Banff, Alberta
– The Rocky Mountains are gorgeous and Banff is just the cutest little tourist town. I haven't been for many years and perhaps it's even more touristy now (maybe too much so), but being right in the mountains, with the gorgeous Banff Springs Hotel, hot springs, skiing in winter, golf and hiking in summer along with wild animals right there in front of you. I've also camped in the area and had a herd of elk right outside our tent, have seen grizzly bears, mountain goats, deer and moose. It's almost that stereotypical Canadian landscape that foreigners imagine when they think "Canada".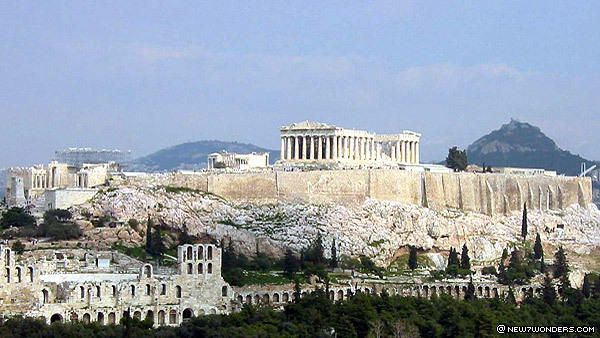 Athens, Greece
– I might be a bit partial to this as I was studying Greek art and archeology when I left my job at the university to take my current job. But to actually SEE the Parthenon, the artifacts in the museum that I had only read about, I swear I was walking on air the whole time I was there. Also I took a trip a temple nearby and the Aegean Sea is truly as blue as it looks in pictures. You always have to wonder if pictures are "adjusted" but they're not, it really looks that amazing. I would love to go back to Greece, to some of the island and Crete.
I have a list far too long to list all of the wonderful places I'd like to see. Next on my plan is to take my daughter to Chicago as I only had a couple of days there in December and I think the two of us would have a good time, so hopefully in March we'll make that trek by car.
So there are some of my favourite places I've visited over the years.
Tell me about yours. Where would
you
like to visit?
~~~~~~~~~~~~~~~~~~~~~~~~~~~~~~~~~~~

AND JUST FOR FUN, A FICTION PROMPT CALL...!!
Like to stretch your writing fingers after Christmas' excesses? Take the prompt "A NEW RESOLUTION" and write something for the visitors this month. It can be anything from a flashfic 3 sentences to a drabble of 100 or so, or even more. Any genre, any theme, any rating, any character(s). Maybe ones you already love, maybe the chance to try on a new character for size.
I'm holding a
FREE FICTION DAY
on the 28th, so send me new fiction - links to your existing work also welcome! - to clarelondon11 AT yahoo.co.uk and I'll post it all then :).
♥
~~~~~~~~~~~~~~~~~~~~~~~~~~~~~~~~~~~~
Follow this month with Clare - and the goodies so far:
(
Collapse
)
(
Collapse
)
~~~~~~~~~~~~~~~~~~~~~~~~~~~~~~~~~~~~Check up on the original post and the Guest Schedule for January HERE.
Want to join in but missed the original call? Email me at clarelondon11 AT yahoo.co.uk and I'll happily find you a space ♥


NOTE: most pictures chosen by me and credited where known, others may be used without direct permission, please contact me with any queries/concerns.