Welcome today to
erastes
, a well-known and respected British author, and a regular blogger and contributor in the gay fiction community. She's spoiling us today with reviews of 10 gay books that you really should consider for your bookshelves - and asking if there are others you'd include in your own list?
~~~~~~~~~~~~~~~~~~~~~~~~~

Bio: Erastes is the penname of a female author who lives on the Norfolk Broads in the UK. She specialises in gay historical fiction and will bore all and sundry about it whenever given the opportunity. Her second novel
Transgressions
, set during the English Civil War was chosen as one of the flagship titles for Running Press's gay romance line, and was subsequently shortlisted for a Lambda award. Her homelife consists of cats and cheese, not necessarily in that order.
Details of her books can be found on her
website
. She can be found on
Live Journal
and on Twitter as Erastes and on Facebook as Erastes Author.
***
Ten Great Gay Books You Might Not Have Read (but really should)
Thank you to Clare for letting me blog again, I was stunned to realise that this was my third year of the Birthday Blog - it hardly seems possible!
There's always a list of "books everyone should read" - I've had a list of 100 "important" books for years which I still haven't managed to work my way through.
Here's a list of ten books that I consider "must reads" by anyone who is considering gay fiction, and particularly anyone thinking of writing gay historicals. These books all hold a really special place in my heart and my bookshelf; they speak to me in so many ways—I read at least one of them a year, and they all affect me again and again upon re-reading.
1. At Swim Two Boys
Set in Dublin before and during the 1916 Easter Rising, At Swim, Two Boys tells the love story of two young Irish men: Jim Mack and Doyler Doyle. Jim teaches Doyle to swim, and Doyle gets entangled with the local "rebels".
I can't see a day when this book will ever come off the top of my list. If you've bought it and have read the first three chapters and can't get any further then please DO soldier on. I don't know what o'Neill was thinking with the Joycian feel of them, but once you get past those chapters, the prose settles down, O'Neill finds his voice and he sticks to it.
I was so blown away by the book that I actually wrote to O'Neill after I finished it, and to my amazement (because I believe he's very reclusive) he actually wrote back. We had a sweet, brief email correspondence which I couldn't continue because it was mainly me hyperventilating and telling him what a god he was. :D I did ask him about those chapters and he said he'd been asked that question everywhere he went around the world: In fact let me quote the great man himself:
As regards the opening chapters of At Swim, well -- what shall I say? It was the devious plan of a certain J O'Neill to cull his potential readership by bentbackwarding what should have been a straightforward narrative. I've travelled the world apologising for those chapters, but never really believed my confessions. In the end it's just the way it begins, in broad darkness, obfuscation, not-knowing and ignorancerism, and light only comes when two make friends. Isn't that the truth of it?
I have to admit to holding a very big torch for Mr J O'Neill.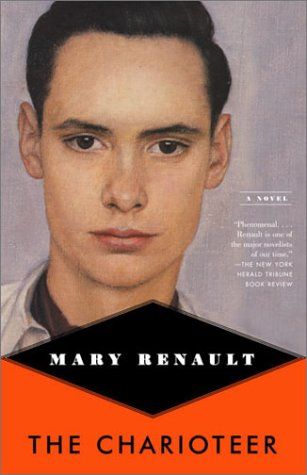 2. The Charioteer by Mary Renault
Laurie Odell has just been invalided out of World War II, and has been sent to a military hospital in the UK to recover. There he deals with his increasing attraction both for a CO serving his time at the hospital and a former school friend of his.
One that is on many of the lists of writers I know, I am sure. But if you haven't read it, I strongly urge you do. All of Renault's writing is wonderful and causes me to want to smash my laptop into smithereens and never write again, but this book is sublime. I'm not clever enough to spot themes and blah blah, but she has such a way of making the old adage "less is more" so very very true. She can do more in a scene that isn't described than I will ever be able to do in six pages. If you don't know what I mean, then get the book and read the scene in Ralph's study before he gets sent down. Absolute heaven. And I'll never be as good as that, which rather depresses me.
3. The Catch Trap by Marion Zimmer Bradley
A colourful novel of the circus world of the 1940s and 1950s, rich in detail, bursting with power and emotion. Mario Santelli, a member of the famous flying Santelli family, is a great trapeze artist. Tommy Zane is his protégé.
Another out-of-print gay classic, but one well worth tracking down. It's the relationship here, rather than the "romance" that is so compelling—the way they cling to each other, despite all the faults of the other, and in the end, the analogy of the relationship on the trapeze is what really saves them. Sometimes it's a little hard going, some repetition and violence, but it's a ride you won't forget easily, I assure you.
4. Call Me By Your Name by Andre Aciman
Seventeen-year-old Elio faces yet another lazy summer at his parents' home on the Italian coast. As in years past, his family will host a young scholar for six weeks, someone to help Elio's father with his research. Oliver, the handsome American visitor, charms everyone he meets with his cavalier manner. Elio's narrative dwells on the minutiae of his meandering thoughts and growing desire for Oliver.
Not a historical, but it almost reads like one because it's set in a countrified setting and his parents are academics so you could easily transposed this story to a Victorian – or indeed any time and it would have worked, and perhaps that's its universality. The protagonist is a young man whose sexual feelings are ignited and fanned by a visiting professor and their love, whilst short, is nicely torrid, and the obsession and self-obsession of a teenager comes over beautifully.
5. A Perfect Waiter by Alain Claude Sulzer
In 1966 Switzerland, self-possessed, middle-aged Erneste is the rock of the Restaurant am Berg, working the lavish Blue Room without missing a shift in 16 years. A letter posted from New York threatens to shatter the orderly cocoon he's built around himself.
I don't know if anyone in the world has read this except for me, because I never hear anyone talking about it in the same way that I hear others talk of the Charioteer or Catch Trap, but I absolutely love this book. It encapsulates everything about gay historicals that I love, in one fussy perfectionist character. Again, bittersweet, but vastly memorable. Ain't that always the way?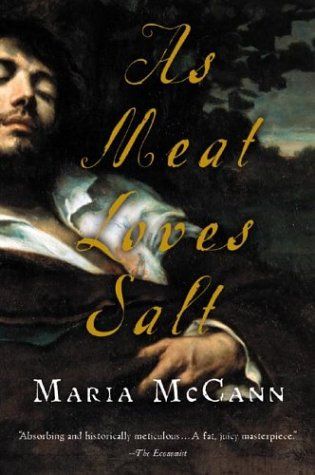 6. As Meat Loves Salt by Maria McCann
A coldly gruesome murder committed by the narrator opens his account, and the bloody siege of his lover's Diggers colony ends it. Narrator Jacob Cullen, educated but now a servant, flees his royalist household, taking his bride of just an hour and his brother. In a second act of terrible brutality, he beats and rapes his wife. Becoming a pikeman in Cromwell's New Model Army, he befriends Christopher Ferris, an idealist disaffected by the Army and in search of a less tainted freedom. And so the two desert and head for London and the pleasures of Cheapside--and each other.
Oh God.
This
. This book. Luckily I read it after I had finished Transgressions or I would never have dared do homosexual love in the English Civil War. The protagonist Jacob grabs you by the throat from the very first, and despite being a truly awful character in many ways (although tragically human and recognisable to us, (or is that just me?)for all his mistakes and petty jealousy) you can't help but want a happy ending for him, and I for one was praying for it throughout the last section of the downward spiral he'd set himself on.
7. Maurice by EM Forster
Maurice Hall is a young man who grows up confident in his privileged status and well aware of his role in society. Modest and generally conformist, he nevertheless finds himself increasingly attracted to his own sex. Through Clive, whom he encounters at Cambridge, and through Alec, the gamekeeper on Clive's country estate, Maurice gradually experiences a profound emotional and sexual awakening. A tale of passion, bravery and defiance.
Written in 1914 but not published until after Forster's death in 1971, the style of this book is a matter of taste, because if you don't like the more classic manner of books, you aren't going to like this, but if you give it a go it's lush and layered and beautiful and poignant and delicious, like the first peach on the tongue. The prose is beautiful, but like Dickens, it's the characters that will stay will you, particularly the eponymous hero and the delightful Alec, and it stands head and shoulders at the tip of gay historical fiction because of the happy ending.
8. Gaywyck by Vincent Virga
Gaywyck is the first gay Gothic novel. Long out of print, this classic proved that genre knows no gender. Young, innocent Robert Whyte enters a Jane-Eyre world of secrets and deceptions when he is hired to catalog the vast library at Gaywyck, a mysterious ancestral mansion on Long Island, where he falls in love with its handsome and melancholy owner, Donough Gaylord. Robert's unconditional love is challenged by hidden evil lurking in the shadowy past crammed with dark sexual secrets sowing murder, blackmail, and mayhem in the great romantic tradition
.
This book didn't get the highest mark when I reviewed it, and I certainly found things in it to roll my eyes about, namely just about everyone being gay, and an
incredibly
girlie hero who needed saving every five minutes due to his idiocy, but this book deserves reading because for 25 years or so it stood proudly pretty much alone out there, bravely predicting that one day, the shelves would be full of gay romance—when I look back I hardly believed that in 2003, so in 1980 it would have been inconceivable. It's not a great book, but it's a fun read and it deserves respect just for being a trailblazer. Virga followed this up with Vadrial Vail which is actually a lot worse, but read both, just for fun.
9. The Boy I Love by Marion Husband
A tangled web of love and betrayal develops when war hero Paul returns from the trenches. He finds himself torn between desire and duty, his lover Adam awaits but so too does Margot, the pregnant fiancée of his dead brother. Set in a time when homosexuality was the love that dare not speak its name, Paul has to decide where his loyalty and his heart lie.
Some wouldn't call this a "classic" – I don't know what the definition of classic is anyway – but I truly believe that this will stand the test of time and will continue to be read, which sure seems like a Classic to me. The utter honesty of the descriptions and the characters feel and read like anything that Lawrence or Cronin could have come up with, and one day I'm sure, Husband will have the same status as many "classic" authors.
10. Mr Clive and Mr Page by Neil Bartlett
It is Christmas Eve, 1956, and the reclusive Mr Page is remembering a dream from thirty years ago. The dream is about the rich and wild Mr Clive, a man who could have been Page's twin, and what really happened to the beautiful white-haired boy who served in his house. And the dream is about Clive's house itself–ostensibly modern and spacious but in truth deeply secretive, with its invisible network of staircases, corridors and hidden rooms. Neil Bartlett bears angry witness to the oppression of gays in the past and evokes their concealed world with dark, erotic tenderness
.
An absolutely wonderful book--it emphasises the very real fear that gay men were feeling in late 50's England. Compare and contrast this with Isherwood's bohemian gay life of
A Single Man
and you will appreciate the difference of Californian sun to the cold austere post-war severity and class-consciousness. Narrated by the wonderfully fussy and camp Mr Page and taking a small peek behind the very closed curtains of life in the paranoia of gay life in the 50's, this book will stay with you for a very long time.
----------------
I can hear you all…"but…but…but… what about…?????" and I have to say that it's taken me a long time to choose JUST TEN. There are some titles (but amazingly—not that many) which are bubbling under, and some I couldn't really include because they aren't classics YET. Titles like While England Sleeps by David Leavitt, False Colors by
Alex Beecroft
, Wicked Gentlemen by Ginn Hale, these, and many more I consider will be considered gay classics in the future but we are still only in the early days. Anything can happen and with what has been produced in the last fifty years, I can't wait to see what will be produced in the next…
What's your top ten? Do share!
Note: reviews to these books and many many more can be found on the gay historical site
Speak Its Name
.
~~~~~~~~~~~~~~~~~~~~~~~~~~~~~~~~~~~

AND JUST FOR FUN, A FICTION PROMPT CALL...!!
Like to stretch your writing fingers after Christmas' excesses? Take the prompt "A NEW RESOLUTION" and write something for the visitors this month. It can be anything from a flashfic 3 sentences to a drabble of 100 or so, or even more. Any genre, any theme, any rating, any character(s). Maybe ones you already love, maybe the chance to try on a new character for size.
Depending on how many (if any!) contributions we get, I'll post them during the month or all in the last week. Just send them in to me at clarelondon11 AT yahoo.co.uk and we'll go from there :).
♥
~~~~~~~~~~~~~~~~~~~~~~~~~~~~~~~~~~~~
Follow this month with Clare - and the goodies so far:
JAN 08:
A great new novel and sequel from
mickieashling
.
JAN 09:
Fiction and beautiful illustrations from
essayel
.
JAN 10:
New menage release from
lc_chase
.
JAN 11:
Fabulous mix of SF and erotic romance from Sloane Taylor and Robert Appleton.
JAN 12:
Follow the bizarre photographic history of Wind in Hair Guy with
egret17
.
JAN 13:
When only your family understands the joke, with
charliecochrane
.
(
Collapse
)
~~~~~~~~~~~~~~~~~~~~~~~~~~~~~~~~~~~~Check up on the original post and the Guest Schedule for January HERE.
Want to join in but missed the original call? Email me at clarelondon11 AT yahoo.co.uk and I'll happily find you a space ♥


NOTE: most pictures chosen by me and credited where known, others may be used without direct permission, please contact me with any queries/concerns.