Another two-for-one today, when we welcome authors Sloane Taylor and Robert Appleton. Successful in their own right, they have just released the co-authored
Claire De Lune
, a sci-fi mystery and erotic romance.

Sloane Taylor
is a sensual woman who believes humor and sex are healthy aspects of our everyday lives, which carry over into her books. Her stories are set in Europe where the men are all male and the North American women they encounter are both feminine and strong. A true romantic, the women Sloane writes will bring more than lust to their men's lives.
Born and raised in Chicago, Sloane and Studly, her mate for life, split their time between a home in Illinois and a weekend cottage on the back roads of Indiana...or you can catch up with her as she travels though Europe, researching new material.
To learn more about Sloane and her writing, please visit her at her
website
or
MySpace
. Sloane loves to hear from readers. Feel free to email her at sloanetaylor@comcast.net.
While
Robert Appleton's
favoured genre is Science Fiction, his diverse list of published stories ranges from a Victorian Steampunk Mystery to a crocodile attack set during WW2 (based on true events). He currently writes for several major digital publishers. To date, he has nineteen titles under contract, including three novels and several novellas.
Robert lives in Bolton, Northwest England. When not writing, he loves to kayak whenever he can (not often enough), underachieve at soccer with his long-standing 5-a-side team, and climb the occasional mountain. His favourite authors include Patrick O'Brian, H. Rider Haggard, Ian Fleming, Edgar Rice Burroughs, Evelyn Waugh, and H.G. Wells. He is also a film buff (with a degree to prove it) who adores Harryhausen, Spielberg, and Oliver Stone.
To learn more about Robert, visit his
Website
or swing by his
blog
.
~~~~~~~~~~~~~~~~~~~~~~~~~~~~~~~~~~~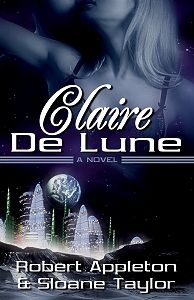 CLAIRE DE LUNE
You are invited to the galaxy's most prestigious beauty pageant. Swimwear optional. Romance and danger...fully provided...
Cocky young Detectives Gerry Rappeneau and Sebastian Thorpe-Campbell arrive at the premier lunar resort expecting a week of eye candy and long massages. One contestant, Evelyn Lyons, has been attacked, and her assailant is now dead. It's surely a simple case of a stalker-gone-mad, as nothing bad has ever happened at the Selene contest before—or so the brochure says.
The assassin, however, turns out to be a horrific hybrid of man and feral beast. No one seems to know where it came from or why, including the wily resort administrator who's desperate to keep the whole thing under wraps. The closer Gerry gets to Evelyn, the more certain he is she's hiding something. His meticulous character sparks with her wild, sassy nature, and they soon embark on a torrid affair. But their forbidden romance isn't the only thing set to ignite in Pont de Reves.
Sebastian's infatuation with demure beauty Claire Villiers, another mysterious contestant who may or may not be connected to the case, threatens to put all four of them in harm's way. With a half-billion-credit purse up for grabs, this year's pageant is the focus of a hundred worlds. And beauty isn't the only thing in the eye of the beholder.
A deadly trail of corporate conspiracy, monstrous assassins and hot bikini wax is more than anyone bargained for in this incendiary erotic mystery. Get ready for some serious heat on the dark side of the moon...
EXCERPT:
Evelyn's self-esteem soared like a rocket as she gazed into Gerry's eyes. All the need and desire that filled him shone through. She liked him, maybe more if she were honest, and had wanted him from the moment his pompous ass walked into her hotel room. Being with him and initiating sex tonight was the right thing for her to do.
(
Collapse
)
Buy the ebook
here
.
Buy the Paperback
Here
.
~~~~~~~~~~~~~~~~~~~~~~~~~~
And for EXTRA fun, here's a recent interview that Sloane and Rob did at
Melissa's Imaginarium
. I loved reading it because of the insight it gives into how the two authors work - and play! - together.
(
Collapse
)
Finally, what do you hope readers take away from your works?
Rob: Food for thought, a feast for the imagination, and a taste for more.
Sloane: Good question and one that made me think. I want readers to know there is still romance in our universe and it's there for each and every one of us when we least expect it.
Thanks to Sloane and Robert!
~~~~~~~~~~~~~~~~~~~~~~~~~~~~~~~~~~~

AND JUST FOR FUN, A FICTION PROMPT CALL...!!
Like to stretch your writing fingers after Christmas' excesses? Take the prompt "A NEW RESOLUTION" and write something for the visitors this month. It can be anything from a flashfic 3 sentences to a drabble of 100 or so, or even more. Any genre, any theme, any rating, any character(s). Maybe ones you already love, maybe the chance to try on a new character for size.
Depending on how many (if any!) contributions we get, I'll post them during the month or all in the last week. Just send them in to me at clarelondon11 AT yahoo.co.uk and we'll go from there :).
♥
~~~~~~~~~~~~~~~~~~~~~~~~~~~~~~~~~~~~
Follow this month with Clare - and the goodies so far:
JAN 08:
A great new novel and sequel from
mickieashling
.
JAN 09:
Fiction and beautiful illustrations from
essayel
.
JAN 10:
New menage release from
lc_chase
.
(
Collapse
)
~~~~~~~~~~~~~~~~~~~~~~~~~~~~~~~~~~~~Check up on the original post and the Guest Schedule for January HERE.
Want to join in but missed the original call? Email me at clarelondon11 AT yahoo.co.uk and I'll happily find you a space ♥


NOTE: most pictures chosen by me and credited where known, others may be used without direct permission, please contact me with any queries/concerns.