Today's guest is the author Jordan Castillo Price, one of my personal autobuys *clare has a quiet but enthusiastic fangirl moment*. She also maintains her own Yahoo Group, Newsletter and an excellent regular podcast on writing erotica Packing Heat. Not quite sure when she finds the time to write, but hey :).

Her blurb: Jordan Castillo Price grew up in Western New York, spent her formative drinking years in inner city Chicago, and is now writing paranormal thrillers from her home in small-town rural Wisconsin.
Have questions about writing erotica? Comments about any of her stories? Just want to say hi? Drop her an email at jordan (at) psycop (dot) com.
Jordan is best known as the author of the PsyCop series, an unfolding tale of paranormal mystery and suspense starring Victor Bayne, a gay medium who's plagued by ghostly visitations. Visit JCPbooks.com to glimpse Chicago beyond the veil.

I first came across Jordan's writing with her Channeling Morpheus series - find it all HERE. I blithely say I came for the cover and stayed for the fiction LOL.





[BTW This will be an image-heavy post, and I make no apologies :), because Jordan's covers are always eye-catching.]





She's also well-known of course for her PsyCop series, featuring the tortured and bemused psychic Vic and his sexy, charismatic boyfriend Jacob - read about it and find the buy links HERE.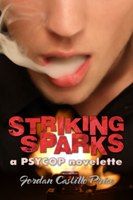 And let's not forget the 'other' character in their relationship, the provocative and fascinating Crash :). Read a story from his life in Striking Sparks, forever known in my house as "THAT story" when my e-reader stuck on a page with some of Jordan's most scorching, erotic prose *argh*.

One of her recent projects is a writing partnership with Josh Lanyon, make sure you check it out in February!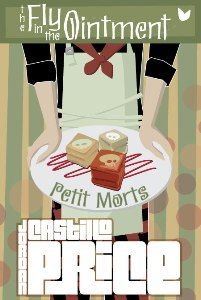 A storefront. You've never noticed it before. It's small, unassuming, and yet there's something about it that draws your eye. And the aroma drifting out, rich and dark, so enticing. How could you have overlooked it? It must be new.
So why does it look like it's been there for ages? And the chocolatier behind the counter...certainly you'd remember him.
Petit Morts:poisonous little reads by Josh Lanyon and Jordan Castillo Price.

Curious about the project? Josh and Jordan chat about it Here.
Coming Valentines Day 2010 from JCP Books.

Today, Jordan is in the land of "what if...she weren't a writer?" :)


~~~~~~~~~~~~~~~~~~~~~~~~~~~~~~~~~~~

Bringing Home the Bacon

This is such an exciting time for me. After burning the candle at both ends since 2004, in a few weeks I can officially call myself a full-time writer! The decision wasn't an easy one to make, especially because of issues like financial security, health insurance, and the general opinion that if someone is working from home, all she's doing is lying around watching daytime TV.

Anticipation of actually doing what I love not as a side dish but as a main course got me to thinking about what I might like to do if I wasn't a writer. Here are a few ideas I came up with.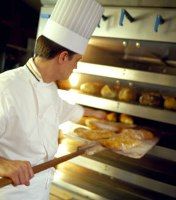 Baker:
I love the idea of getting up really early and trooping in to work by myself among a bunch of big, industrial mixers and getting the dough going for the day. It seems like it would be peaceful, creative, and satisfying all at the same time. Plus they say when you smell something all day long, you lose your craving for it!

A cryptic chocolatier will be introduced in the upcoming Petit Morts series.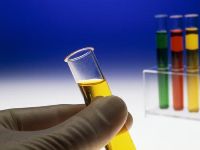 Lab Technician:
Admit it. When you see the forensics labs on shows like Bones, CSI and Crossing Jordan, it looks like a wicked cool job! I've always had a liking for record-keeping, spreadsheets and procedure, and I tend to be a perfectionist. However, most of the technicians I personally know have had to do awful things at their jobs. One guy's job was to do brain scans on gunshot victims to see if they were brain dead. A current colleague of mine used to behead guinea pigs with a little guillotine. I don't think I'd be cut out for anything like that!

Lab technician would be right up Michael Davies' alley. If he could resist sucking down the blood when no one was looking.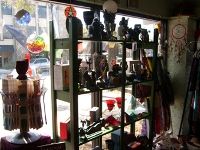 Retail Buyer:
I'm one of those oddballs who has never worked a day of retail (or food service) in my life. But one thing I have always enjoyed was business purchasing. There's something fun about sourcing supplies, wrangling coupons, deals and bargains, and making the budget I've been trusted with totally sing. I suspect this is one of those things my managers never noticed. But I've always loved getting an obscene amount of supplies for dirt cheap. I think it'd be a blast to actually select and procure the inventory for a store!

I would totally love to help Crash run Sticks & Stones.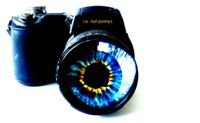 Photographer:
When I first studied photography, it was all about expensive cameras and stinky chemicals. And frankly I suck at developing film. And printing pictures too, for that matter. But now, with digital photography, that's all changed. Yes, a digital SLR camera is still expensive and probably ridiculously difficult to use, but nowadays with computers and software so affordable, a lot of the "I'm ruining all my supplies" angst would be taken out of the equation.

Wild Bill would enjoy digital photography once he got over his computer phobia.

Bizarre jobs I have actually held include:
Secret Shopper
T-shirt Designer
Bookkeeper (who was expected to smuggle Coke cans filled with wine to her obnoxious pig of an alcoholic boss when he was in client meetings)

And, of course, tedious things too:
Data entry clerk
File clerk
Library clerk
Pretty much anything one can clerk

What about you? What's your weirdest job? Your most tedious job? Your dream job?


~~Jordan~~

Jordan's Website.
Jordan's Bookstore.
Jordan's Blog.

~~~~~~~~~~~~~~~~~~~~~~~~~~~~~~~~~~~

AND JUST FOR FUN...!!

Today's Quote:
"Birthdays are nature's way of telling us to eat more cake."

Today's Daft Google Searches for 'Clare London':
"Workplace really does interfere with personal life" Tell me about it! :)

♥

~~~~~~~~~~~~~~~~~~~~~~~~~~~~~~~~~~~~

Follow this month with Clare (look at the goodies so far...):



Jan 15 : Jen of Well Read savours the memory of food, and seeks it in her fiction!
Jan 16 : Author Mel Keegan tells us why we should all be visiting the GLBT Bookshelf.
Jan 17 : Author Cassandra Gold discusses the wonderful world of the romance sub-genre.
Jan 18 : Author Wren Boudreau asks "Who am I...and am I okay with it?"
Jan 19 : Author Jenna Hilary Sinclair confesses her addiction...to writing!
Jan 20 : Author Dakota Flint discusses the fascination of the Epilogue.
Jan 21 : Author Janey Chapel treats us to pictures of her favourite kink!




Jan 08 : Jessewave wonders - tongue in cheek - where the less shiny guys are!
Jan 09 : Anne Cain shares her art and encourages a show and tell!
Jan 10 : My latest release Upwardly Mobile is out at Amber Quill today.
Jan 11 : Author Lee Rowan discusses why love should not be a garotte.
Jan 12 : Author Jaime Samms asks if readers prefer short or long stories.
Jan 13 : Author Erastes explains why her submissions keep aiming for the stars!
Jan 14 : Author Daimeryan Rei describes the rewards of writing both fan and original fiction.




Jan 01 : The New Year brings the release of the Immortal Fire anthology IN PRINT.
Jan 02 : author Chrissy Munder asks if current affairs in fiction is delightful or just dates us.
Jan 03 : author Madeleine Urban describes how her characters hijacked her brain.
Jan 04 : author Theda Black's inspiration reaches from a bionic penis to the power of Pan.
Jan 05 : author Josh Lanyon shares some exceedingly good books with us.
Jan 06 : author K. Z. Snow questions what all the fuss is about authors 'making shit up'.
Jan 07 : Josie aka 1more_sickpuppy compares her life and friends online and off.


Want to grab a day to pimp, pose or pontificate? Email me at clarelondon11 @ hotmail.com and I'll happily find you a space ♥

NOTE: most pictures chosen by me and credited where known, others may be used without direct permission, please contact me with any queries/concerns.