Today's guest is the author Dakota Flint whose novella Seeing You is out in e-book THIS WEEK at Samhain. I first 'met' Dakota when we shared the sheets in the Taste Test: Horns and Halos at Torquere Press. I loved her writing, said so, and we've bumped happily into each other at many places since :).

Her Blurb: Dakota Flint currently lives in northern Siberia Michigan and is working on her law degree. An average day for her consists of reading about things like negligence or homicide, punctuated by thinking up interesting ways for two men to meet and fall in love. Given a choice between getting some writing time in and time for things like laundry or cooking dinner…well, let's just say the pile of laundry is blocking out sunlight and there's a very real chance that all the salad for dinner is turning Dakota into a rabbit…

To learn more about Dakota Flint, please visit Her Website and Her Blog.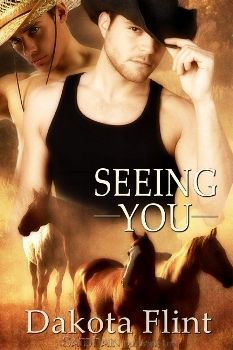 Blurb:
Love can be found among the pieces of a broken heart.

The night his brother, Simon, was killed in an accident, Dylan took on a double load of guilt. Guilt for walking away unscathed…and for secretly loving Simon's partner, Wade. Unable to bear the pain, Dylan left the Lazy G ranch to rebuild his life elsewhere.
A year later he reluctantly responds to his sister's plea to come home, where he finds the Lazy G falling apart. And so is Wade. Wade has stopped caring about the ranch, about everything that should matter most to him.
Though there's more ranch work than one man can possibly handle, Dylan throws himself into the task. Wondering how he's going to find the strength to pull Wade out of the fog of grief when his own is still as raw as a fresh wound. Wondering when Wade will finally see that his second chance for happiness is standing right in front of him.
Warning: Contains explicit, emotionally charged m/m sex. Extra box of tissues required. You could use your sleeve, of course, but we don't recommend it.

Buy it HERE.
Also available in print in the Studs and Spurs anthology at MLR Press.


~~~~~~~~~~~~~~~~~~~~~~~~~~~~~~~~~~~~


The End. Or is it?

I've been thinking quite a bit about endings and epilogues lately. What makes a good ending, is an epilogue necessary, etc.

In my years of reading--we're talking romance in this instance, since that's what I write ;)--I've noticed that the epilogue is very popular. Many times it's a "slice of life" months or years in the future, showing the couple happy and together, the coda that allows the reader a glimpse of what comes after the "I love you."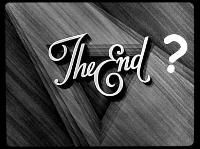 Now, I'm not going to tackle the issues of whether an epilogue is necessary or effective or whatever from a writing standpoint--there are many more writers out there that are far more expert than I. I will say, though, that when I get to the end of a good book, having fallen totally in love with the characters, I do usually want to see a bit of the "after." I want more, without taking away from the journey I just traveled reading the book.

But sometimes there just isn't anything meaningful left to say, nothing more for those characters to do unless we're looking at the another story. In print, that usually means another novel length story and if the author doesn't think there's a novel length story to tell...

Cue one of my very favorite aspects of ebooks and epublishing.

With epublishing, it's feasible to show the "after" regardless of length. If the author doesn't feel that there is a proper full length novel sequel in those characters, that's okay. The readers can still get more of those characters, the author can still release a--shorter--sequel, because novellas and short stories are perfectly suited to the epublishing model.

And I love that.




I love "checking in" with characters I enjoyed, taking a peek at what they're up to or starting a whole new journey with them. A "slice of life" shot can be satisfying and meaningful, and in fact, I find it more satisfying as separate from the original story; it allows me to digest and savor every bit of the original and then still visit the characters again at a later date. It's like waving hello to old friends, meeting up with them for lunch after not seeing them for a while, perhaps joining them for a subplotless adventure...

Okay, that might sound a bit loopy....but you see where I'm going with this?

The flexibility allows the author to revisit characters in whatever way they like, and--most importantly, of course *g*--satisfy readers like myself, who just want more, more, more but find the epilogue to be a tricky thing, indeed.

I like to think this is a win-win situation...but what do you think?

~~Dakota~~


~~~~~~~~~~~~~~~~~~~~~~~~~~~~~~~~~~~

AND JUST FOR FUN...!!

Today's Quote:
"Every man should be born again on the first day of January. Start with a fresh page. Take up one hole more in the buckle if necessary, or let down one, according to circumstances; but on the first of January let every man gird himself once more, with his face to the front, and take no interest in the things that were and are past." Henry Ward Beecher

Today's Daft Google Searches for 'Clare London':
"Billionaire twins to create Channel island vineyard" Hmmm? What's my mother been keeping from me...? :)

♥

~~~~~~~~~~~~~~~~~~~~~~~~~~~~~~~~~~~~

Follow this month with Clare (look at the goodies so far...):

Jan 15 : Jen of Well Read savours the memory of food, and seeks it in her fiction!
Jan 16 : Author Mel Keegan tells us why we should all be visiting the GLBT Bookshelf.
Jan 17 : Author Cassandra Gold discusses the wonderful world of the romance sub-genre.
Jan 18 : Author Wren Boudreau asks "Who am I...and am I okay with it?"
Jan 19 : Author Jenna Hilary Sinclair confesses her addiction...to writing!"



Jan 08 : Jessewave wonders - tongue in cheek - where the less shiny guys are!
Jan 09 : Anne Cain shares her art and encourages a show and tell!
Jan 10 : My latest release Upwardly Mobile is out at Amber Quill today.
Jan 11 : Author Lee Rowan discusses why love should not be a garotte.
Jan 12 : Author Jaime Samms asks if readers prefer short or long stories.
Jan 13 : Author Erastes explains why her submissions keep aiming for the stars!
Jan 14 : Author Daimeryan Rei describes the rewards of writing both fan and original fiction.




Jan 01 : The New Year brings the release of the Immortal Fire anthology IN PRINT.
Jan 02 : author Chrissy Munder asks if current affairs in fiction is delightful or just dates us.
Jan 03 : author Madeleine Urban describes how her characters hijacked her brain.
Jan 04 : author Theda Black's inspiration reaches from a bionic penis to the power of Pan.
Jan 05 : author Josh Lanyon shares some exceedingly good books with us.
Jan 06 : author K. Z. Snow questions what all the fuss is about authors 'making shit up'.
Jan 07 : Josie aka 1more_sickpuppy compares her life and friends online and off.


Want to grab a day to pimp, pose or pontificate? Email me at clarelondon11 @ hotmail.com and I'll happily find you a space ♥

NOTE: most pictures chosen by me and credited where known, others may be used without direct permission, please contact me with any queries/concerns.