Today's guest is the author Jaime Samms, talking about the joys -and frustrations?! - of the short story over other formats. In my opinion, she's a mistress of it, and make sure you check out the free reads on her site (link below). Her imagination is rich and passionate, and also very perceptive and humane. We've kept in touch for some time now, and when she had the inspiration for the Immortal Fire anthology at loveyoudivine, she invited me to submit for it. I don't mind saying, it's one of the best stories I feel I've written for a long time, so I was thrilled :). Jaime has two stories in the anthology, Windblown and Black Roses - available in print in the antho HERE and also individually at loveyoudivine and All Romance Ebooks.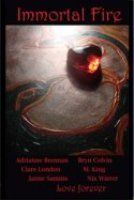 Her Blurb: ... you might want to know a little more about me. I write, romance, fantasy, urban fantasy, shifter stories about men, about life, about love. I review, mostly the same types of stories, as well as the books I read to my kids, who I home school, and occasionally, I'm gainfully employed. I write for the love it, and hope to pass on that love to my readers, my kids, and anyone else who comes along.






~~~~~~~~~~~~~~~~~~~~~~~~~~~~~~~~~~~~

The Long and the Short of it...

Or...How the Short Story Took Over My Life...Career (they feel like the same thing some days)
Way back when I was a kid, new and innocent and thinking I could do anything, I started writing a story. I wrote it because I was poor, I read all the fantasy book I owned. More than once. I'd read most of what was in the local library that interested me, and I needed a new story. So I wrote one. What better reason is there to write a story than because I needed something to read?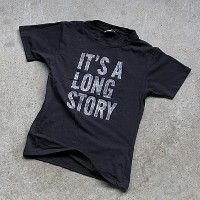 Well, this story was based, to some degree, on the books I did read. Long. Epic. Fantasy with multiple races, quests, magic swords...the metal kind, people! Even a few hinted-at love interests. (And some serious UST between those close male bonding pairs. Even way back then, before the internet and e publishers, I had my mind on getting those guys together.)
Looking now at my published work, 35,000 to 37,000 words is about as long as it gets. Most of my stuff is much shorter. I often wonder what ever happened to my staying power. Don't get me wrong. Short stories are my bread and butter, and I like to think I'm fairly decent at turning out a not-so-bad love bite ... erm ... I keep forgetting the crowd I'm talking to... I think I do okay getting a start to finish love story down in not too many words, is what I was trying to say before y'all got distracted! Lol!

Part of it, I think, is knowing that I don't have the same kind of staying power in reading on line, or on the screen, as I do in print. I've often tried to figure out why that is. I think the medium is just too distracting. Think of all the things you can do with a lap top; surf the net, chat with friends, post to blogs, listen to music, watch a movie...hell, even write a story! The list is long, and the idea of just sitting there reading seems...boring. I like to read short stories, stands to reason I'm not the only one. So writing short makes sense.

Maybe my writing style itself lends to shorter work. Let's face it. There isn't a lot of extraneous stuff in there. I tend to write to the point and spare. I've been accused of being a little too spare at times, and had editors and beta readers admonish me to at least "put a setting in. Don't you think people want to know where this all is taking place?!?!?" (I kid you not. That is one of my favourite editorial notes from someone in my crit group.) The story was very short, about a dancer mourning the loss of her lover. I knew perfectly well where she was, but it seems I neglected to actually say so in the story.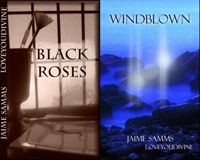 That comment actually led me to Black Roses. I suppose I was being a little tongue-in-cheek, going over the top with description and embellishment, and what do you know... Immortal Fire was conceived. Though it was over a year in gestation in my own brain before it took on life with my fellow authors and the LYD staff, that tiny little story was the beginning. It took those five other authors to get the word count up high enough to get me into print, though.
Sometimes, I kind feel the longing to go back to those early, oh-so-innocent days when I knew I could write a full length novel and it never occurred to me what an involved and difficult project I'd embarked on. It all seemed so simple back then. Pick up pen. Write. What could be simpler? Or more complicated?




So. Readers. Do you want long or short? STORIES!!! Do you like the quick fix of a short read, or do you prefer to dive in deep and hang out with those characters for longer? Writers, what do you like to write? Is the short story the ticket? Or do you need more time with your characters to really do some damage before you fix 'em up and make 'em happy?

~~Jaime Samms~~

Jaime's Website.
Jaime's Blog.


~~~~~~~~~~~~~~~~~~~~~~~~~~~~~~~~~~~

AND JUST FOR FUN...!!

Today's Quote:
"Artificial intelligence is a wonderful thing. I told my computer that today is my birthday, and it said that I needed an upgrade."

Today's Daft Google Searches for 'Clare London':
"So what was the carbon footprint of Copenhagen" But I don't know :(

♥


~~~~~~~~~~~~~~~~~~~~~~~~~~~~~~~~~~~~

Follow this month with Clare (look at the goodies so far...):

Jan 08 : Jessewave shares her love of bright, shiny guys but wonders - tongue in cheek - where the less shiny ones are!
Jan 09 : Anne Cain shares her books and some of her fabulous art - and also encourages us to show and tell!
Jan 10 : My latest release Upwardly Mobile is out at Amber Quill today.
Jan 11 : Author Lee Rowan discusses why love should not be a garotte.




Jan 01 : The New Year is ushered in with the release of the Immortal Fire anthology IN PRINT.
Jan 02 : author Chrissy Munder wonders whether following current affairs in our writing is delightful or just dates us.
Jan 03 : author Madeleine Urban describes how her characters hijacked her brain...a willing victim!
Jan 04 : author Theda Black describes how her writing has been influenced by everything from a bionic penis to the power of Pan.
Jan 05 : author Josh Lanyon shares some exceedingly good books with us and asks about *your* recent reads.
Jan 06 : author K. Z. Snow questions what all the fuss is about authors 'making shit up'.
Jan 07 : Josie aka 1more_sickpuppy compares her life and friends online and off.


Want to grab a day to pimp, pose or pontificate? Email me at clarelondon11 @ hotmail.com and I'll happily find you a space ♥

NOTE: pictures credited where known, others may be used without direct permission, please contact me with any queries/concerns.