Today's guest is the marvellously talented artist and author Anne Cain. Just take a browse through the top e-publisher sites and you'll see evidence of her lovely artwork on book covers. There are plenty of readers' favourites and award-winners, too :). I'm honoured and thrilled to have her here today to share some of her work. And maybe in 2010 I might get a chance of one of her covers for something of mine *heh*.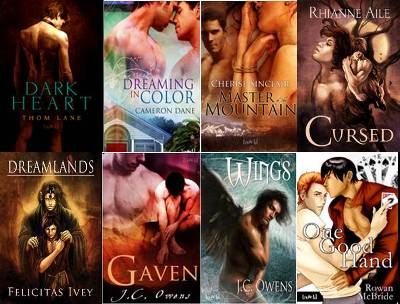 these are some of MY favourites

Anne's blurb: As a freelance graphic artist, I work for several print and e-publishers, as well as private clients around the world. Whenever I'm not doodling away in a sketch book or chained to the PC, I spend too much time reading yaoi and watching anime. I'm also a writer with a passion for gay romance. I love making new friends on LJ, so if leave a comment or add me to your Flist, I'll happily return the favor. ♥



some of Anne's own books

Anne's talking today about inspiration and motivation - and offering a Free Download to one lucky commenter :).


~~~~~~~~~~~~~~~~~~~~~~~~~~~~~~~~~~~~

WANTED: Anne Cain, for artistic debauchery and chocolate addiction

Occupation: Artist, designer and illustrator by day, author by night. Full-time nerd. She creates covers for a number of online and print houses, including Loose Id, Dreamspinner Press, Sourcebooks, and Dorchester Publishing.

MO: Photoshop, color pencils, pastels, and photography.

Weapons of choice: Dell XPS and Wacom tablet.

Useless mutant power: the not-so-super ability to always forget where she puts her keys.

Latest novel: Beautiful Boys, Loose Id.

Works in Progress: Pawprints: Packmates and Erid, release dates: 2010.

Latest book she has read: Astonishing X-men: Gifted, by Whedon and Cassaday.

APPROACH WITH CAUTION - Anne Cain has a tendency to ramble when provoked.

I dunno, Clare...maybe it's not a smart idea to let me run around unsupervised on your blog. I tend to stir up all kinds of trouble with pictures of semi-clothed guys, and the goodies I give away usually have too much kissy stuff going on and/or cat boys... ;) So just to give fair warning, everyone who comments will be entered to win a free download of a novel in my entire backlist or a signed copy of Happy Yaoi Yum Yum, which has some pin-ups illustrated by yours truly. Whee!


Cover illustration for "All For One", coming soon from Dreamspinner Press. (c)2010.

Since I get to run amok on Clare's blog for a while, I thought I'd share something kind of fun with everyone. :) First off, we've all had those moments when our personal Muse decides to hitchhike to Cancun for the weekend, right? Even if you're not an artist or a writer, there's something in your life that you (usually) love to do, but there are some days when you just can't get yourself enthused or motivated enough to do it. (Daily exercise routines come to mind...*cough*) Thankfully, I always have plenty of different projects on hand to keep a mental block gum up my work queue when it comes to art. If I'm stumped trying to find a good visual solution for one assignment, I'll take a break and work on a different one until the answer presents itself. What also helps to keep things nicely shaken and not stirred is to work in a wide range of styles and subject matter so each project is fresh and exciting. Sometimes I'll illustrate something in a manga style, or I'll mix photos with digital paints, and so on. And when I need to take a break from illustration and design in general, I regularly head to the easel to work on fine art projects. A still life a day, keeps the Muse ready to play...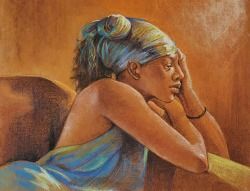 "Mujer", A portrait from late last year, 19"x25", conte on paper. (c)2009.

It's the same deal with my writing, though I'll confess to letting writer's block derail my storytelling much more easily than I do with my art. I've tried chugging through a story to bang out the words, cleaning it up later. But afterwards the story usually feels very forced--my struggle is right there, in between the lines, and it makes for a very stale, not-so-fun read. I think I've slaughtered at least three Works-In-Progress using this approach over the past year. (Also, this phenomenon of trying force something that doesn't want to cooperate isn't limited to writing. If you keep an eye out for it, you'll spot in music albums and movies too. I just tried rewatching AI: Artificial Intelligence the other day and it's painful to sit through--you can feel Spielberg struggling to make his film style work with Kubrick's and it is awful, awful, awful.)

So what do I do to help get past a creative block with a story? I reach for my sketchbook, that's what! I'm learning to chill out and let a story find its own path to completion by drawing the characters and getting to know more about them in the process. A lot of the sketches are pure junk, but it's a fun exercise and I do learn a lot about the guys (and the occasional gal) I write. And it's a great stress reliever to just doodle without consequence! We all grow up drawing and coloring as kids, but somewhere along the way, a lot of us forget about the joy of doodling. Today, we are going to rediscover that joy--hopefully. ;-)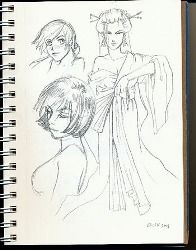 Female character sketches for a story I was workin' on. (c)2008.

I'd like all of you to reach for a piece of scratch paper or maybe dust off an old sketchbook, and just draw something--anything. Who cares what is and what it looks like, as long as you have fun doing it. It would be really, really awesome if you share the sketch with us here, but if you don't feel up to Show and Tell, maybe share with us some other stuff you do when your creative energy needs a recharge. :)


Doodles for a Dexter web comic/doujinshi idea I'm still cooking up. (c)2009

~~Anne Cain~~

Anne at Live Journal.
Anne at DeviantArt.


~~~~~~~~~~~~~~~~~~~~~~~~~~~~~~~~~~~

AND JUST FOR FUN...!!

Today's Quote:
"New Year's Resolution: To tolerate fools more gladly, provided this does not encourage them to take up more of my time." James Agate

Today's Daft Google Searches for 'Clare London':
"Make paper Christmas trees from old magazines and junk mail" hmm...not sure my skills are up to this :)

♥


~~~~~~~~~~~~~~~~~~~~~~~~~~~~~~~~~~~~

Follow this month with Clare (look at the goodies so far...):

Jan 08 : Jessewave shares her love of bright, shiny guys but wonders - tongue in cheek - where the less shiny ones are!



Jan 01 : The New Year is ushered in with the release of the Immortal Fire anthology IN PRINT.
Jan 02 : author Chrissy Munder wonders whether following current affairs in our writing is delightful or just dates us.
Jan 03 : author Madeleine Urban describes how her characters hijacked her brain...a willing victim!
Jan 04 : author Theda Black describes how her writing has been influenced by everything from a bionic penis to the power of Pan.
Jan 05 : author Josh Lanyon shares some exceedingly good books with us and asks about *your* recent reads.
Jan 06 : author K. Z. Snow questions what all the fuss is about authors 'making shit up'.
Jan 07 : Josie aka 1more_sickpuppy compares her life and friends online and off.


Want to grab a day to pimp, pose or pontificate? Email me at clarelondon11 @ hotmail.com and I'll happily find you a space ♥

NOTE: pictures credited where known, others may be used without direct permission, please contact me with any queries/concerns.