Today's guest is author Theda Black, whose work I discovered when I read After Anna and was blown away by the deep emotion - both angst and passion - she developed in the book. We started an email correspondence and I'm very happy to call her a friend as well as being a fan.

What I love about Theda's work is that she doesn't compromise by necessarily writing what's easy or expected: she writes what she feels, and wants to share. I love the way she can write both romance and horror - that's maybe more of a reflection of me, than her LOL - although I'll reassure you she keeps the two genres under different pen names (horror is under Klaudia Bara, BTW).

Today she shares with us her work to date and plenty of new projects (FREE FICTION snippets, huzzah!), shares her inspiration - from a bionic penis to steamy swamp sex to the power of Pan! - and reminds us that not only does writing draw from research, it can also open the door to other rewarding art, pastimes and discoveries.


~~~~~~~~~~~~~~~~~~~~~~~~~~~~~~~~~~~~

I've never been a guest blogger. Or much of a blogger, period. My initial inclination after Clare's invitation was to tuck tail and run, but there was a problem with that. I like her. I mean really, really like her, can you imagine, and just because I don't feel I'm particularly competent doing all the publicity stuff that writers do doesn't mean I can't come over to Clare's place and blather at you if she thinks I can do it (read: wreck her blog). So here I am!

What I've decided to do here is to talk (ramble) a bit about writing as I have experienced it so far, and talk in particular about a piece or two I'm working on. Hope that works for you?

In the beginning: I had a diary as a kid (ha, I almost wrote dairy, which would have been fun to have, too – all those cows). I wrote books and books worth of intimate, personal experiences growing up, and after high school threw them all away because I caught a boyfriend snooping. I wrote stories, too, but the only one I actually remember had something to do with a giraffe and his long neck, written when I was in elementary school. In middle school I wrote a crazy awful story about my teacher, his hideous comb-over (real), his glossy pate beneath (also real and shining bright as a moonbeam) and his bionic penis (I assume that part is not real, having never, praise God, viewed the man's actual penis). Anyway, in the story his bionics malfunctioned, whirling like a helicopter and sending him flying uncontrollably around the class. Some of the kids liked that one. I wrote a couple of sports articles at my school paper. Then, at some point after graduation I remember trying a short story about a man and woman stranded in a...wait for it...swamp. Which naturally enough resulted in wet, steamy sex (badly written).

After that, writing got shelved (bad sex is a dampening thing, maybe). I pursued other creative hobbies, like painting and photography, while working crap jobs. Interest in those hobbies waxed and waned, and I found writing again with a fan fiction challenge, though I had no idea the writing would become so important to me. Eventually I subbed a story to eXtasy books. I regarded it as an experiment and was floored when the owner, Tina, wrote and told me she was intrigued, even though I hadn't sent her a sex scene in the partial manuscript I subbed. Could she see the whole thing? She could, absolutely, and subsequently eXtasy published After Anna and the follow-up, Touch Like Breathing.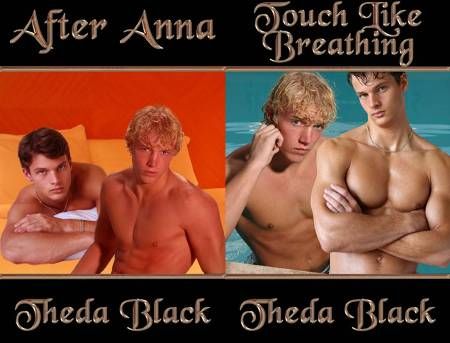 After they were published, I started working on one longer (incomplete as of now) story and a couple of short horror stories (these two are rather horrific and in no way romantic, guys, just a warning, but having said that, here be links: 1 and 2 ) for my alter ego, Klaudia. After they were done I switched back into my girl Theda and started in on three different m/m stories.

Then I went through a sort of writer's block. I say sort of because it's more complicated than that, with a lot of contributing factors, but one of the more important things had to do with writing becoming a whole lot of work and nothing remotely like fun. It was a nightmare, and even now writing isn't easy for me, which makes me very sad, but it's HAPPENING regardless, which makes me very happy. And I've noticed something while doing research and writing my last couple of stories―I began collecting a few things along the way while I do it. Which makes it more fun.

First, I started re-reading an old comic book series I'd read before called WEREWOLF BY NIGHT by Marvel Comics. It was OUT THERE, buddy, but there was angst to be had, so that was good. Which caused me to write a weirdo thing as Klaudia that I'm not really sure how I feel about (linked above), but relevant to my point here is that I became enamored of weres. I started in on Theda's m/m story, called BENEATH THE NEON MOON (status: first rough draft completed) which frankly I admit to you I adore, because of the characters. The two guys, Mal and Zach, are made for each other. I don't know exactly how that came about, but I do know that as I wrote it, there was an automatic and great affection coming from one character to the other. They clicked. They're so good together.

That's when I found myself cruising werewolf artwork on the internet and keeping copies for my own enjoyment (a couple are here and here). The werewolf story was intended for a gay anthology coming out next year, but it grew entirely over-sized, with a sequel already brewing in my head. I had to start over.

I came up with a story called EROMENOS (read short unedited excerpt), featuring my own home-fried, slightly demonic version of the Greek god Pan, the lusty little bastard. Though actually it's about a couple of college guys and Pan's influence over them. I did research on Pan, cambions and Baphomet in order to create my own version of the god. Also cars (I had to figure out what car Xander would drive because the characters take a road trip in it). Xander turns out to be a guy who mostly gets by on scholarships and grants for college, pretty much financially strapped but good with his hands, so he got himself a 70 Chevelle SS and restored it: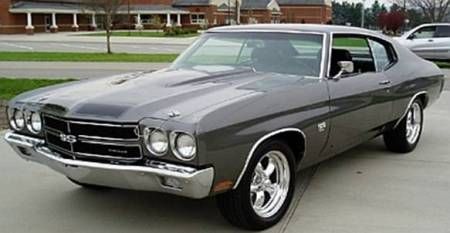 During the course of the story I ordered Pan perfume. Smells like pine and sweet woods, I love it. I found some artwork on deviantART that I adore: by reverseblade, by artoftheempath, by kuksi, by 06ilkeR and by Dianae. Plus a couple of the classics I love are here and here. I've saved and admired much more, but I'll restrain myself. Even bought myself a CD for my Christmas stocking with panpipes featured (listen to panpipes here and here, performed by Brad White).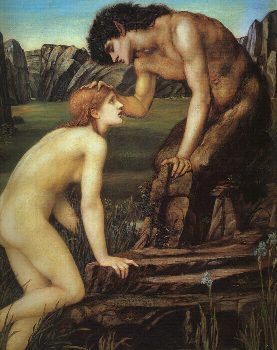 Pan and Psyche by Edward Burne-Jones

Hm... maybe I should concentrate a little more on MAKING money rather than spending it as I write, but what the hell. It's fun. I learn new things and find new interests. It's important to me.

Anyone else have any habits they want to share with us when writing? Anything about the process, or how you got into writing? I'd love to read about them.

Clare, thanks for having me as a guest on your blog. Best of luck this new year, and we'll talk soon.

~~Theda Black~~


~~~~~~~~~~~~~~~~~~~~~~~~~~~~~~~~~~~

AND JUST FOR FUN...!!

Today's Quote:
"Sharks are as tough as those football fans who take their shirts off during games in Chicago in January, only more intelligent." Dave Barry.

Today's Daft Google Searches for 'Clare London':
"Movie News and Reviews: "Me and Orson Welles." Just a rumour. Honest.

♥


~~~~~~~~~~~~~~~~~~~~~~~~~~~~~~~~~~~~

Follow this month with Clare (look at the goodies so far...):

Jan 01 : The New Year is ushered in with the release of the Immortal Fire anthology IN PRINT.
Jan 02 : author Chrissy Munder wonders whether following current affairs in our writing is a delightful touch or just dates us some time down the road.
Jan 03 : author Madeleine Urban describes how her characters hijacked her brain...although she was a willing victim!

Want to grab a day to pimp, pose or pontificate? Email me on clarelondon11 @ hotmail.com and I'll happily find you some space ♥.